Netherlands midfielder Nigel De Jong has admitted that he was fortunate to remain on the pitch in Sunday's World Cup final after his high challenge on Xabi Alonso.
The 25-year-old lunged into a kung-fu style challenge on the Spanish midfielder in the first half as his studs made contact with the Real Madrid star's chest. De Jong escaped with just a yellow card and stayed on the pitch for the rest of the game that the Oranje lost 1-0.
However, De Jong has now admitted that he was lucky not to have been shown a straight red for the foul.
"Yes, I was concerned it might be worse than a yellow. It looked worse, although to be honest I didn't see the opponent coming in from the side,"
Sky Sports
quotes the Manchester City man as saying
"I was really focused on the ball and I caught him on his chest. It was a bit curious but he gave the yellow card so for me it was a little bit of luck."
De Jong also refused to blame English referee Howard Webb for Holland's defeat to Spain on Sunday night.
"It is easy to blame the referee. There were some strange decisions and everyone, in the stadium and on TV, could see we should have had a clear corner when he gave a goal-kick to Spain.
"On the next attack they score. What can you do about that? He will realise what he did when he sees the replay. But I am not saying the biggest fault was with the referee.
"I know him from the Premier League and have never had a problem with him. He refereed the Champions League final at the end of the season so he has a lot of experience.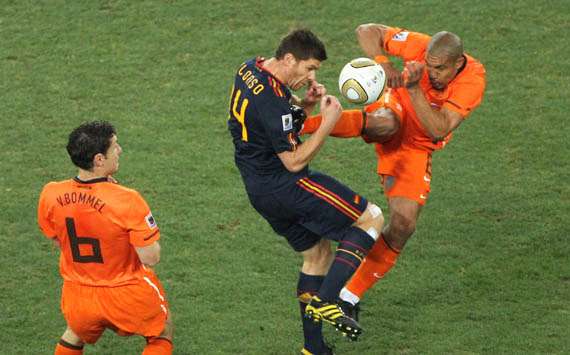 "I like the referees in the Premier League. Howard is not a bad referee. But sometimes you don't have your luckiest games. Unfortunately, in the final, he did not have his luckiest game.
"Nowadays the pressure on the referees is so big. There are so many rules from FIFA telling them what to do. It would be easier if they could concentrate on the basics and referee the game.
"Maybe I am a little bit old school. But when you see how football used to be, there were worse fouls then and no-one even whistled.
"It is part of the game. Now FIFA come out with all those rules and the game is not exciting for the players any more. Let football stay as football."
Become a fan of Goal.com International on Facebook! Just click onto Facebook.com/Goal to join the beautiful game's leading fan community...