In our World Cup Comment series, individual writers at Goal.com offer their views on the hot World Cup topics of the day with local expertise and a global outlook...

Alberto Undiano Mallenco, Germany 0-1 Serbia, 2010
When fans watch a football match, they expect to see 22 players on the pitch, playing with full commitment to the game. Mallenco, a celebrity referee in Spain, allowed neither.
Between the 14th and 37th minutes, he awarded six cautions, two of which were issued to Germany striker Miroslav Klose, who was sent off. During that spell, 10 fouls were committed, but the majority were adjudged to be "reckless". In another match, maybe two would have earned bookings.
After the flurry of cautions, Germany and Serbia's players were visibly shaken, and appeared to be afraid to commit to any challenge. Nine cautions were given on the day, along with one sending off. After 90 minutes, the final whistle was blown, but in reality, the game was killed off long before.
Graham Poll, Croatia 2-2 Australia, 2006
Four years after his disastrous officiating in a match between Italy and Croatia, Poll had an even worse performance presiding over Croatia's 2-2 draw with Australia.
Early in the game, Poll denied Australia a clear penalty when Josip Simunic made a poor challenge inside the penalty area. Later, Stjepan Tomas handled the ball in the box, but the English referee allowed play to continue.
As full time approached, Harry Kewell levelled the score at 2-2, and the goal stood despite the Australian attacker's offside position. Later, Dario Simic and Brett Emerton were sent off before Simunic again escaped what should have been a dismissal. The central defender earned a second booking, yet was not shown a red card, and remained on the pitch until the final whistle, when he was sent off for dissent, having been shown a third yellow card.
After the match, FIFA president Sepp Blatter commented that "had Australia lost the game and gone out of the World Cup, they would have had grounds to request a replay". Needless to say, Poll was promptly removed from the refereeing pool.
Byron Moreno, South Korea 2-1 Italy, 2002
The 2002 World Cup was a very unlucky period for Italy. After having three legitimate goals chalked off earlier in the tournament, the Azzurri were eliminated in a controversial 2-1 extra time loss to tournament hosts South Korea.
In the 102nd minute, Francesco Totti was sent off for a second bookable offense when Moreno adjudged him to have taken a dive in the penalty area. In fact, he had lost the ball to Song Chong-Gug, and gone down under contact. A more appropriate call would have been to wave play on in the wake of a good tackle.
Eight minutes later, Damiano Tomassi was played through and scored the golden goal, but play was brought back for offside. Replays show that Tomassi was easily in an onside position when the ball was played to him, but Moreno and his staff insisted that play continue.
Valentin Valentinovich Ivanov, Portugal 1-0 Netherlands, 2006
Rule No. 1 for a referee: always be in control of the match. Ivanov failed to do so, and was forced to issue a World Cup record-tying 16 yellow cards, and send off an unprecedented four players.
After Mark van Bommel and Khalid Boulahrouz earned early bookings for fouls on Cristiano Ronaldo, the game quickly turned sour. Costinha earned his marching orders for an intentional handball before Petit committed a professional foul on Van Bommel to deny a counter-attacking opportunity.
By the hour mark, tempers were flaring. Behind Ivanov's back, Van Bommel and Luis Figo got into a scuffle and the Dutch midfielder went down as though he had been mortally wounded. Moments later, Khalid Boulahrouz saw red for an elbow to Figo's face, and yet another scuffle broke out.
Late in the game, the Dutch breached unwritten laws of fair play, and Deco committed a cynical foul, after which several Portuguese players surrounded the felled Dutchman, prompting another melee.
In the aftermath of the match, Blatter suggested Ivanov should have given himself a yellow card for his poor performance. The game has now gone down in history as the "Battle of Nuremberg".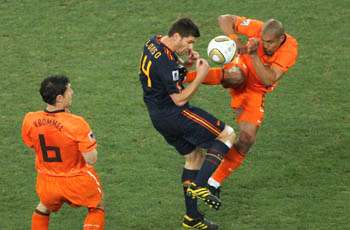 Howard Webb, Netherlands 0-1 Spain (a.e.t.), 2010
In a World Cup final, you have to be on top of your game. Last night, Howard Webb was anything but. In addition to several missed calls on corner kicks, the English referee's decisions on fouls were downright disgraceful. Early in the game, he should have sent off Dutch midfielder Nigel de Jong for a high kick on Xabi Alonso that was nowhere near the ball.
Early in the second half, John Heitinga - who would later be sent off shortly before Andres Iniesta's winner - was carded for a late, but soft, challenge on David Villa, after an eternity of deliberation. Moments later, Iniesta committed a similar foul on Arjen Robben, but escaped without a booking. In the 79th minute, Iniesta reacted to Van Bommel's foul by lashing out at the Dutchman, and by the letter of the law, should have been awarded a straight red card.
In the closing minutes of regulation time, Robben was in full flight, having blown past Carles Puyol. On his way through, the winger was pulled back, which was just enough to prevent him from scoring. Puyol should have been sent off for preventing a clear scoring opportunity, and the Dutch should have had a free kick at the edge of the penalty area.
Finally, Eljero Elia was blocked off by Sergio Ramos in the moments before Spain broke forward and Iniesta netted the winner. Already controversial due to Iniesta's previous offences, the goal would never have been scored if Elia had earned a deserved free-kick.
The Netherlands and Spain both deserved to win last night's final. It's a shame that Webb, and not the players, decided the result. The fans deserved better.
Become a fan of Goal.com International on Facebook! Just click onto Facebook.com/Goal to join the beautiful game's leading fan community...