In our World Cup Comment series, individual writers at Goal.com offer their views on the hot World Cup topics of the day with local expertise and a global outlook...

Arguably the hottest teams at the World Cup, Germany and Argentina, squared off yesterday in a rematch of their 2006 quarter-final tie. The previous clash, won by Germany on penalties, was a real nail-biter. Yesterday's was anything but. Jogi Loew's Nationalmannnschaft comprehensively outclassed Diego Maradona's Albiceleste en route to a 4-0 victory.
The relative talent on either side is debatable. Whether Germany are better than Argentina by a goal difference of four, however, is not. Talent alone might have won the game for Germany, but their margin of victory suggests that the three-time world champions had a distinct edge in the technical area.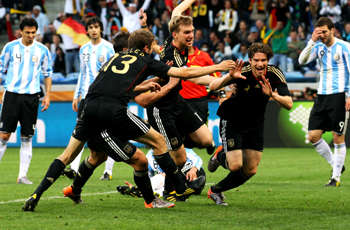 Humiliation | Argentina Look Dejected As Germany Score Goal No. 3
Heading into the match, Maradona clearly had little concern for the pragmatic. He sent out the same starting line-up that featured in a 3-1 victory over Mexico in the Round of 16. The back four were to remain withdrawn, protected by a single defensive midfielder. Two wingers would link play going forward, and a trio of ever-moving — but primarily central — attackers would provide the magic necessary to create goals.
That plan worked well against Mexico, but Maradona's "go out and play" approach was a disaster waiting to happen; his game plan had three major flaws: 1) an isolated front three; 2) no presence in the centre of the park; and 3) no sense of urgency. The only thing necessary to send Argentina tumbling out of the tournament was a quality tactician.
Enter Jogi Loew.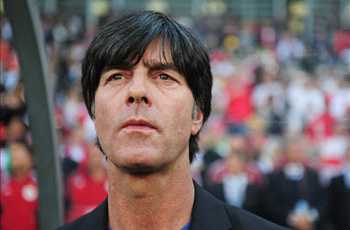 Loewing it |
Loew Looks On As Germany Thrash England
Yesterday, Germany pinpointed each and every weakness in the Argentine game plan, and executed their own with devastating effect. As it turned out, containing the world's best player was not that hard after all. As they had against England, Germany defended with two lines of four. Because Argentina's full-backs rarely attacked, Maradona had a maximum of five players (three central attackers and two wingers) moving forward, and they were never going to beat a well-organised eight-man German defence. Bastian Schweinsteiger stuck to Lionel Messi like glue, forcing the Ballon d'Or winner to drop deeper and deeper to find service. When he finally did get the ball, there were few passing options and nowhere to run. As a result, Argentina consistently gave away possession. That's where their lack of personnel in the middle proved costly.
With natural strikers Lukas Podolski and Thomas Mueller playing out wide, Loew hardly needed to advise his team to attack through the centre. The runs of those two, plus Sami Khedira, playmaker Mesut Oezil and striker Miroslav Klose, were simply too much for Argentina to contain. Solitary midfield anchor Javier Mascherano was like a deer looking into headlights, and could have used the presence of Juan Veron to aid him in defence and distribution.
All of the above were only made possible by exceptional work rate by the Germans, who ran a combined 106,856 metres to Argentina's 100,845. Through hustle, Germany could have eight defenders back to stop five Argentine attackers, yet consistently have a five-on-five situation going forward. Whereas Argentina were decisively split between attacking and defending units, many of Loew's men were able to cleanly transition between the two roles. It was as though Germany had 13 outfielders, rather than 10.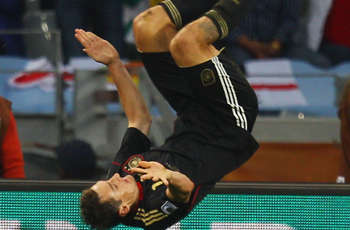 Dont Try This At Home |
Salto-Klose Returns
While Germany's players deserve full credit for their performance, an even bigger round of applause should be given to Loew. Few coaches could transform a pair of misfiring forwards (Klose and Podolski) into top stars of the tournament. Fewer still could take a group of talented but inexperienced starlets and, within weeks, transform it into a semi-final worthy side.
Over the last few months, the DFB (German FA) have had their share of conflict with Loew. Disputes over power and jurisdiction over the national youth teams caused the coach to refuse a contract extension. But with the results Germany have earned in the 2010 World Cup, the DFB would be foolish not to heed his demands.
Become a fan of Goal.com International on Facebook! Just click onto Facebook.com/Goal to join the beautiful game's leading fan community...