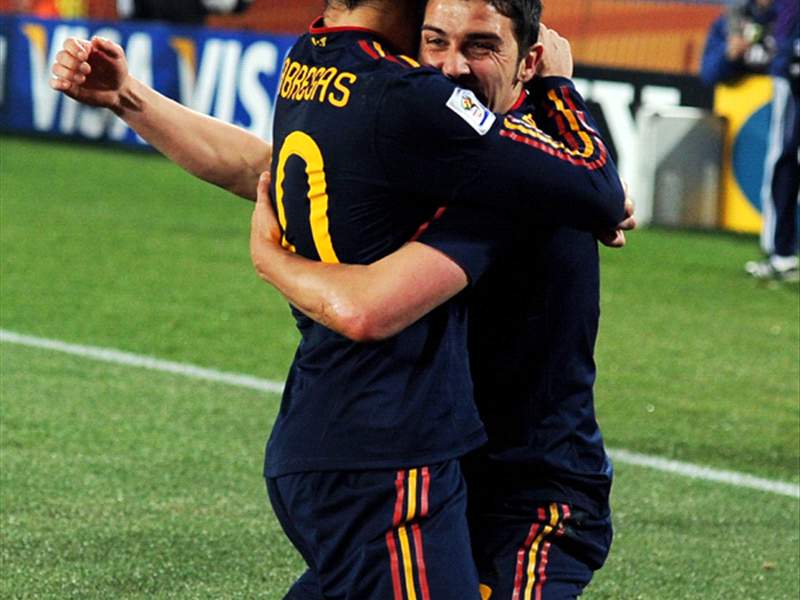 Spain, the European champions, the perennial underachievers, the hot pre-tournament favourites, the pinball wizards – as they will be known after tonight – are in to the semi-finals of the World Cup for the first time in their history.
Spain have rarely had good fortune in major tournaments, not to use that as an excuse for their poor international trophy count. But they seem to always either run into the wrong choice of opponent in the knockout rounds, exit on penalty shoot-outs or they get robbed by poor refereeing decisions.
But so far in South Africa 2010, Spain have had lady luck guide them through to the semi-finals; the very mystic yet elementary attribute that all past champions seem to possess.
Even in the game against Paraguay, La Furia Roja seemed to have their luck deserting them as they failed to carve out a meaningful attack in what was a poor first half by their standards.
Then ofcourse the Guarani won a penalty – albeit a clear penalty after Gerard Pique tried to challenge Oscar Cardozo to an arm wrestling match – from their very first corner of the game; Xabi Alonso was then forced to retake Spain's own penalty after he had handsomely tucked away his effort.
Players encroaching the box was the reason the goal had to be annulled and his second attempt was parried out and in the rebound, Cesc Fabregas was denied what looked like a dead certain penalty after he was tripped by goalkeeper Justo Villar. You could just see it written in the Johannesburg sky: Spain just not meant to progress past the quarter-finals.
The referee's call for Xabi to retake his spot-kick was a strange decision, but ultimately the correct decision according to the rulebook, but it's a scenario that is ever-present in every penalty kick, even the one 60 seconds earlier at the other end when Cardozo saw his attempt saved.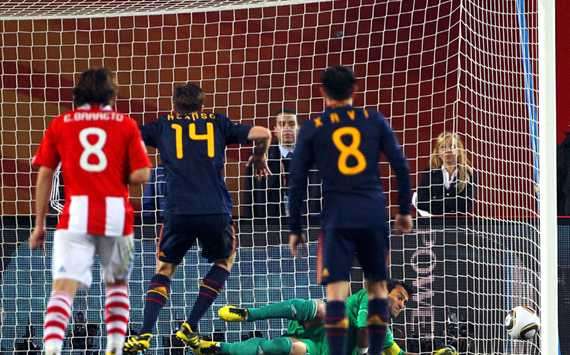 After over 80 minutes of toil and no luck in breaking down Paraguay, good fortune finally smiled on Spain when Andres Iniesta broke free and teed up Pedro to hit the post, before David Villa reacted quickest to best his new Barcelona team-mate by hitting the woodwork twice. Only this time, the ball rolled over the line.
But make no mistake, Spain have not had to rely solely on luck to get them this far. After the shock loss to Switzerland on opening week, Vicente del Bosque's men had to work hard to regroup and regain their self-confidence, while persisting through unrelenting defences game after game, slowly chipping through every opposition backline until they found that perfect killer pass to accompany that killer finish.
But it's that tiny speck of good fortune that has helped them: a rebound falling kindly to Villa, first against Portugal and now against Paraguay, or Casillas guessing right to save Cardozo's penalty, before smothering a rebound from Lucas Barrios after he had spilled Roque Santa Cruz's shot.
Spain now have a talisman in David Villa and a lucky charm in Carlos Marchena, who has never lost a game in La Roja colours in his last 54 consecutive appearances... a world record.
If Manolo el del Bombo, a.ka. that guy with the drum can recover from a bout of flu and return to South Africa in time for the semi-finals, Spain might just have all the luck they need to beat Germany. And after watching the Germans dismantle England and Argentina, you just feel that the Spanish Armada may need all the luck they can get, especially now that they are treading in unchartered waters.
Become a fan of Goal.com International on Facebook! Just click onto Facebook.com/Goal to join the beautiful game's leading fan community...