Diego
Maradona
acknowledged his
Argentina
side were humiliated by Germany, but recognised they had had a good World Cup until their 4-0 thrashing as he explained the post match feelings surrounding the camp.
Germany ran out comfortable winners in Cape Town as an early strike from Thomas Mueller set them on their way. Miroslav Klose bagged two in the second half and Arne Friedrich scored his first World Cup goal to cap of a stunning performance for Jogi Loew's side.
The loss left Argentina heading home 24 hours after other South American heavyweights Brazil were sent crashing out by the Netherlands.
Before the game Maradona was confident his side would get through and the enthusiasm from his players was clear as they arrived for the game dancing and singing on the team bus as if they had already won, but they were soon back to face the reality of World Cup football.
"It was a good game by Germany who studied it well. Everything changed after the first goal and it was a different game after that, we made it easy for them," he told the press.
"They started having ideas that they didn't have before, we let them play and they took advantage. But the result doesn't reflect what happened on the pitch, and so it doesn't take away my pride.
"I want to thank all my team and players who scored and the other coaches and all the people that were by our side. The dream didn't come true, but we enjoyed a journey the goes back to their roots of Argentinian football.
"I want these players to continue showing what they value and to show what Argentinian football is about. I am proud of my players and I want to thank them. We didn't not get what we hoped for, but whatever happens we have to continue like this on this journey."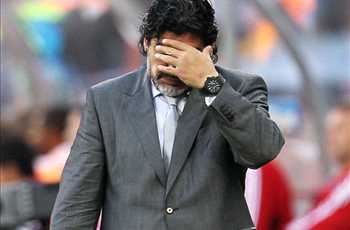 Maradona also had kind words for Lionel Messi who goes home having not scored in the tournament.
"Messi never scored? When he tried they saved it. He played a great World Cup anyway. Seeing Messi cry in the dressing room is awful," he said.
"Those who say he doesn't play for the shirt are stupid."
Stepping Down?
Talk inevitably turned to whether or not Diego would continue in his post after the World Cup.
The coach would not commit to anything but stated that the thought had not yet crossed his mind, and stressed the need to consider all options and retain Argentina's attacking style regardless of who's in charge.
"Right now I'm out of energy. Look, I could go tomorrow, but the important thing is that we show the world how we play without fear or concern," he said.
"We must think long and hard about what we're going to do. I don't know what I'm going to do: I haven't thought about it.
"We must speak with the family and with the players. I know that football is about pleasing the fans, searching for victories, the style of play. Argentina has no other style."

Who has the best chance of winning the World Cup? Check out Castrol Football's 2010 FIFA World Cup Winner Predictor.