PARAGUAY

Villar – 7 - Had surprisingly few crosses to collect and shots to save, but did crucially save the penalty that counted. Some say he should have been called for a penalty on Fabregas' follow-up, but he was not, and that is all that matters. Was absolutely not at fault for the goal.

Veron – 7 - Often had to mark Villa, and yet, he never was forced into a rash challenge. Beaten just once off the dribble, but held his own against the new Barcelona signing, as well as Capdevila and Iniesta.

Da Silva – 6.5 - Made a silly mistake in the first half that went unpunished, but later made a timely intervention to clear Ramos' effort off the goal line. Formed a rock-solid partnership with Alcaraz that held for most of the match, but ultimately caved under the pressure of one of world football's greatest attacking units.

Alcaraz – 5.5 - Beaten for pace by Villa in the play leading up to the penalty, and was lucky not to be sent off. Otherwise, the Wigan defender was rock-solid. His good marking in the first half forced the Spanish strikers to drift out wide in search of the ball.

R. Morel – 6.5 - Delivered a couple of superb crosses and defended well for the most part, but occasionally made silly mistakes. When in one-on-one situations, was beaten too easily - even Torres got past him.

Caceres – 6.5 - The most industrious member of his team during his time on the pitch, Caceres got into Spain's passing lanes, chased down the ball, and rarely ever made a mistake. Tiring at the end, he was replaced by the most forward-minded Barrios.

Santana – 5.5 - Made a few keen runs into the penalty box and never stopped moving, but it just wasn't his day. The Wolfsburg winger was rather careless with the ball, and missed an excellent chance to put Paraguay ahead in the first minute.

Barreto – 6 - Was strangely substituted after just 64 minutes. During his time on the pitch, the Atalanta man rarely misplaced a ball, was very industrious, and always was around to harass the likes of Alonso and Xavi.

Riveros – 6.5 - Ran and ran and ran in the centre of midfield. Was always where he needed to be in defence, and while he offered little going forward, he did very well to break up the Spanish attack.

Valdez – 7 - Perhaps his team's best player on the day. The Dortmund striker defended from the front, pressured the Spanish defenders, and had a perfectly good goal ruled out. Given more service, he might have made the difference on the day.

Cardozo – 4 - Will be remembered for his poorly taken penalty, and rightly so. He never really got into the game, and while his service was never going to be fantastic, there were many things he could have done other than attack. Should take a lesson from Valdez.

Substitutes

Vera – 5.5 – Replaced Barreto, but failed to have the same impact as his predecessor.

Santa Cruz – 6.5 – Had only 18 minutes to make an impact, and could not net a winner. Had a decent chance immediately after coming off the bench and another shortly before the final whistle, but both were blocked.

Barrios – N/A – Struck late with enough venom to force an error from Casillas, but had too little time on the pitch to be properly evaluated.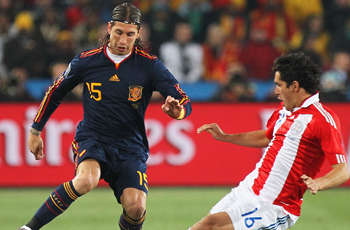 SPAIN

Casillas - 7 - Will be remembered for his penalty save and heroics to deny Santa Cruz at the death, but to be fair, it was his poor handling of Barrios' shot that gave the Manchester City striker the opportunity to shoot in the first place.

Sergio Ramos - 7 - Might have scored the winner in parallel universe, but had his effort from close ranged cleared off the line. The Real Madrid defender offered good attacking support on the right flank, and never had many problems in defence.

Puyol - 6.5 - By far the better of the two central defenders, the Barcelona man struggled for pace on one or two occasions, but used his instincts well. Had very little to do, overall.

Pique - 4.5 - Distributed poorly, lost the ball cheaply, conceded a needless penalty, and should have been punished for playing Valdez onside towards the end of the first half. An uncharacteristically poor performance from the young defender, who would have been put to the sword by a team with more attacking quality.

Capdevila - 7.5 - Added width and a sense of urgency to the Spanish attack when no-one else would. Made some excellent attacking runs, never had trouble on the defensive end, and was among Spain's best distributors.

Busquets - 6.5 - Made a few shoddy defensive errors in the first half, but was vastly improved after the break. Broke up the Paraguayan attack, and aptly sheltered the ball from the danger zone to the attack.

Xavi - 6.5 - Was clearly uncomfortable due to the swarm of Paraguayan midfielders that surrounded him, but kept his composure and rarely gave the ball away. He never played the type of dazzling balls that characterise him, but the Barcelona man had an overall solid performance as Spain's primary distributor.

Xabi Alonso - 5 - Took two penalties, but only one counted. The first was good, but the second was very poor, and was saved. His failure to convert under pressure topped off a very poor outing for the Real Madrid man, who was replaced with a quarter hour left.

Iniesta - 7 - For once in his life, his first touch consistently let him down. Still, the Barcelona midfielder came alive enough at the end to make a superb run and force Villa's winner.

David Villa - 7.5 - Had a few good runs in from the left, but was largely anonymous in the first half. Enigmatically, he came to life after Torres was substituted off. The newly-signed Barcelona man earned a penalty that should have won the game and after Alonso's miss, took matters into his own hands with his fifth goal of the tournament. Man of the match.

Torres - 4 - Like Villa, the Liverpool man was often forced to play out wide. While he dribbled well initially, he often tried to do too much, and ran into a wall of red and white. Never found himself in a scoring position, and was substituted early in the second half.

Substitutes:

Fabregas - 7 - Replaced Torres and added some much needed stability to the Spanish midfield Completed 20 of his 24 passing attempts, and had a decent claim for a penalty after Alonso's miss.

Pedro - 7 - Replaced Xabi Alonso as Del Bosque attempted to add more bite to his attack. Could have been the hero, but had his shot hit the post after being perfectly set up by Iniesta.

Marchena - N/A

Become a fan of Goal.com International on Facebook! Just click onto Facebook.com/Goal to join the beautiful game's leading fan community...