Brazil
coach
Dunga
has underlined the impact Netherlands winger
Arjen Robben
can have on Friday's quarter-final clash, calling him an exceptional player.
The two heavyweights will battle it out at the Nelson Mandela Bay Stadium in Port Elizabeth on Friday afternoon for a place in the World Cup semi-finals. Looking ahead to the match, Dunga expressed his admiration for the Bayern Munich star and earmarked him as a decisive player.
"Without doubt, Robben is an exceptional player. He's a very technical player. If you look at some of Bayern's matches last season, you'll see that he was decisive. A decisive player always makes the difference," the 46-year-old told reporters at the pre-match media briefing.
Dunga also played down criticisms thrown at him for not adopting a more attacking style and made it clear who the boss was.
"Every debate is positive. If we have 1000 heads thinking, it's better than just one. Some things are useful, others are not.
"Everyone looks at football in a different way and likes one type of player or the other. We have to recognize the good and bad things and see the things that don't add nothing."
However, the 1994 World Cup winner expects a good match on Friday.
"The two teams try to play and have great technical quality. They do what everyone likes, which is to try to dribble and be creative in search for the goal. So I think it will be a good match."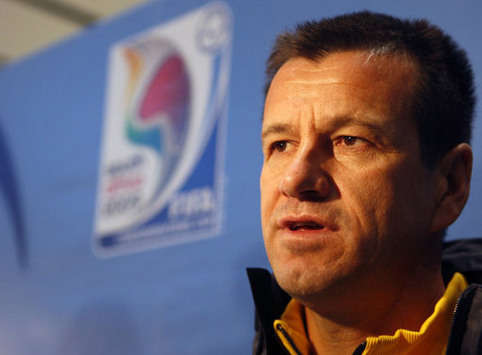 Speaking on the state of the pitch, Dunga hopes the conditions won't hamper the proceedings.
"I didn't have the opportunity to see the pitch. Now, those are the two fundamental things for the match: the pitch and the ball. I hope that the pitch is good for the players tomorrow."
"Knowing the pitch is good when you get to put the boots and go in, with the work equipment. Just walking around the pitch is not the same. The Brazilian players like to go on the pitch and move the ball around. Walking around in tennis shoes or putting the boots are different things."
Dunga was part of the 1994 and 1998 World Cup teams that defeated the Netherlands in the knockout stages on both occasions.
"The penalty [I scored in '98] was to reconfirm the one from '94. Because if I missed, people would have said that I was lucky in '94," he said, reflecting on his performances in the two matches.
"In that match, we had to reconfirm what happened in '94. Those were very tough against Holland. Against them ([n '98], it was thrilling."
Who will come out on top? Check out Castrol Football's 2010 FIFA World Cup Match Predictor.