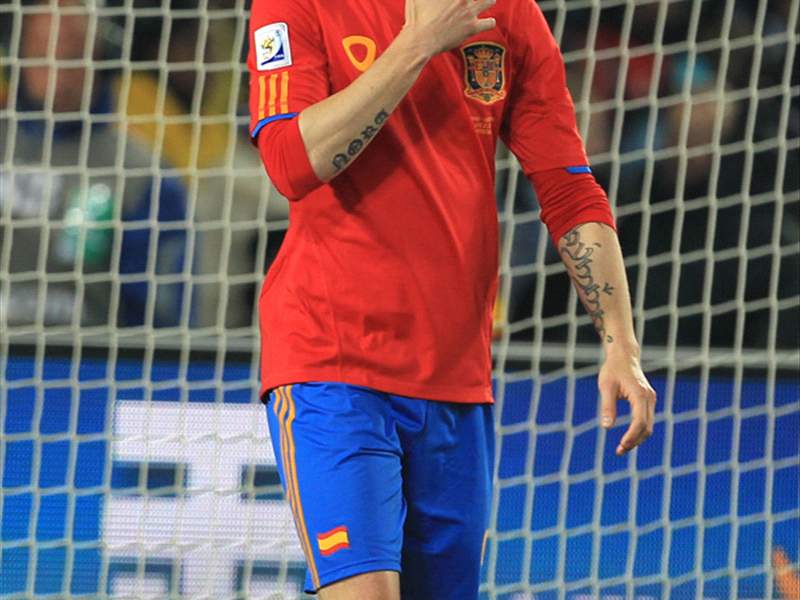 The summer's vino tinto is flowing in Spain and while the Spanish nightlife typically goes well into the early hours of dawn even on weeknights, the festivities in the wake of La Furia Roja's triumph over Portugal in Tuesday night's Round of 16 World Cup match has left much of the country with a still-happy hangover the morning after.
Vicente Del Bosque's men have not yet found their best form and still committed a few unforced errors in midfield that could have cost them dearly. But despite the fact that Spain are still not performing to their potential, they were able to dictate the pace of the match, dominate possession, and quickly recover the ball - snuffing out the Portuguese midfield's service to Cristiano Ronaldo and quashing the danger of the mercurial Real Madrid player's pace on the counterattack.
But where Spain did cause their supporters some consternation was with their lack of teeth up front. Fernando Torres and David Villa managed to elicit a few anticipatory "¡Huuuuuuy!"s out of the Spanish fans as both strikers were able to get shots on target in the first half. But as the match began to progress, La Roja seemed to fall a step behind up front, particularly as Fernando Torres began to struggle with his first touch and was unable to provide productive movement for his midfield.
There is no questioning El Niño's talent as a player. When the Liverpool striker is in form, he is easily one of the best forwards in the world and causes fits for opposing defences. For La Seleccion, he has had less noteworthy success as a goalscorer, but not a single Spanish fan has forgotten Torres' solitary goal in the Euro 2008 final to give Spain their first title in 44 years.
But what made the difference in the Round of 16 match against Portugal was not a particularly brilliantly-taken El Niño strike, but rather his exit from the pitch. Substituted in the 58th minute, Torres made way for the towering Fernando Llorente of Athletic Bilbao, a player who had not been used by Vicente Del Bosque thus far in South Africa. The somewhat curious substitution (many anticipated Jesus Navas, Cesc Fabregas, or even David Silva to come on) ended up paying off handsomely. With Llorente's insertion, everything about the match changed.
Within seconds of taking the pitch, the Big Basque was in full flight, diving to get his head onto a Sergio Ramos cross that brought a world-class save out of Portuguese keeper, Eduardo. Spain's usual panache and stylish play, which had been subdued during the previous hour of play began to come to the fore and the chance saw nearly all of the Spanish players begin playing on the front foot with aggression, hunger, and confidence.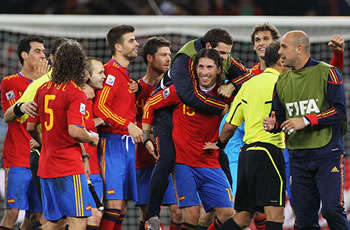 At 6ft 5in. (1.95 m), Llorente is a giant of a man. A talented striker who serves as the crown jewel in the ethnically exclusive Athletic Bilbao ranks, Llorente has become a source of pride for the Basque country; a region that has produced some of Spain's greatest talents, including legendary goalkeeper Andoni Zubizarreta.
An imposing presence up front, Llorente is, naturally, a lethal force in the air. But along with getting highest to head the ball, he is also a highly technical player and provides excellent hold-up play in attack, fending off defenders while playing with his back to goal until support arrives. Last night, every player in the Spanish team benefitted from this hard work up front and Llorente even had a hand in the build-up to Villa's winning goal.
The story of Llorente's inclusion in Spain's World Cup squad exemplifies why the Basque striker made such an impact against Portugal last night. This is a player who is hungry for goals and is motivated to play well. Llorente was a fixture in the Spanish squad last year, making his debut in late 2008 against Chile and scoring his first goal in a 2-0 international friendly win in early 2009 against England. He was also included in last year's Confederations Cup squad and by the end of the summer, it looked as if the Bilbao hitman had carved out a niche for himself in La Roja.
Unfortunately, with a dip in form came a dropping from the squad and Llorente barely featured for Spain in the World Cup qualifying matches, as Del Bosque gave priority to players like Fenerbahçe's Dani Guiza and Sevilla's Alvaro Negredo. With South Africa 2010 nearing, Llorente looked well and truly out of the team.
But with a very outspoken desire and determination to return to the Roja ranks along with a return to goalscoring form for Bilbao, Llorente began to win Del Bosque's favour again and, in the end, won the exclusive honour of serving as the national team's third striker, an inclusion the Basque striker was not shy about in expressing his delight.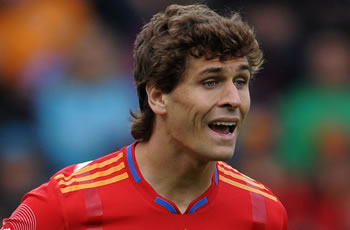 Llorente's contribution and impact last night with his 58th minute entrance into the match cannot be overlooked. Dove-tailing off of his progressively improving form to end the Liga season, the towering striker looked focused, purposeful, and quicker to every ball than the departed Fernando Torres and Spain's play improved by leaps and bounds for it.
While Torres is an excellent player when at his best, one's run of form going into the World Cup is of utmost importance and can profoundly impact one's success at such an elite level of competition. While Llorente finished the season on a very high note, Torres finished his campaign in the infirmary, recovering from season-ending knee surgery.
When it comes to the Spanish national team, the Basque region can be fragmented in its support, as the very strong allegiances to separatism and regional autonomy can sometimes take precedence over national identity. But in Fernando Llorente serving as the hero of last night's match (despite David Villa's goal), the Basque Country now have a player in La Seleccion that represents the propagated Basque ideals of determination, strength, pride, and fight, exemplified by how he had his shirt ripped within moments of being on the pitch as Portugal's Ricardo Carvalho grabbed a handful in an attempt to reign in the striker.
Over the past few matches Spain have played both in the group stage and in last night's knockout stage, Fernando Torres has appeared to be the weak link in the side, unable to recover his form in order to productively contribute to his team's successes.
Perhaps it is time for Del Bosque to consider relying on his Basque striker in his team's starting XI on Saturday against Paraguay. And if the Spanish coach feels more inclined to field David Villa as his solitary striker up front, opting for an extra man in midfield, Cesc Fabregas should also be a name very high up on Del Bosque's list; like Llorente, the midfielder did very well to demonstrate his hunger for playing time against both Honduras and Chile.
Whatever the case, the time has now come for Del Bosque to assess his squad and make a serious decision about whether to drop Torres for the rest of Spain's World Cup campaign. Spain's hopes or winning a World Cup title may rest on it.
Become a fan of Goal.com International on Facebook! Just click onto Facebook.com/Goal to join the beautiful game's leading fan community...