By
Matt Monaghan

England
superstar
Wayne Rooney
came into
World Cup 2010
as the 'Golden Generation's' poster boy and left it as the biggest flop of the lot.
After an epic 34-goal season in all competitions for Manchester United, the 24-year-old was expected to be at the hub of manager Fabio Capello's charge for the trophy. Instead, the England supporters received a blast for their trouble at the end of the Algeria debacle, and it was disappointment all the way as he ended another World Cup scoreless.
As the inquest begins after the 4-1 second round thrashing by Germany, the critics' glare has centred on Rooney's no-show. How could a player who struck fear into the hearts of defenders from Manchester to Milan perform so badly in the Rainbow Nation?
Lone ranger goes tonto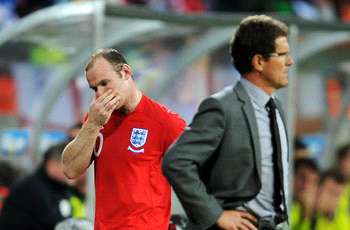 People told him it couldn't happen, but Sir Alex Ferguson's tactical masterstroke turned Rooney from support act to the biggest draw in town.
Reeling from Cristiano Ronaldo's exit last summer, the Scot made Rooney the focal point of his 4-5-1 formation and was rewarded with goals galore. Capello obviously hadn't received the memo.
Doggedly sticking to the 4-4-2 that saw England sweep to qualification, the game was up at the tournament proper. Three pathetic group stage performances against lesser lights the USA, Algeria and Slovenia, plus a humbling from the 'old enemy' in the knockout stages followed. Rooney's frustration was perhaps most apparent after the Algeria game when he turned on his own supporters, and the system he was being asked to play in may well have contributed to that.
With skipper Steven Gerrard used to excelling in the same system at club level with Fernando Torres, the option was open for Capello to bring the best out of his main attacking outlets.
At United, Rooney stayed anchored in the penalty area and the most prolific spell of his career ensued. But his achievements in recent Three Lions history in a standard strike pairing make his failure to net against lowly opponents all the more baffling.
Powers dulled by injury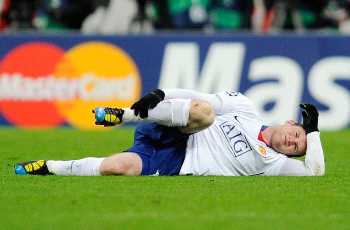 It's in the national psyche to blame Germany for England's failings, but Rooney can bear more of a grudge than most.
A season of success came to a sudden halt on March 30 in the Champions League quarter-final first leg bout against Bayern Munich. The coming together with Mario Gomez left him strewn on the floor with ankle damage and began the end of United's charge for domestic and European success.
Despite an abortive return in the second leg and subsequent end of season performances, the goals that had arrived so freely beforehand simply dried up.
This lack of match sharpness and confidence in his own body seemed to have locked him in concrete in South Africa. His touch deserted him and his eye for goal dulled.
However, there can be no doubt Rooney was in better shape now than at Old Trafford for the return leg with Bayern. Although he could barely hobble around the pitch then, he was at the centre of United's best performance of the season as they raced into a thrilling 3-1 half-time lead.
After barely missing a session's training with England, he should have been in the perfect condition to star. Instead, the travelling supporters were handed the sight of Rooney barely being able to control the ball.
Absence of his wise old guide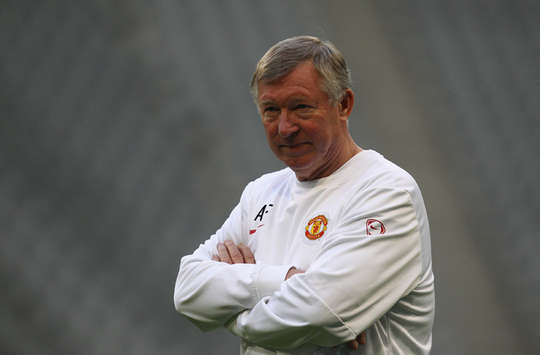 Fergie's fledgling | Rooney has blossomed under the Scot
From the apple of Sir Alex Ferguson's eye, to the problem child under Fabio Capello, Rooney's relationship with the managers in his life is key.
That both deserve prime spots in the coaching pantheon is impossible to dispute. That the Scot alone has continually coaxed the best from him is now similarly impossible to argue after this World Cup to forget.
For all his achievements, one of the most impressive is Ferguson's relationship with his players. The ability to turn a blind eye to etiquette and allow Eric Cantona alone not to wear a club tie with his suit was rewarded with silverware galore.
This sort of flexibility has seen Rooney blossom under his continued guidance. For Capello, honed in the concentrated, dogmatic style of Serie A, such individual touches seemed completely alien.
In short exposure, Rooney has excelled under the Italian. His goal return in qualifying alone proves that point.
Whether Capello's authoritarian hand has stunted Rooney like it did the similarly fiery Antonio Cassano when he was under his control at Roma is now up for debate.
Even superheroes need good sidekicks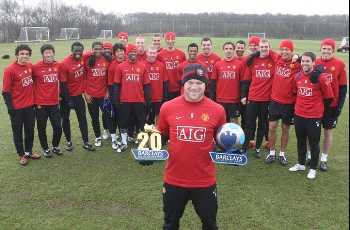 Playing for your country is meant to be the highlight of a career, though when you are used to the cast of superstars at the Theatre of Dreams even that can seem mundane.
Since moving to United in 2004, Rooney has been treated to playing for one of the world's great teams alongside some of the sport's best athletes. Whether partnering Emile Heskey has whetted his appetite as much as playing with Cristiano Ronaldo did is also up for debate.
Desire is a key component of Rooney's arsenal. A will to win and the simple joy of the game, usually lost after teenage years, has remained. At World Cup 2010, however, none of that pleasure was apparent. Frustration at the supply line seemed to take over.
With United, he has blossomed thanks to the support of Ronaldo, Carlos Tevez, Ryan Giggs, Paul Scholes and Antonio Valencia. So it is hard to believe that performers from the top bracket such as Steven Gerrard, Joe Cole and Frank Lampard, plus rising stars Aaron Lennon and James Milner, could so fail to elicit any reaction from a born winner.
Not that special after all

Since bursting onto the scene at Euro 2004, expectations around Rooney have soared to often hysterical levels.
Famously branded 'the white Pele' by then Portugal head coach Luiz Felipe Scolari after his barn-storming efforts at that tournament, the reality has not always fitted this grand description. While his qualification haul of nine goals was a positive achievement, droughts have occurred.
In the darkest hours of England's recent history under Steve McClaren, Rooney only notched two strikes as the nation failed to reach Euro 2008. Even amid the most prolific run in his club career this term, he has failed to find the back of the net since last September's 5-1 win against Croatia.
This paucity of goals is hard to explain when compared to his feats in the Champions League, where five goals went in against Europe's most esteemed opponents. Quite simply, scoring for fun against AC Milan should make Algeria, the USA and Slovenia seem like child's play.