In our World Cup Comment series, individual writers at Goal.com offer their views on the hot World Cup topics of the day with local expertise and a global outlook.....
Every time Fernando Torres had the ball, my friend would go bonkers. Every time he would get past a player, she would scream in hope and expectation. Every time he would fail to skip past the second player and take a tumble, she would curse the opponent. To her, Torres couldn't do anything wrong.
Only he did and he does.
My friend, of course, happens to be a girl and like most girls she is 'in love' with Torres, which implies that she is blind to the Liverpool striker's mistakes so obvious against Chile (and in the previous two games), But for those who are not love-blind, it was clear who 'the player to watch' on the pitch was.
David Villa.
In fact, for Spain so far in the World Cup the 28-year-old has been their best player, yes better than Xavi or Andres Iniesta (although admittedly both Iniesta and Torres recently had injury problems).
Just run through the stats. Three matches, three goals and one assist. This denotes that essentially he has been at the heart of four goals. And how many goals have the European champions scored so far? Four.
But if goals were the only criteria to judge a player's importance, then Peter Crouch could claim to be England's main hitman. The way goals are scored, when they are scored and against whom they are scored cannot be overlooked.
The 'Pure Goalscorer'

Granted, Honduras were the whipping boys in Group H and their defending for Villa's first goal was so appalling that even Italy's back four would laugh at them. Granted, Chile are not exactly great in defence. Yet, from a striker's perspective the first goal against the central Americans was beauty personified. The second goal had the rub of the green but then again, fortune favours the brave.
Perhaps there was an element of luck in the way he was presented with an empty net against Chile, but if you are sane, you wouldn't really put a bet on Emile Heskey scoring that 30-yard chip. Or Mario Gomez, for that matter. Also remember, until then Villa has been quite anonymous in the match and he had struck the frame of the Honduran goal with the ball everyone loves to hate.
Andres Iniesta's goal virtually assured Spain of last 16 qualification but it was Villa who set him up. A simple schoolboy side-pass but an assist nevertheless when another striker would have gone for goal himself. Of course, after Torres was substituted, Villa became the lone striker upfront and missed two good chances in front of goal, but unlike Wayne Rooney he didn't get frustrated or shout at others but tracked back and defended: in the 53rd minute the Spanish striker was in a left-back position defending.
So far in the competition, it would be difficult to find a better striker than David Villa. In fact, he is (arguably) the best striker on the planet - a 'pure goalscorer'. In two seasons for Real Zaragoza, Villa averaged over 15 league goals a year; in five seasons at Valencia, over 20 goals. And remember, it is Valencia, a side that finished way off the top two in the Primera Division last season.
The other world class strikers - Torres, Rooney, Diego Milito, Samuel Eto'o, Didier Drogba - all play for Champions League-contenders; Zaragoza are an also-ran in La Liga and Valencia are nowhere near conquering Europe. Moreover, Villa doesn't have a Cristiano Ronaldo, Xavi, Lionel Messi, Wesley Sneijder or Steven Gerrard to feed him. But he still scores and scores tons of them.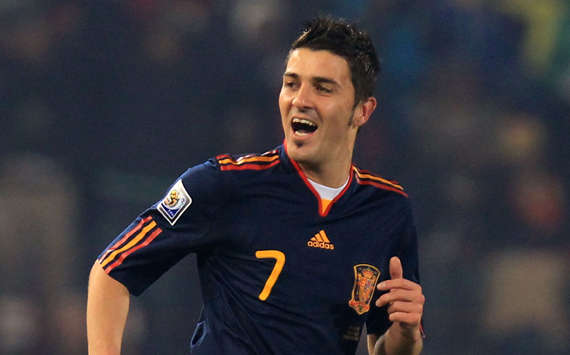 Room For Improvement
Yet Villa has been far from his best, especially when he has featured as the lone striker upfront. 'Lone' isn't a footballing synonym for 'alone' but in Villa's case it inches towards it. Against Switzerland until the advent of Torres the newly signed Barcelona striker appeared to struggle with service not forthcoming from the midfield. Thereafter he crafted two very good chances for the Liverpool striker, who characteristic of him at Atletico Madrid, squandered.
When Torres was withdrawn in the second half against Chile, again Villa found himself isolated upfront and missed two good chances. Also, remember he missed the spot-kick against Honduras and wasted a number of great chances after that.
But for all the missed chances, David Villa has scored when it mattered. The two goals against Honduras meant he wasn't not 'obliged' to score more and his first half performance against Chile even if he was in-and-out of the game paved Spain's path to the last 16. Villa wears Raul's number 7 shirt and is his 'direct' replacement in attack - a successful replacement. Four more goals and he will replace the Real Madrid legend as the highest goalscorer of all-time for Spain, having played 41 fewer matches.
Become a fan of Goal.com International on Facebook! Just click onto Facebook.com/Goal to join the beautiful game's leading fan community...