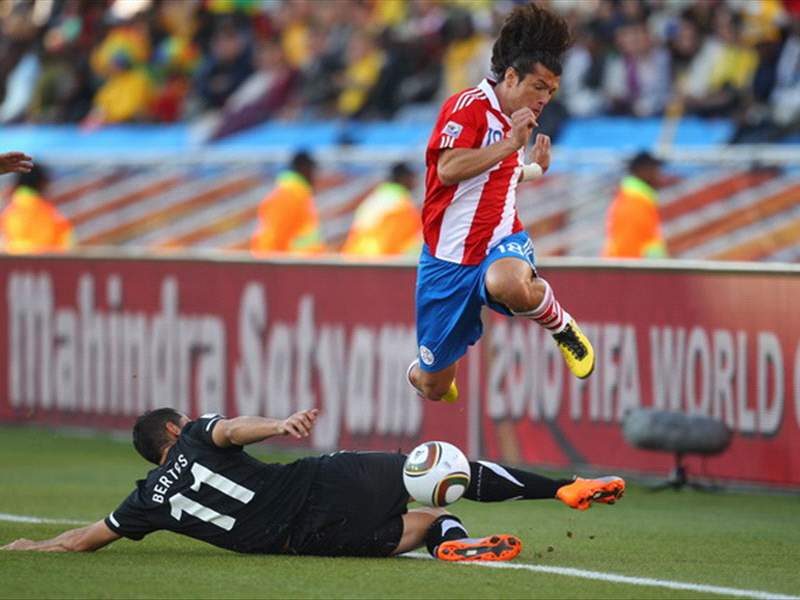 A goalless draw with New Zealand was enough to seal Paraguay's passage to the round-of-16 and while they undoubtedly showed the most endeavour, Gerardo Martino's side never really got going. It was all a bit flat from the South Americans while Kiwis coach Ricki Herbert was clearly happy for his side to go as long as they can without conceding before taking stock of events elsewhere in the closing moments.
Paraguay knew that a result over the World Cup's surprise package New Zealand would secure their position as group winners, and the draw means they avoid the prospect of facing the Netherlands in the second round.
Martino went with three out-and-out strikers in his side's victory over Slovakia following criticism that he was too conservative in their opener with Italy.
For New Zealand, two surprise draws with Slovakia and Italy meant Ricki Herbert's All-Whites would seal a sensational round-of-16 berth for themselves if they could get the bag their first win of the tournament. A draw could also take them through, if they drew scoring more goals than Italy did in a draw with Slovakia.
Herbert elected to stick with the eleven that earned a heroic, and well deserved, point against Italy at the weekend and set out their stall to contain their opponents from the off. With impressive teenager Chris Woods reaming on the bench, former Wimbledon striker Shane Smeltz retained his place up front.
Despite the impressive left-back Claudio Morel Rodriguez and midfielder Enrique Vera rushing from deep, Paraguay struggled to find their rhythm in the early stages.
Martino then showed his fury with holding midfielder Victor Caceres, as he picked up a yellow card after ten minutes for a tackle from behind on Rory Fallon. Scraping his studs down the back of the Plymouth striker's ankle, it was as cynical as it was stupid and means he will now miss his side's second round clash.
The age-old gap between the front three and the midfield was again causing a problem. Their first chance arrived from a set-piece after 13 minutes but Denis Caniza couldn't control his volley and his shot sailed harmlessly wide of Mark Paston's goal.
In the absence of Salvador Cabanas, Nelson Valdez shouldered the responsibility of plugging the gap and showed intent when he skipped around three defenders before his cross evaded Cardozo and Roque Santa Cruz after quarter of an hour.
Caniza hit another speculative volley moments later, with similar results, but was finding his range and almost opened the scoring after 20 minutes but narrowly missed the top corner of Paston's goal from outside the box. The skipper hit another 30-yarder after half an hour that swerved just over, leaving many wondering whether he had chucked a few bob on himself to open the scoring.
With midfielder Christian Riveros failing to impose himself on the match, Paraguay offered their front men little service in the first-half and Oscar Cardozo's only glimpse of goal came from a speculative long range effort five minutes before half-time.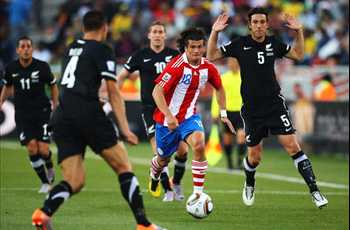 Manchester City striker Roque Santa Cruz offered as little as Cardozo in the first period. His only meaningful contribution came in the form of a booking for a late tackle just before the break as his increasing frustration got the better of him.
Paraguay's first real chance came from a corner on the hour mark. Taken short, Caniza clipped the ball across for Riveros to header straight at Paston from 10 yards before New Zealand frantically scrambled the ball wide for a corner.
Martino was becoming visibly frustrated with his side's insipid display and re-introduced Lucas Barrios five minutes later along with the super-sub of their qualification campaign, Edgar Benitez. Cardozo and Valdez departed and the new additions made an instant impact, combining with Santa Cruz before Barrios' shot flashed wide. It was the first time the Paraguayans had pushed the New Zealand defence onto the back-foot and the Kiwis were visibly unsettled by the pace with which their opponents broke.
Barrios should have won the game for his side after Benitez worked enough space for himself inside the box to curl a shot for the far corner; Paston got down well to save and, first to the rebound, Barrios should have tucked the ball into the empty net but seemed to get it caught under his feet, giving Paston enough time to smother his weak effort. The two subs again combined with ten minutes left when Benitez crossed for Barrios to head wide at the far post.
Woods did eventually arrive for the Kiwis and it was he who came closest to grabbing the goal that would take them through. Playing right on the shoulder of Julio Cesar Caceres, there was brief moment of excitement for the minnows as the youngster broke free of his marker to come within inches of converting a Smeltz cross. However, the offside flag quickly restored the gloom.
Most disappointingly, the Kiwis, fully aware that victory would take them through to the second round, never really showed any endeavour, even in the closing stages. Only the young Woods seemed interested in pushing forward. However, Herbert will be proud of his men: bank clerks and all. They can take pride in not only remaining unbeaten, but finishing above the World Champions.
For Martino, things will have to improve if his side wish to make the quarter-finals for the first time in their history.