GHANA
Kingson – 6.5 -
Reacted well to save a near own goal early on, and did well to force Oezil to spurn a one-on-one situation. Had no chance to save Oezil's goal.
Pantsil – 6.5 -
Had very little to defend against. Germany committed all their attack on the opposite side, and Podolski rarely moved into the box. Meanwhile, Ghana counterattacked where Germany had overcommitted, which was on the opposite side of the pitch.
John Mensah – 7.5 -
Extremely effective in the heart of the Ghanaian defence. Read Oezil's through balls very well, cutting them off before they could find their targets. His pace and physicality was too much for the German attackers to handle.
Jonathan Mensah – 7 -
Like his namesake, Jonathan was very strong in defence, always tracking down through balls ahead of the German attackers, and never conceding space inside the penalty area.
Sarpei – 6.5 -
Had his hands full, and benefited from the industrious play of his left-sided colleagues. A bit wayward with his passing, but did well to prevent the Germans from creating much on their favoured attacking side.
Annan – 7 -
The deep fulcrum of Ghana's attack, Annan almost never misplaced a pass and was the underlying reason the Black Stars were able to have several good spells of possession in the second half.
Kevin-Prince Boateng – 6.5 -
In the first half, he was Ghana's best passer out of the midfield along with Ayew. After the break, however, his influence declined as he was unable to get forward as he previously had.
Tagoe – 6 -
Very, very quiet in the first half, and never really got into the game until his close-ranged header was bocked by Jerome Boateng. That was not quite enough to keep him on the pitch, however, and the Hoffenheim man was replaced shortly thereafter.
Asamoah – 7 -
Did well to get behind Lahm in the first half, and made very few mistakes defensively. Had a gilt-edged chance to score in the second half, but made a poor attempt, and had his shot saved.
Ayew – 7.5 -
Superbly exploited the space behind Lahm, and seemed to always find Gyan, Asamoah, and even Tagoe. Very industrious, breaking forward while also aiding Sarpei on the defensive end.
Gyan – 4 -
Repeatedly found himself in position to score, but never quite managed to do so. Spurned some excellent opportunities.
Substitutes

Muntari – 4 -
Replaced Tagoe shortly after Oezil's goal, and was never going to make much of an impression on the offensive end. Narrowly avoided a booking after making a rash challenge, and was woefully sloppy with the ball at his feet.
Amoah – 5 -
Replaced Gyan late in the second half, but was starved of service.
Adiyah – N/A -
Made a brief cameo.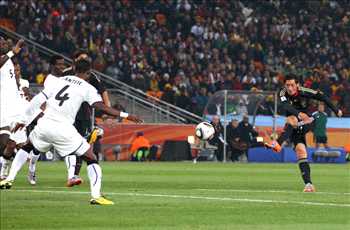 GERMANY

Neuer - 7 - Swift to run off his line, and never failed to reach the ball first when he did. Made an excellent stop from Asamoah early in the second half, which saved the game. Made only one mistake, which was temporarily spilling a corner, but was never punished.

Lahm - 8 - Superb while going forward, but occasionally left the German defence exposed in the first half. Saved a goal early on with an excellent clearance off the line, and later with a timely challenge to deny Ayew. Coolly defended in the closing minutes, effectively nullifying what had previously been an impressive left side of the Ghanaian attack.

Mertesacker - 6.5 - Less assured than Friedrich in central defence, but still a good performance from the towering central defender, who was not often challenged, but occasionally was caught ball-watching.

Friedrich - 6.5 - Excellent one-on-one defending from the Hertha Berlin man, who made a few timely challenges and more than one touch clearance. Did not always properly track Gyan, however.

Jerome Boateng - 6.5 - Never an attacking option, but as a right-footed central defender positioned as a left full-back, you wouldn't expect him to be. Featured as more of a central defender for much of the second half, but misplaced his passes and was eventually substituted.

Schweinsteiger - 8 - Was constantly harassed by the Ghanaian midfielders, but did exceptionally well dribble and pass out of danger and set up the German attack from deep. Despite going off early, 'Schweini' completed more passes than any player on the pitch. If he misses the round of 16 with injury, he will be sorely missed.

Khedira - 7 - As always, outran everyone on the pitch. Actively participated in the German attack, but his passing in the first half was very poor. Came out a much better player in the second half, and aided Lahm in defence on the right flank.

Mueller - 6 - Disappointed for the second consecutive game, and was eventually replaced by Trochowski. The 20-year-old was among his team's least active players, and needed to do more on Lahm's flank, which was always going to be the one on which German would attack.

Oezil - 8 - Missed a one-on-one chance early in the game, but made up for it later with an outstanding strike that sent Germany through to the knockout rounds. While his cutting through balls were not on show today due to the deep-playing Ghana defence, the Werder Bremen playmaker found a way to win the game for Germany.

Podolski - 5 - Played too deep, which made it very difficult for Germany to score. With Miroslav Klose suspended, his country needed more presence in the penalty area. Was too content to shoot from distance.
Cacau - 6: Never a presence in the box, the reason for his previous exclusion from Loew's squad became clear today. Germany desperately need a man capable of scoring in the penalty area, and Cacau didn't show his capacity to do so tonight.

Substitutes

Trochowski - 6.5: Replaced Mueller, and used his dribbling skill to help Oezil lead the counterattack.

Jansen - 7: Came on for Jerome Boateng as a surprise substitute, allowing Lahm to take a breather from his persistent attacking. Passed well, and proved a useful outlet.

Kroos - 7: Replaced the injured Schweinsteiger for the closing minutes, and played a primarily holding midfield role. Never misplaced a pass.

Become a fan of Goal.com International on Facebook! Just click onto Facebook.com/Goal to join the beautiful game's leading fan community...