Kick Off: Tuesday, June 15, 2010. 19:30 CET
Ellis Park Stadium, Johannesburg

Looking For A Sixth Star
It never seems like the World Cup has truly begun until Brazil have got their campaign underway. The most successful nation in the history of the competition always seem to be amongst the favourites before a ball has been kicked, and there is no difference going into South Africa, where the Selecao open their campaign against North Korea.
Dunga's side have been accused of not having the flair of previous Brazil teams, and this has proven to be something of an affront to the squad, of whom beautiful as well as successful football is expected.
The functional feel to the present unit is underlined by their qualification campaign. Though the Selecao would only lose twice in 18 matches, they would be held to a draw on no fewer than seven occasions. This hard-to-beat makeup ultimately proved successful, as Brazil topped the CONMEBOL qualification group ahead of Chile.
Pre-tournament matches against Zimbabwe and Tanzania, which ended in 3-0 and 5-1 victories respectively, were somewhat flattering to the South American side, yet these were ultimately exercises geared towards acclimatisation as opposed to winning. And still the Selecao managed to achieve comfortable victories in both fixtures without clicking into anything like top gear.
All-time great Pele has already tipped Dunga's men to win a sixth World Cup tournament, while the signs coming from the camp would appear to be positive, despite the coach banning the media from their training sessions.

Seeking The Spirit of '66
North Korea's introduction at just their second World Cup finals could barely be any stiffer, yet the East Asian nation has previous history of causing upsets on football's greatest stage. When they previously qualified in 1966, Italy were famously beaten 1-0, and Eusebio's Portugal had to recover from a 3-0 deficit to avoid a monumental quarter-final shock.
Repeating such feats seems the stuff of fantasy, but the Chollima approach the Selecao fixture with a positive mindset. "We know that all the players on the team are famous and that Brazil is the strongest team in the world. It doesn't seem like they have any weaknesses," coach An Yong-hak told the media. "Our chances may not be that great, but we can't say there's no chance at all.
"The mentality for victory, strong organisational power and unity in fighting - these attributes are further ahead in us than the Brazil team, I think."
In the AFC qualifying matches, the team rated 105th in the FIFA rankings were found to have an at times impregnable defence. During the third group stage, which consisted of six matches, they didn't concede a solitary goal, and when it mattered in the final pool, they lost only five goals in eight matches, battling to a gutsy 0-0 draw in Saudi Arabia to secure their qualification.
Now Luis Fabiano, Robinho and Kaka are amongst the players lining up against Kim Jong-Hun's side, whose defensive ability will be stretched to breaking point on Tuesday.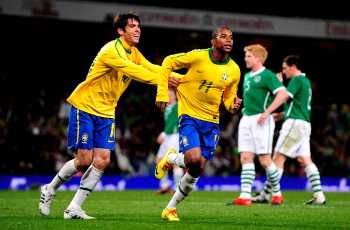 FORM GUIDE

Brazil
WON 5-1 (a) Tanzania (Friendly, June 7)
WON 3-0 (a) Zimbabwe (Friendly, June 2)
WON 2-0 (a) Oman (Friendly, November 17)
WON 1-0 (n) England (Friendly, November 14)
DREW 0-0 (h) Venezuela (World Cup qualifier, October 14)
North Korea
LOST 3-1 (n) Nigeria (Friendly, June 6)
DREW 2-2 (n) Greece (Friendly, May 25)
LOST 1-0 (n) Paraguay (Friendly, May 15)
DREW 0-0 (n) South Africa (Friendly, April 22)
LOST 2-1 (a) Mexico (Friendly, March 17)
TEAM NEWS

Brazil

The Selecao don't have too many injury issues, though it seems that they are still fretting over the well-being of goalkeeper Julio Cesar, who missed the final warm-up match against Tanzania due to a back complaint. If the Inter goalkeeper is not fit, Heurelho Gomes appears to be the man to take over.
Ramires could be called after scoring twice against Tanzania during a second half cameo.
Probable Starting XI:
Gomes; Maicon, Lucio, Thiago Silva, Michel Bastos; Gilberto Silva, Ramires; Elano, Kaka, Robinho; Luis Fabiano
North Korea
The decision to name Kim Myong-Won as a third choice goalkeeper has rather backfired as FIFA have decreed that his side can only use the striker between the sticks.
There have been no reports of injury issues in the North Korean camp.

Probable Starting XI:
Myong-Guk; Jun-Il, Nam-Chol, Song-Chol, Kwang-Chon, Chol-Jin; In-Guk, Young-Hak, Nam-Chol, Yong-Jo; Tae-Se
PLAYERS TO WATCH

Brazil
With a plethora of stars, it's tricky to pinpoint just one player in the Brazil team to shine. Against a side like North Korea, striker
Luis Fabiano
will aim to get his quest for the Golden Boot off to a strong start. As of Monday morning, no individual had scored more than one goal in the 2010 Finals, and the prolific Sevilla man will fancy his chances of bagging two or three against poorly rated opponents.
North Korea

Jong Tae-Se
has been branded the 'Asian Rooney' and will be hoping to enhance his reputation further against one of the greatest sides in the world. The Kawasaki Frontale forward may have been born in Japan, but he is fully committed to the North Korean cause, boasting a hugely impressive scoring record in the international game. He found the net against Nigeria recently, and twice against Greece.

PREDICTION
It would be one of the World Cup's all-time shocks if Brazil were to even draw this game. The Castrol World Cup predictor suggests that the Selecao have a whopping 86 per cent chance of winning this match, though the North Korea's have proven defensively apt in the past and will simply aim to play out a scoreless draw. If the South Americans score early, it could get ugly for the Asians.

Brazil 4-0 North KoreaThink you can do better than our expert? Place a bet now on the match with Goal.com's official betting partner Titanbet.