Switzerland
start the
2010 World Cup
with a match against reigning European Champions
Spain
on Wednesday and Goal.com spoke with attacker Alexander Frei, defender Stephan Lichtsteiner and goalkeeper Diego Benaglio in the build-up to the game.
"Switzerland are never the favourites in a tournament like a World Cup. But we can become what the favourites are afraid of. Our goal is to reach the second stage of this tournament," said Frei to
Goal.com
.
"Spain are certainly one of the best teams here in South Africa, they are one of the big favourites. But they have a very difficult opening game to play.
"On a personal note, I want to recover from an ankle injury that I got in the last training session in Switzerland before leaving for South Africa. After that, let us take step by step, game by game. And whenever I enter the pitch, I do it for winning the game."
Alexander Frei will be wearing PUMA Kings boots throughout the World Cup
Lichtsteiner agreed with his teammate and stated that Spain are one of the favourites to win the tournament.
"Well, I hope that we can take some points from this game. Let us put this straight though: Spain are by far the big favourites in this game. They're one of the favourites for winning this World Cup," revealed the Lazio defender to
Goal.com
.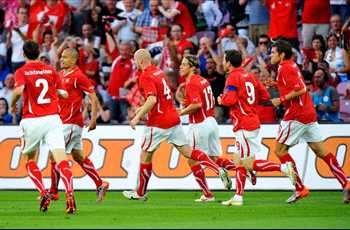 "If there was a cup formula like there is in the UEFA Champions League with two games and decisive result on aggregate, it would be very hard to get over Spain. But there is one game only and in one match everything can happen.
"We cannot promise a positive result, but we guarantee a performance that will spare us of reprimands as to not having done everything in our power. We have had a very good preparation so far and increased the team spirit that has been good before already. Be sure we are going to give our very best to get as far as possible."
Stephan Lichtsteiner will be wearing PUMA Power Tricks boots throughout the World Cup

Shot stopper Diego Benaglio pointed out that Spain have no weak points and that it will be very tough for the Schweizer Nati to record a good result.
"Spain are the team that is said to be very likely to win this World Cup. They are very strong in the attack, they play very fast and if you let them play they are almost unbeatable. This means that we must be very well organized and defend on a very high level," stated Benaglio.
"Flaws? I could not tell you. Some say they have a problem with the goalkeepers. This is ridiculous. The biggest problem for Vicente Del Bosque is to choose one out of three world class keepers.
"What counts is the team and the performances as the team that represents Switzerland. We can say it is a success that a country like Switzerland is part of the tournament, but we are not here just to take part. We want to qualify for the second stage of the World Cup."
Diego Benaglio will be wearing PUMA Power boots throughout the World Cup