In our World Cup Comment series, individual writers at Goal.com offer their views on the hot World Cup topics of the day with local expertise and a global outlook...
Before Germany's World Cup opener in Durban, coach Joachim Loew must have told his team to paint the town orange. During the match, defenders popped up alongside forwards, attackers dropped back to help in the build-up play, and only goalkeeper Manuel Neuer kept to a rather rigid position. Indeed, there was something distinctly Dutch about the Germans, whose "total football" approach produced the 2010 World Cup's greatest victory yet. So comprehensive was the German victory that the 4-0 scoreline flattered Australia.
To label Germany's formation a "4-2-3-1" would be both inaccurate and a gross simplification. In Loew's tactical setup, "striker" Miroslav Klose's average position was approximately level with that of Thomas Mueller, Mesut Ozil, and Lukas Podolski. Effectively, the Germans used a four-man wall as their first line of defense. Their high-pressure style of defending kept Australia out of their attacking third, and repeatedly forced mistakes.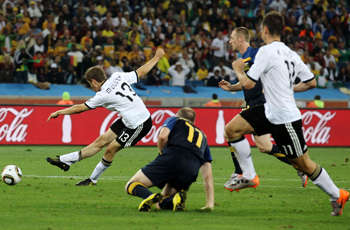 When the ball was won back, the Germans' first line of defence turned into a four-headed beast that raced forward in unison, causing the Australian defenders to freeze like deer looking into headlights.
Podolski and Mueller may have lined up on the flanks, but they served as auxiliary strikers, cutting directly towards goal when given the opportunity. Whereas traditional wingers would have stayed wide to play crosses, Podolski and Mueller's direct style of play produced two of Germany's goals, and created several other opportunities.
When the Germans were unable to counterattack, defensive players Philipp Lahm, Sami Khedira, Bastian Schweinsteiger, and even Arne Friedrich (who was once flagged offside) would step forward to pull their opponents out of position and create space for their teammates to run into.
The Germans' constant movement and distribution over the whole width of the pitch repeatedly confused and stretched the Australian defense until it finally broke, and one of Meust Ozil's dagger-like through balls pierced through the back line. In this regard, the Germans were decidedly German: their runs and passes methodically thinned and molded the Australian defence until there was enough room to deliver the final ball, which Ozil consistently did with aplomb.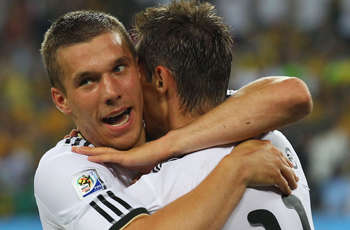 There remain some issues for Germany to address. Before the game, many were worried about Klose's form, and for good reason: while he did manage to score, the veteran striker missed a hat trick of sitters. The Bayern Munich man has worked very hard in recent weeks though, and his progress showed in the runs he made last night. What is a concern, however, is his fitness. A visibly fatigued Klose had to be substituted after 68 minutes.
Additionally, the Germans' defence hasn't been properly tested since their 1-0 loss to Argentina in March. In the knockout rounds, they certainly won't be seeing Friedrich freely running forward, so it remains to be determined whether Germany will be able to maintain their attacking quality against more forward-minded teams than Australia.
Regardless of what might come, what we saw last night was the best performance of any team thus far at the World Cup. In just a few weeks, Loew has transformed a talented group of youngsters into a cohesive machine that would make Johan Cruijff proud. Hats off, Jogi, and
auf geht's, Deutschland!Become a fan of Goal.com International on Facebook! Just click onto Facebook.com/Goal to join the beautiful game's leading fan community..