Over the last six months Castrol's team of 80 analysts have assessed all 540 games from 1966 to 2006 - spending over 3,000 hours logging close to one million player movements to uncover the Castrol Index scores for players past and present. From these results, Castrol has identified the top performing players from the past 40 years of FIFA World Cup™ action.

Goal.com's exclusive series continues as we profile Argentina's Diego Maradona, who dominated the 1986 World Cup finals in Mexico in a manner we'd never seen before and we're unlikely to ever see again.
Even as a little boy when asked about his ultimate ambition in life, as he showed off his footballing gifts, Diego Armando Maradona was never shy about telling everyone that he wanted to play in the World Cup and win it for Argentina.
On June 29, 1986 his dreams came true as he led Argentina to a 3-2 victory over West Germany in the World Cup final. Argentina were champions and Maradona was crowned king of the footballing world as he almost single-handedly won the game's greatest prize for his country. His performance in that World Cup is generally regarded as the greatest singular display of any player at any World Cup since it began in 1930.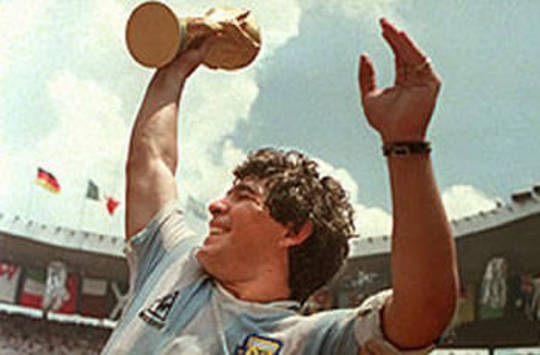 A teenage Maradona was omitted from Argentina's World Cup winning squad in 1978 and his 1982 campaign is best remembered for his crude tackle which earned him a red card against Brazil. Argentina were eliminated and Maradona had a four-year wait to make his childhood dream come true.
By the time Mexico 1986 rolled around, Maradona was at his peak as Argentina were drawn with world champions Italy, along with Bulgaria and South Korea in the group phase. The brilliant number 10 started in scintillating form, providing the assists for Argentina's three goals as they made light work of Korea. El Diego's performance that day was a sign of things to come.
Maradona was again instrumental in the bad-tempered draw with Italy as he hooked the equaliser in from an unlikely angle. Argentina topped the group with a routine 2-0 win over Bulgaria in which Maradona provided an inch perfect cross for Jorge Burruchaga's bullet header.
It was in this same game that the
often-repeated clip
of Maradona skipping away from a bunch of chasing Bulgarians displaying his perfect balance for the world to see occurred. He was looking unstoppable and we hadn't even got out of the group stage yet.
Argentina and Maradona marched on, beating a cynical Uruguay team in the second round 1-0 with El Diego inevitably involved in the build-up play. The 1978 winners would play the 1966 champions in the quarter-finals - Argentina versus England, with memories of the recent Falklands conflict fresh with everybody in what was billed as the ultimate grudge match and a game that both teams dare not lose.
Over 100,000 fans were packed into Mexico City's Azteca Stadium to witness one of the most memorable and controversial games in World Cup history. Early in the second half Maradona skipped by a couple of English players and the ball deflected up towards England goalkeeper Peter Shilton. Despite his smaller stature, Maradona outjumped Shilton and punched the ball into the net with his hand to create a goal forever known as the Hand of God by El Diego himself.
He revealed in a BBC interview years later: "It was my hand. I couldn't reach the ball and Shilton was already there. I couldn't head it so I did like that [motions] and moved my head back. I go out shouting 'goal' and look behind to see if the referee took the bait and he had. It was a goal."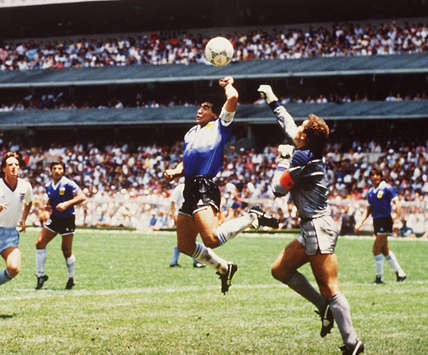 Minutes later Maradona started and finished the 'goal of the century' when he picked the ball up inside his own half and took on England single-handedly, slaloming his way past every white shirt in sight, showing extraordinary skill before coolly slotting past the hapless Shilton. There was no controversy over this strike. Just pure football magnificence from a superstar writing his own personal World Cup story.
It was, as he later revealed, "the dream goal" and regarded as the greatest in World Cup history.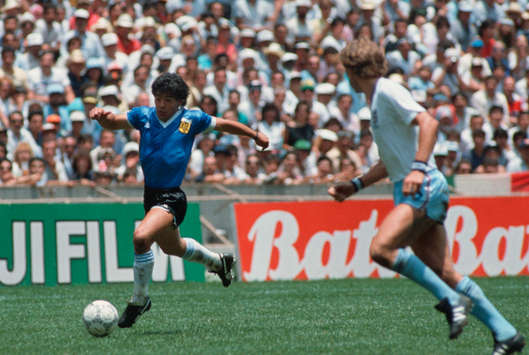 Argentina beat England 2-1 to set up a showdown with a talented Belgian side who had beaten La Albiceleste four years earlier in the group stage. Cometh the hour, cometh the man, as Maradona put on another mesmerising display, dismantling their European opponents with even more wizardry.
He opened the scoring in the second half with an opportunistic toe poke which any striker would have been proud of, then added another superb individual goal when he dribbled his way into the danger area to rifle home his second. With this goal he showed once again his otherworldly balance, even managing to keep his feet as he wheeled away in celebration.
The world was in love with Diego Maradona as Argentina prepared for their second World Cup final in eight years. Although he was quieter in the final, he set up Burrachaga's winner with a deft pass as his country defeated West Germany 3-2 in a classic encounter. Once again Argentina's number 10 had made the difference.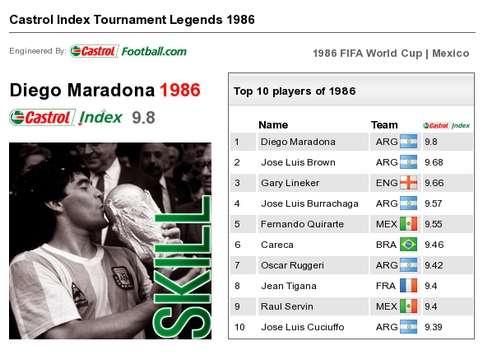 Proof of Maradona's dominance of the tournament is revealed in the Castrol Index statistics. He scored or assisted 10 of Argentina's 14 goals during Mexico '86. In fact, he attempted or created 52% of all Argentina's shots during the finals and embarked on 90 dribbles, more than three times as many as any other player. He was also fouled 53 times, winning almost twice as many free kicks as any other player.
But stats alone don't tell the whole story. Maradona showed the world that one player really can make a team and that one man can inspire a whole nation to ultimate success on football's greatest stage.
To find out more about the series log onto the Castrol Football Legends site
Next: Andreas Brehme 1990