In our World Cup Comment series, individual writers at Goal.com offer their views on the hot World Cup topics of the day with local expertise and a global outlook...
And so, after more chopping, changing and tinkering than possibly any coach in the history of international football, not to mention a host of
controversial selection choices
, it seems that Diego Maradona has finally decided on the 11 footballers that will take the field against
Nigeria on Saturday
. Argentine sports bible
Ole
revealed what it claims to be the starting line-up for
Argentina's
World Cup exploits. Below we analyse the players chosen and the role they will fulfil for this football-crazy nation, and find out if one of the most controversial figures in the sport has finally stumbled upon a consistent winning formula.
Disclaimer: The unreliability and randomness of Señor Maradona's team selection is only matched by the unreliability and exaggeration of the Argentine press. The writer therefore makes no guarantees that this team will actually walk out on the 12th, and would not be at all surprised if 11 different players took the field.
As you would expect from a coach that has played nearly 120 different players in some 18 months in the top job, this particular line up has never played a game together. The tactics and players are, however, essentially what we saw in the Albiceleste's
5-0 demolition of Canada
in the team's farewell to the public two weeks ago. This was a pleasant surprise for the media, who saw Maradona's supposed commitment to 4-4-2 and a backline of four centre-halves as a betrayal of all that Argentine football stands for; although admittedly any team in this World Cup should put up more of a fight than a very poor Canadian outfit. The team should be as follows:
Chosen Formation: 4-1-3-2Sergio Romero, goalkeeper:
No surprises for this one. The 23-year-old AZ number one is not the most spectacular keeper in the world, but has performed solidly since entering after the Brazil and Paraguay qualifying debacles and, barring any disasters, should remain first choice.
Jonas Gutierrez, right-back/wing-back:
The Newcastle midfielder is ostensibly an out of position full-back, but if Canada is anything to go by he will play more as a wing-back, marauding down the touchline and giving midfield maestro Veron an extra distribution option. The question is glaring however: why is a second division midfielder occupying a place tailor-made for Champions League winning captain Javier Zanetti?
Walter Samuel, centre-back:
A fully expected member of the back-line after one of the most successful seasons of his career. Slow across the ground but a superb reader of the game who flourished alongside the more athletic Lucio in Italy. It had at one stage looked like his international career was on the wane, but an excellent renaissance caught the eye of Maradona, earning the veteran a starting berth in South Africa.
Martin Demichelis, centre-back:
Despite coming out second best to Samuel in the Champions League Final, Demichelis has always looked likely to partner his compatriot in central defence. A converted midfielder, Demichelis can be vulnerable to positional slip-ups, but does distribute the ball well from the back. He will be tested to his limits when dealing with the with the strong, fast Nigerian forward line.
Gabriel Heinze, left-back:
A player who has come in for some unfair criticism in Argentina, as a supposed example of Diego's lack of attacking instinct. Heinze is a centre-back by trade, but more than capable of filling a left-back slot - a position in which the Albiceleste are glaringly short of alternatives.

Javier Mascherano, defensive midfielder:
Diego's captain and midfield general, the Liverpool man will be expected to cover the back four and support the forward line. A tough balancing act that Mascherano has not always been able to fulfil in the past.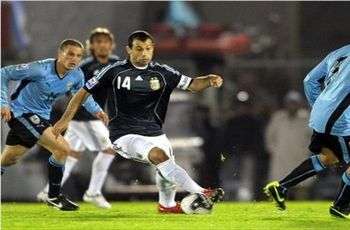 Javier Mascherano | Argentina's midfield anchor
Juan Sebastian Veron, centre midfield:
The closest that Argentina have to a Xavi or Pirlo, a lot rests on 'the little witch' and his 35-year-old shoulders. There is no doubt that the Estudiantes man can fire a ball onto a space not much wider than his gleaming scalp, but at his age there is serious doubt over whether he can stay fit for the entire tournament.
Angel di Maria, centre/left midfield:
The Benfica winger has impressed in the few appearances he has made so far in the blue and white, but is crucially untested in competitive games. He has all the attributes to make this position his own and be a star of the tournament, but needs the support of his more experienced teammates to avoid being overwhelmed by juggling two positions.
Lionel Messi, attacking midfield/number 10:
What more can be said against this diminutive genius? Consecrated in Europe, at least as El Diego's natural heir, 'the flea' occupies the magical position for all Argentina sides. Number 10, 'enganche' (hook), playmaker, whatever you call it, there is no doubt that a hell of a lot rides on Messi reproducing his Barca form in South Africa. He has reason for optimism however - with attack minded players such as Tevez, di Maria and Veron also on the field at least some of the responsibility for creating will be lifted.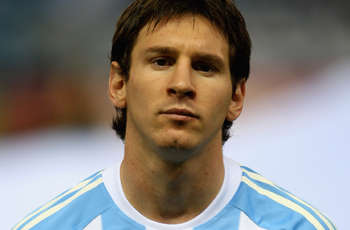 Lionel Messi | Occupier of the coveted No 10 shirt
Gonzalo Higuain, centre forward:
In the team for one reason: to score the goals which fire the Albiceleste to World Cup glory. Fast, strong, accurate and not lacking in self-belief, 'Pipita' overcame hostility in Madrid to have a wonderful season. At times, however, such as against Canada he can be wasteful in front of goal, and will need a solid start to stop Diego Milito snapping at his heels.
Carlos Tevez, striker:
Carlitos has not so much been knocking on the door as taken a bulldozer to it. He made it impossible for Maradona to ignore him with a series of fantastic displays for club and country, as well as training like an absolute demon. He will be given more freedom than strike partner Higuain, roaming the field searching for the ball, linking up with creative partner Messi and essentially striking fear into the hearts of Nigerians with his tireless harrying and scavenging for possession. A potential star in the blue and white.
Verdict:
A strong side, with plenty of attacking firepower and a passable defence. Somehow the bearded one,
who will put everything on display if his team prevail
, has put together an intelligent unit. With serious depth issues in key positions though, Argentina will pray for a healthy side as only a few untimely knocks could see the squad appear paper-thin in certain areas.

Become a fan of Goal.com International on Facebook! Just click onto Facebook.com/Goal to join the beautiful game's leading fan community...