Barcelona
playmaker
Xavi
has revealed how much he admires English football but thinks
Spain
are the team to beat in this summer's World Cup.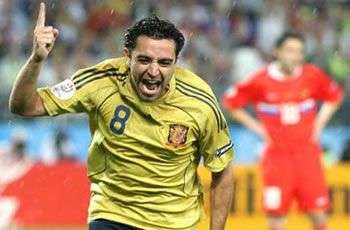 Taking Le Tiss | Xavi was a huge fan of Saints legend
In an interview with
The Sun
the 30-year-old Spanish midfielder revealed childhood inspiration from a somewhat surprising source:
"The man I absolutely loved watching as a kid was Matt Le Tissier after seeing the highlights of his extraordinary goals.
"His talent was out of the norm. He could dribble past seven or eight players but without speed - he just walked past them. For me he was sensational.
"We had a programme on Spanish TV with the best goals from around Europe. He was always the star.
"I was ten or even younger. He was definitely an idol."
It is perhaps surprising that Xavi admires English football, but he admits Liverpool's decades of dominance were a formative influence.
"I love English football and I've followed it since I was young. The Liverpool years, images of John Barnes, are still in my mind. They played great football but it was different to what we play at Barcelona and Spain now," he said.
"Back then there wasn't so much pressing and different defensive systems and physical strength. Players and teams are much more prepared in terms of fitness and put you under pressure.
"Back then you could think during the game but now there's hardly time to think. Jan Molby was a terrific player who almost joined Barcelona as well. He was sublime.
"Liverpool played the game the way it should be played which is what we try to do now."
Xavi also insists that winning Euro 2008 gave Spain the belief they need to lift their first-ever World Cup trophy in 2010.
"Of course winning it gives us a mental boost to win the World Cup too. Lifting that trophy did us the world of good," he continued.
"It changes you a lot and also you see the respect of your rivals and they way they look at you. It's a feeling that we can. That we are able to beat anybody.
"A lot of credit has to go to Luis Aragones who was our manager at the time. He made us believe that with our style of play we could beat anyone in the world.
"The Spanish footballer always felt that he was very good but not one of the best. So Aragones stamped on us that winning character that we were missing.
Spain beat England, France and Argentina in recent friendlies and defeated Italy and Germany during Euro 2008 – so Xavi believes Spain's rivals have their work cut out.
He said: "It's difficult for anyone in the world at the moment to play better football than Spain – we play a very technical game and we have the best technical players in the world.
"But playing well doesn't mean you will win. Inter didn't play well at the Nou Camp and still beat Barcelona in the Champions League this season.
"There are many ways to play and win. We think ours is the most correct. We like it and think people like it too because they stop us in the street and congratulate us.
"But we know playing beautifully doesn't mean we'll end up winning. What we love is winning by playing the beautiful game.
"It's a double satisfaction. It's the same philosophy that we have at Barcelona, which Johan Cruyff brought here decades ago.
"Spain has a manager, Vicente del Bosque, who loves us to keep the ball and dominate the game, have possession, combine and play with triangles from the first minute and be on the attack.
"And we think that by keeping the ball as much as possible your chances of winning are greater."
Become a fan of Goal.com UK's Facebook fan page for all the latest news and insight into everything related to the beautiful game!