The
Uruguay
national team plans to bring a secret weapon to this year's World Cup... 150 kilos of
mate
, the hot beverage recognised as the country's national drink.
The side have still not travelled to South Africa, and will be one of the last sides to arrive before the action kicks off on the June 11. A report from Argentine newspaper
Ole
has however uncovered one certain traveller: the native herb
yerba mate
, which is consumed in great quantities in Uruguay and Argentina mixed with hot water to form a drink similar to tea.
The report suggests that the team will carry up to 150 kilos with them on their flight to South Africa, anticipating that the substance will be in short supply away from their homeland. A source close to the national team points out that this is enough of the drink to see them through up until July 11 - the date of the World Cup final. The celeste will have a battle on their hands if they want to progress however. Group A sees them joining France, Mexico and hosts South Africa in one of the toughest groups of the first round.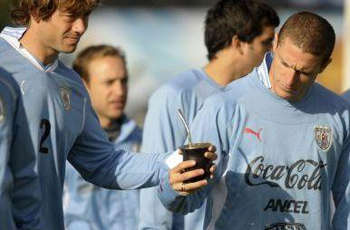 Uruguayans are the world's biggest drinkers of mate and it is common to see people brewing the tea as they are walking down the road, on the bus or in virtually any other everyday activity. The thermos and drinking vessel used to prepare the tea are common fixtures at any Uruguay training session, and it seems that up to a month without the drink would be unthinkable.
The Castrol Football Success Predictor
however doubts the chances of Uruguay getting through their 150 kilos, with only a 6.6% chance of making the final. They do have a 60% chance of making it through their group into the second round though.
Become a fan of

Goal.com

International on Facebook! Just click onto

Facebook.com/Goalto join the beautiful game's leading fan community...