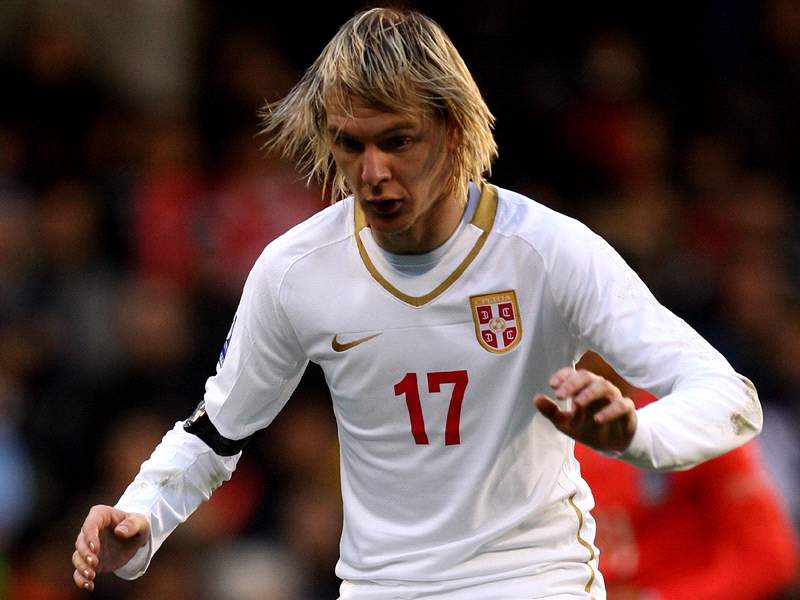 POLAND
Fabianski: 7 – Made some important saves and did well to hold on to the ball at times given the wet conditions.
Kowalczyk: 5 – Struggled to deal with Krasic whenever the tricky winger had the ball. Mrda also gave him a few problems.
Wojtkowiak: 6 – Much like his defensive partners, had little to deal with in terms of build-up play to break up.
Sadlok: 6 – Did well to to keep Zigic under wraps for the duration.
Piszczek: 6.5 – Put in a few good deliveries and defended well when called upon.
Peszko: 7 - Played well throughout. Always an option on the left.
Dudka: 6.5 – Did a decent job of keeping play heading in the direction of the Serbian goal as he filled the role of anchorman.
Mierzejewski: 6.5 – Kept things ticking over well in the centre for the most part, and his positioning would have earned him a goal if the wet pitch hadn't stopped the ball before it got to him standing in front of an open net.
Błaszczykowski: 8 – Probably the best player on the pitch. Somehow managed to deal with the rain wonderfully as he took his touches well and put his crosses in even better.
Lewandowski: 6 – Dropped deep to pick up the ball early in the game, but quickly faded away as the pitch became too wet to create.
Nowak: 5 – Not the tallest of targetmen, Nowak had no time to move when the ball landed at his soggy feet.
Subs
Jodłowiec: N/A
Rybus: N/A
SERBIA
Isailovic: 4.5 – Flapped a few times and struggled to hold on to the wet ball. Replaced by Stojkovic who duly showed him up.
Kolarov: 6 – Defended well and found time to help build from the back. Took a wild swing near the end of the match that perhaps would have gone in if the weather had been different.
Subotic: 6.5 – Both central defenders kept the Polish strikers silent for the duration.
Lukovic: 6.5 – See above.
Ivanovic: 6 – Salvaged his mark due to his last ditch defending. Could maybe have dealt Peszko better.
Jovanovic: 6.5 – Liverpool's new goal-maker had a decent outing. Set up Stankovic for what would have been a goal on any other day, but couldn't ply his trade well enough given the conditions.
Kuzmanovic: 6 – Could have done better to control play from midfield, but can't be blamed due to the weather. Almost played in Jovanovic after a lovely nutmeg in the first half.
Stankovic: 7 – Tried to lead by example, and sometimes looked like scraping a goal out of his bunch. The drenched pitch had other ideas, though.
Krasic: 7 – Showed momentary clips of brilliance, but had his creativity hindered by the dank pitch.
Lazovic: 6.5 – Perhaps should have scored after Krasic played the ball into him. Always a threat, had his best effort saved off the line by Fabianski.
Nikola Zigic: 5 – We've seen better from the former Valencia striker.
Subs
Pantelic: 5 – Looked dangerous to start with, but missed Serbia's best chance of the game when he put the ball over the bar from six yards.
Tosic: 7 – Only had 45 minutes to show what he could do, but used the time well. Dangerous from set pieces, Tosic also managed to produce some great build-up play on the waterlogged pitch.
Petrovic: 5 – Booked for a silly challenge.
Stojkovic 7 – Some great saves showed why he'll be between the sticks in South Africa.
Kacar: N/A
Mrda: 7 – Had little time to shine, but almost scored and nearly set one up in the minimal amount he was given.

Become a fan of Goal.com International on Facebook! Just click onto Facebook.com/Goal to join the beautiful game's leading fan community...