Please note the below is just a bit of fun…
10) Corporate Seating
If you have ever been to a pre-match or post-match corporate dinner party, you will know that a large percentage of corporate guests at the World Cup are not football fans.
They stuff themselves on food and champagne, talk about business and yachts, and shamefully take their seats 10 minutes late at kick-off and half time. They then spend most of the game reading The Financial Times, The Wall Street Journal and The Economist.
Worse still, these corporate guests took one-in-six tickets at the 2006 World Cup, while real fans were left watching the matches on television. A whopping 38 % of seats at the 2008 Champions League final were gobbled up by corporates.
We don't invade your conferences on how to manufacture the economic depression, so don't be part of our beautiful game.
9) Rowdy England Fans
The Premier League has successfully managed to overcome many of the fan-related problems that blighted English football in the 1970s and 80s, but when Three Lions supporters travel abroad locals still fear the worst.
Don't expect to get a good night's sleep if you are staying in the same neighbourhood as a group of young England fans. Be prepared for painful renditions of Ten German Bombers, Vindaloo, and 'Rooney, Rooney' – even worse when accompanied by those 'musicians' who damage our ears at every England game by blowing their trumpets. If you are a local bar owner, the millions you make will immediately be lost on repairing the broken glass and chairs.
Please bear in mind that it is only the minority who behave in such a way – many England fans are excellent - unfortunately as in everything in this world it is the minority that ruin things for us majority.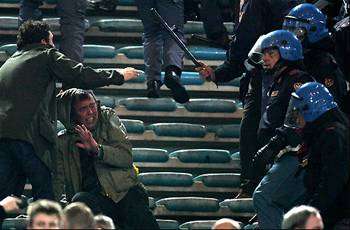 8) Vuvuzela
It is only right that local culture is respected, and South Africans will argue that they deserve to do what they want in their own country. But, the sound produced by a Vuvuzela causes worst headaches than listening to Vindaloo. The Kuduzela was introduced as a replacement for the noisy vuvuzela but all it achieves in doing is poking and deafening the person on the right hand side. On second thoughts, maybe the sound of elephants drowning out the voice of 'expert' commentators like Mark Bright and Lee Dixon of the BBC isn't such a bad thing after all.
7) 4-5-1
Has there ever been a World Cup with so few skilful players on show than in 2010? Ronaldinho, Alexandre Pato, Antonio Cassano, Fabrizio Miccoli, Francesco Totti, Samir Nasri – just a selection of the naturally gifted stars left at home in favour of hard-working labourers like Julio Baptista and Simone Pepe.
The end result is that, rather than attack, most strategies are to defend and counter-attack, with the regular long ball hit up to Peter Crouch and Luis Fabiano. Which brings us on to another thing that should be banned…target men. If we want to see a bunch of seven foot giants we will tune into the NBA thank you very much.
6) Mexican Waves
Fact: If you are a spectator at a World Cup match, you are there to support your country or watch the football...unless you are a corporate.
Fact: If you are at a World Cup match and do a Mexican Wave you are not a true football fan.
Fact: If the person in front of you at a World Cup match blocks your view by standing up and lifting their arms, you are entitled to 'Zinedine Zidane' them in the chest.
Fact: Mexican Waves should be banned from the World Cup.
5) WAGS
Yes, we get it. Ninety-nine per cent of footballers wives are pouting, coat-hanging, money-grabbing, talentless, bright-light seeking superficial wannabes, but, for just four weeks every four years, please just stay at home and count your pairs of shoes…if you can count.
When the World Cup is on, no one except media-whores care about you getting drunk, dancing on tables, having affairs with team-mates, and strolling down the street like a former commoner-got lucky carrying bags of shopping paid for by your rich husband. Granted, we still wouldn't say no, but you will never be more important than the World Cup so don't even try to be.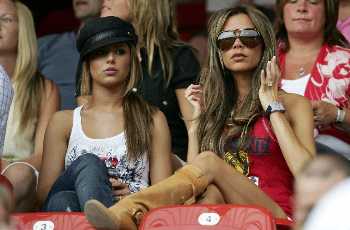 4) Pele Predictions
There is one thing that every country fears before a World Cup, and that is being tipped for glory by Brazil legend Pele. 'The Jinx' has a long history of disastrous predictions. In 1994 Pele forecasted a Colombia World Cup success, and in 1998 he put his weight behind Spain. Both countries flopped and were on the first plane home. In 2002 'The King' said first round casualties Argentina & France would reach the final, while expecting eventual winners Brazil to be eliminated in the group stages. Which nation will be cursed by Pele in South Africa?
3) Ariel Garce
Rumour has it that Ariel Garce was called up for the World Cup because coach Diego Maradona had a dream that Argentina won the tournament, and Garce was the only player he could remember. Anyone that Maradona witlessly picks ahead of the legendary Javier Zanetti should be banned from the World Cup, especially when the selection is based on Dieguito's hallucinations.
I once dreamt that George Bush stole my cheese toasties, but you don't see me flying over to the States to deck him…however much I'd love to!
2) Sepp Blatter Defending Referees
Italy have five good goals disallowed in three games and are eliminated by an Ecuadorian referee who months later is suspended for playing 13 extra minutes of injury time. Spain have two legitimate goals chalked off as they are knocked out in a penalty shootout where the opposition goalkeeper is six yards off his line for every spot-kick. A Serbian receives five yellows until he is finally red carded. Germany's goalkeeper does a flying kick professional foul on France's centre back, knocking him unconscious, but the offence goes unpunished. Argentina's captain is sent off for "violence of the tongue", even though the German referee speaks no Spanish. Argentina's star man does an NBA leap and punches the ball into the net to open the scoring. England's centre forward smashes a shot down off the crossbar and onto the line, but the goal is also given.
Despite all these officiating disasters, Sepp Blatter declares that "the refereeing has been of the highest order, and the occasional human error will always occur."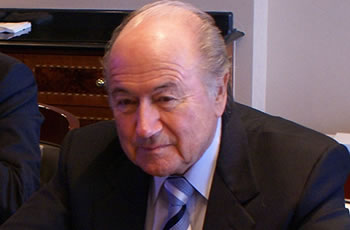 1) Synthetic Footballs
If you want to destroy football, and eliminate skill and creativity from the game in favour of 100mph playground kick-and-rush, what do you do?
You replace leather footballs with synthetic ones, and every World Cup make the balls lighter and more plastic. Adidas have confirmed that the letters in their name now stand for: All Day I Dream About Synthetics.
FIFA have announced that in 2014, 'Shoot 5' supermarket balls will be used in Brazil.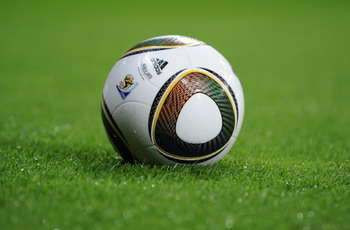 Become a fan of Goal.com International on Facebook! Just click onto Facebook.com/Goal to join the beautiful game's leading fan community...