Bob Bradley has his 23 men; now it's time to get to work. On Saturday afternoon, the United States Men's National Team battles Turkey in their first appearance since the American coach announced his final World Cup roster. The friendly marks an opportunity for players to demonstrate where they fit on the pitch, and the Stars and Stripes coaching staff will use the match to help determine a starting lineup against England. The U.S. will play the best side it can field and should come out on top.
The First True Test
On Tuesday night against the Czech Republic, Bradley's choices reflected a desire to cut the team from 30 players to 23. With that task accomplished, he now turns to the arduous "team-building" process designed to prepare the U.S. squad for their battles in South Africa. He's hinted that the 11 men who start against Turkey will also feature versus England on June 12. While the backline is riddled with injuries and could change dramatically during the next two weeks, the frontline that takes the Lincoln Financial Center pitch will be what the Three Lions see: Jozy Altidore and Clint Dempsey up top and a midfield of (l to r) Landon Donovan, Maurice Edu, Michael Bradley, and Stuart Holden. Producing a couple goals against a side that only conceded 10 during UEFA World Cup qualifying would give the U.S. confidence heading to South Africa.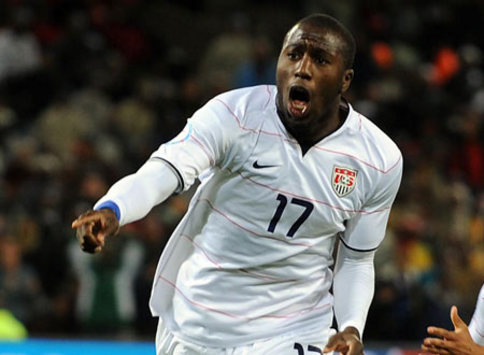 Help, We Need Somebody
That would be Bradley's cry for his defense. Oguchi Onyewu returned after a seven-month absence and played 65 minutes against the Czechs. He looked okay -- getting beat in the air by Tomas Sivok on the first goal -- but simply playing was a big step. The status of Carlos Bocanegra and Jay DeMerit continue to raise concerns. Clarence Goodson played quite well against the Czech Republic, both offensively and defensively, and could get another start if one of the duo can't return. And then there's the ever-present problem of left back. Jonathan Bornstein didn't make any mistakes that led directly to a goal, but he played poorly regardless. Heath Pearce was worse and didn't make the U.S. roster as a result of Tuesday night's debacle. Could Bradley try DaMarcus Beasley on the left? Probably not, but you never know...
Turkey Trot
The Crescent Stars defeated the Czechs 2-1 last weekend in the inaugural Red Bull Arena international friendly and feature stars including Emre Belozoglu, Nihat Kahveci, and Arda Turan. The side didn't qualify for South Africa -- finishing behind Spain and Belgium in Group 5 -- but new manager Guus Hiddik wants to start the rebuilding process immediately. Emre Azik and Okan Burak, members of the squad that finished third in the 2002 World Cup, retired during an emotional moment at the match in New Jersey. Turkey's starting over and provides an excellent test for the U.S.
Projected U.S. Line Up
----------------------Howard------------------
Cherundolo--Onyewu--Goodson--Bornstein
Holden------Edu------Bradley------Donovan
------------Dempsey------Altidore------------
Projected Turkey Line Up
------------------Demirel------------------
Sarioglu----Cetin----Birinci----Gungor
Turan--Sen--Belozoglu--Inan--Bahadir
------------------Altintop------------------
Goal.com prediction
United States 2-1 Turkey
Noah Davis (@noahedavis) covers the United States Men's National Team for Goal.com and will be reporting from the World Cup in South Africa.
Visit the U.S. national team page on Goal.com for more and join Goal.com USA's Facebook fan page!