Until the Tokugawa period (and that is only about 150 years ago), Japanese men charged with great responsibilities were expected to ritually take their own life in case of utter failure. Even in the very recent past, captains of industry and politicians who were found guilty of big mistakes, would at least apologize and move out of he scene quickly.
Not so with Japan national team manager Takeshi Okada, even after his Japan has just completed a quadruplet of matches that could be easily labelled "the Four Games of the Apocalypse."
Playing at home against Venezuela (47th in the world according to FIFA), China (87), Hong Kong (137) and a somehow experimental South Korea (49), the Samurai Blue raked up only an unconvincing 3-0 versus the former British colony, a humiliating 1-3 defeat versus their Korean arch-rivals and two dull 0-0 ties.
Not only the results were disappointing. Japan played 360 minutes of uninspiring, monotonous soccer. The team's limits are now clear to the opponents: "Oka-chan" always uses the same players, and they always play the same soccer, made of easily readable passing patterns.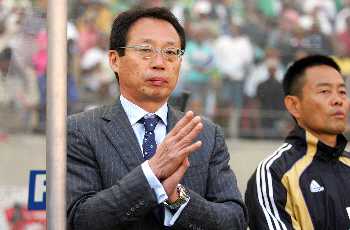 Japan has become so predictable, that even Hong Kong was capable to jam the Samurai Blue's engine for over thirty minutes. So little emerged from the games for the home side, that dribbling and shots attempts could be counted on the finger of one hand, while players of the class of Yasuhito Endo and Kengo Nakamura looked ordinary.
Besides the tactical doldrums, Okada's picks have left even his die-hard fans confused. Take for example Yoshito Okubo, an average J.Leaguer who -besides his undeniable goodwill- has failed twice to breakthrough in Europe. His last international goal was scored in 2008! And what about his partner Keiji Tamada? His antiques are well known by the fans in Japan, and now have probably become famous in the continent as well, after his repeated dives and a sneaky hand-ball versus Hong Kong.
The deafening booing that greeted the players after the games against China (a 0-0, lest we forget, salvaged by Seigo Narazaki blocking a penalty with only 10 minutes left) and South Korea speaks volumes.
Okada coached Japan in 1998, but Japanese fans today are not anymore the naïve bunch that chanted the same song for 90 minutes while blowing annoying toy-trumpets. They have come of age over a whole generation that grew up fed by professional soccer, and they have learned that running and sweating are not the only things that matters when playing at top-level.
In Tokyo, disenchanted supporters showed a banners that spelled "Oka-chan, you have failed. [Japan] Football Association, make a decision!" Even more significant, according to the popular sanspo.com website, a snatch-poll conducted at the National Stadium last Sunday, after Japan finished third in the East Asia Cup, said that 86% of the fans want Okada to get the boot.
But the following morning, his boss Motoaki Inukai made it clear that he does not intended to fire the coach, and that Okada will continue to lead the National Team onward to South Africa.
Fans on the internet are disheartened: "I supported South Korea in vain," joked a user on a popular online forum, while another pointed out to how "Okada could be the first National team coach to lose six games out of six at a world cup."
Perhaps the situation is not as bleak as it might seem, after all Japan was missing its Europe-based players and the whole team was somehow out of shape after the winter break.
Still, seeing the incapacity to overcome problems and to create successful alternatives over four games, it is hard to envision Okada keeping his hyperbolic promise to bring Japan to the semifinals of the World Cup.