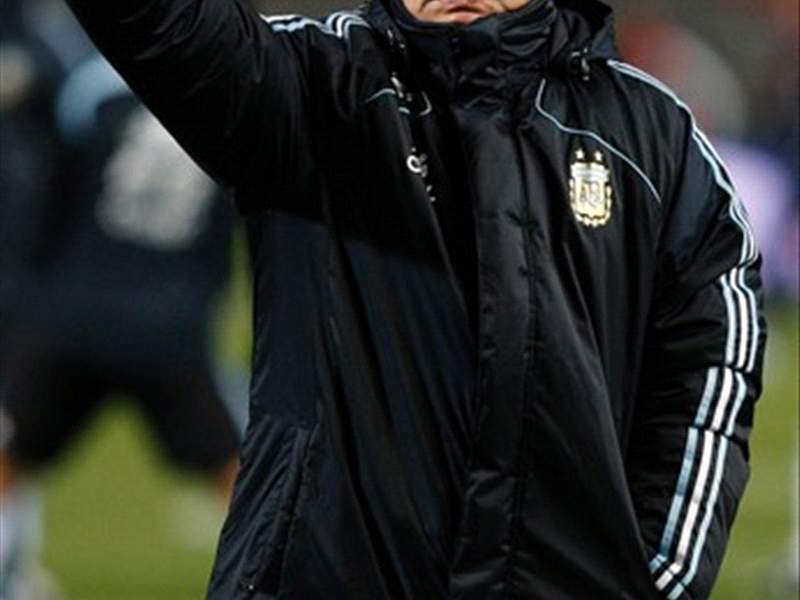 Diego Maradona
slammed journalists after
Argentina
qualified for the World Cup finals with victory over
Uruguay
on Wednesday evening.
The outspoken Albiceleste coach was delighted to be able to answer all the criticism that has been aimed at him by the press as Argentina secured a dramatic win in Montevideo to take his country to South Africa next summer.
Six points from the last two qualifiers saw Argentina through to the finals and allowed Maradona to hit back.
"They can suck it and carry on sucking it," he fumed in the press conference after the dramatic win. "This is for all Argentines, minus the journalists.
"I want to thank my players for qualifying because they played like men and today they consecrated me as a coach.
"I also want to dedicate this to the whole of Argentina, to my family too, but there is one group who do not deserve this because they have treated me like rubbish.
"We were careful in this game because there were two results needed, but we won against a great team and achieved our objective."
Maradona also rubbish accusations that some of Argentina's players are only concerned about money and that he had fallen out with former national team boss Carlos Bilardo, with whom he celebrated on the pitch in Uruguay.
"Various players earned a mountain of money because they gave everything for the shirt. Thanks to their endeavours, we have qualified on merit," he said.
"[The papers] invented fights with Bilardo, amongst other things.
"I don't usually read the newspapers or listen to sports programmes but my daughters do and they told me what had been said about me. So, I repeat, to all those that said anything against me, keep eating your words.
"I am very proud of my players. They made me feel like a real coach because all of what we had planned in dressing room, they did it on the pitch."
Lucas Brown, Goal.com