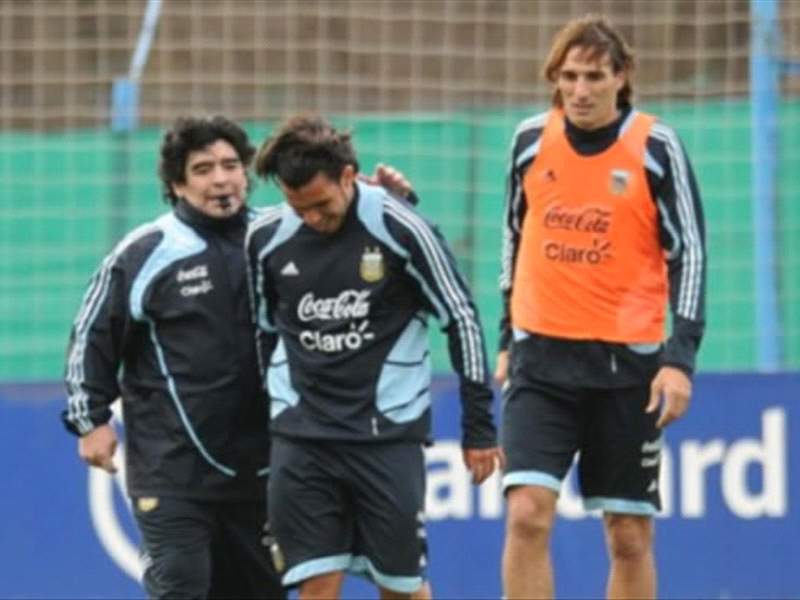 Diego Maradona
, the coach of the
Argentine
national team, told the press that several of Argentina's European-based players will not be called up to his squad for Argentina's final two World Cup qualifiers against Peru and Uruguay in October. Maradona will give an opportunity to several players who ply their trade in Argentina.
Maradona wasn't happy with the fact that after the devastating defeat to Paraguay on Wednesday, his squad didn't seem too badly affected by the result, particularly those players who play in Europe's top leagues.
"I realised that I have options, that those [players] who play in Argentina can do a good job. Perhaps we will qualify for the World Cup with those [players] from here mixed with those from Europe," Maradona told Buenos Aires newspaper
Ole
.
Maradona wasn't impressed with the performance of several of Argentina's top European-based players against Paraguay and Brazil. These included players like Lionel Messi, Sergio Aguero and Javier Mascherano.
Although the three are likely to continue to be part of his squad, Maradona believes Argentina's home-based players are more "hungry" to fight for the Argentina shirt.
Maradona was annoyed with the attitude of several of his players, and according to reports will exclude many of them when he makes his next Argentina call up in two weeks.
Despite their age, he indicated that Martin Palermo and Rolando Schiavi will be given a more prominent role next time. As well as them, several new faces are expected to make his squad.
Argentina are in danger of missing out on the World Cup for the first time since 1970.

Gregory Sica, Goal.com