Tottenham midfielder Dele Alli has become a '£50m-plus player' in the eyes of Jamie Redknapp, and one Spurs will need to match the ambition of if they are to retain his services through the peak years of his career.
The England international was taken to White Hart Lane in a bargain £5 million deal back in 2015.
Alli bags brace in important Spurs win
He was allowed to see out the 2014-15 campaign with MK Dons before linking up with his Premier League employers that summer.
Alli made the step up from League One with ease, netting 10 times in his debut campaign with Spurs to become a senior England international and PFA Young Player of the Year award winner.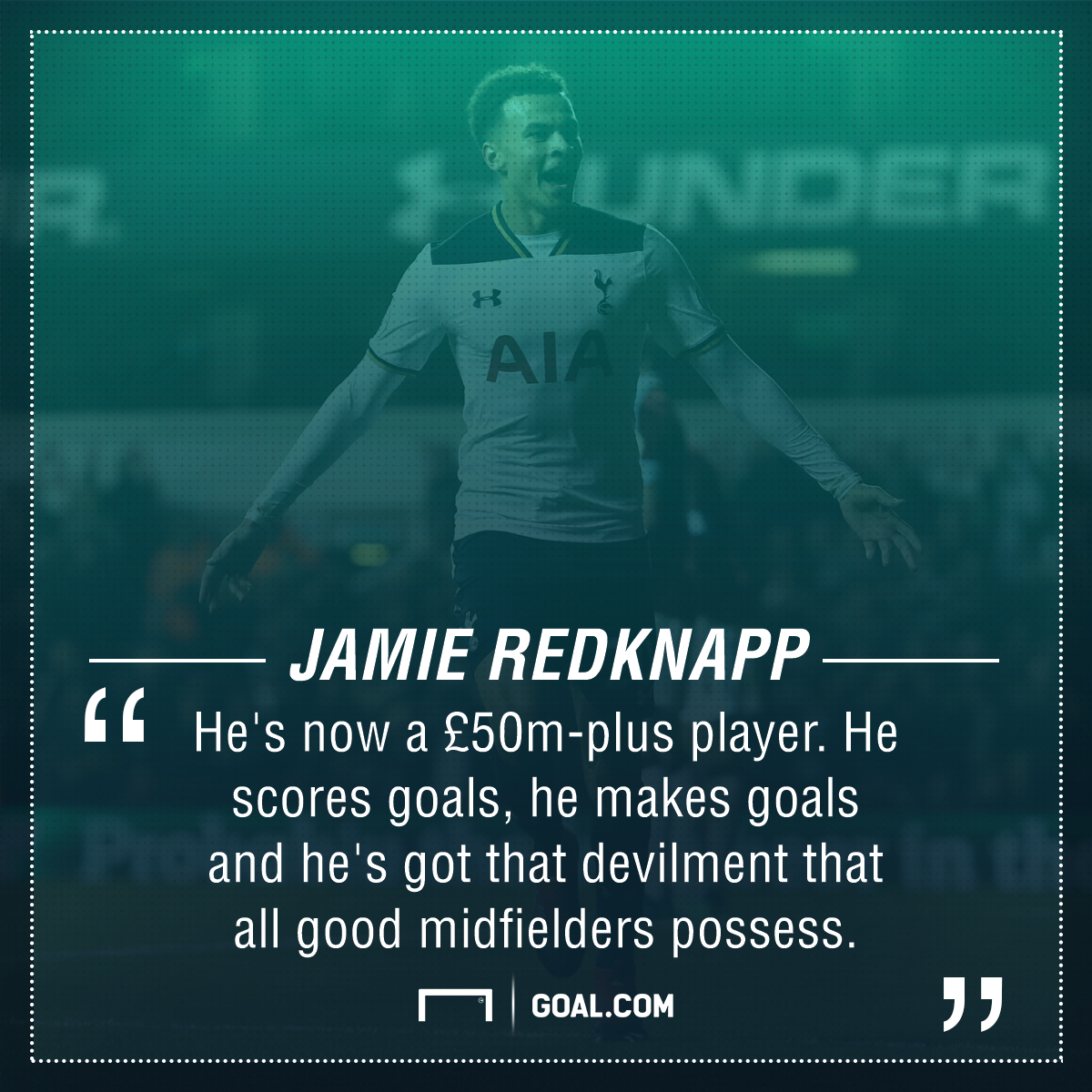 The 20-year-old is continuing to shine this season, with a double in Wednesday's 4-1 victory at Southampton taking him to eight goals for the season and earning lavish praise from former Spurs ace Redknapp.
He told Sky Sports: "He possesses everything to become one of the best midfielders in the world.
Kane offers services to NFL team
"They paid £5m for him. He's now a £50m-plus player. He scores goals, he makes goals and he's got that devilment that all good midfielders possess.
"He's a sensational footballer - Tottenham are extremely lucky to have him. It's amazing to see how quickly he's become of the best players around. I think there's so much more to come from him, too."
"He's got a good footballing arrogance that I've only seen a few times in my life," Redknapp said.
"Steven Gerrard had it when he was 17 - he walked onto the pitch with the first team and you knew you were in the presence of greatness. It's the same with Alli. He's only 20 but he looks at all the other players and thinks 'I'm better than you'."
Redknapp is, however, aware that Spurs may struggle to keep Alli if he continues to progress at his current rate, with there having already been talk of interest from French giants Paris Saint-Germain.
He added: "That's always the problem at Tottenham - can they match his ambitions? Can they keep kicking on? If they do, then Alli can achieve anything he wants with the club. They've got a great fanbase and are about to move to a brilliant stadium. Alli's going to demand the top wages.
"If Tottenham aren't going to pay him that, then he'll have to go somewhere else to get them. He's a player anyone would like to have in his team."