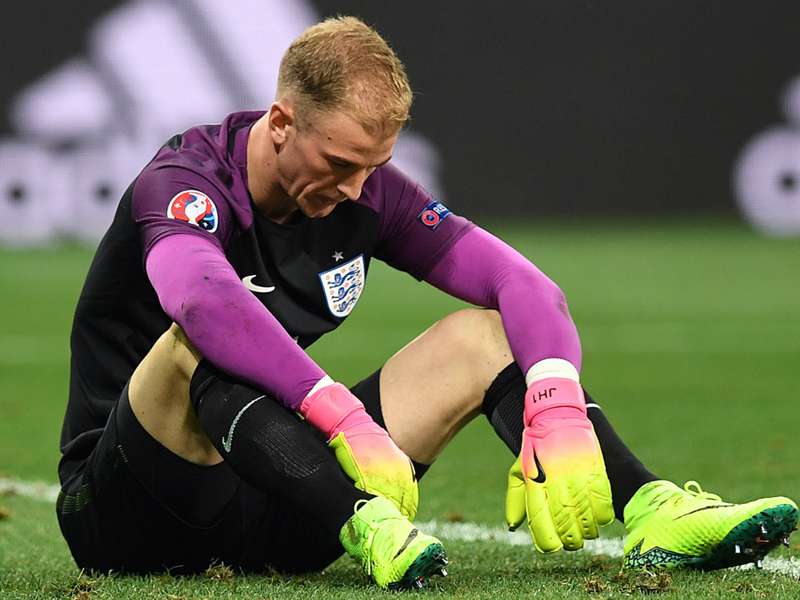 ---

ANALYSIS
---
Top-level football these days is often divided into the "haves" and "have nots"; those teams with the money and those teams who don't have it. The thing is, for clubs like Bayern Munich and Barcelona, "haves" and "have nots" could signify not only cash in the bank, but possession of the ball too.
Bayern and Barca – two clubs obsessively fine-tuned by Pep Guardiola – are no doubt endowed with fortunes beyond comprehension but they also lead in Europe in being dominators of the ball in any given match.
Guardiola's teams – first at Camp Nou and then in Bavaria – have always sought to starve opponents of possession. Even if their adversaries managed to win it back – however momentarily – they would be immediately swarmed upon and duly cough it up.
The Catalan is about to set English football on a course it can scarcely understand at present. By the time he's done with Manchester City, elite football will look a very different place.
It all began last weekend with Aleksandr Kolarov playing centre back against Sunderland and Bacary Sagna and Gael Clichy in midfield when City were in possession of the ball. As Joe Hart found out to his cost, the revolution extends to the goalkeeping position too. Willy Caballero started the season between the sticks for City with huge question marks over Hart's status as a future City player.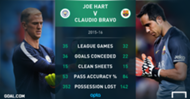 That is because an integral component in a Guardiola team is the goalkeeper. Pep – schooled in the traditions of Johan Cruyff and a keen student of Gusztav Sebes's golden Hungary team of the 1950s – has always remained faithful to those early lessons learned about goalkeepers. The idea of having a keeper acting as an 11th outfield player is neither new nor revolutionary. Guardiola has sought to build on those examples.
Gyula Grosics did it for the Magic Magyars – Hungary won Olympic Gold in 1952 and were desperately unlucky not to win the 1954 World Cup – while Cruyff never quite fulfilled his dream of fielding an outfield player in goal. He came close.
Cruyff regarded it as a waste of a player having a goalkeeper who would merely save the ball but who could not facilitate the maintenance of possession. He – along with manager Rinus Michels – petitioned for the inclusion of Jan Jongbloed in the 1974 Dutch World Cup squad when most of the country could see Jan van Beveren was patently a better keeper. Van Beveren, however, could not do what Jongbloed could behind the defence – sweeping, passing and initiating attacks.
While in charge of Ajax, Cruyff promoted Stanley Menzo to the position of starting goalkeeper due to his ability to maintain possession. Menzo's starting position was often far from his goal – just as Manuel Neuer's has been for Bayern under Pep – in order to be available for passes and to also extinguish quick counters.
Frans Hoek was the goalkeeping coach recruited by Cruyff to train Menzo; Hoek went on to work with Louis van Gaal at Ajax and Barcelona, where he developed the styles of Edwin van der Sar and loyal Pep custodian Victor Valdes among others. Having a goalkeeper who can sweep is not a luxury for a Guardiola team; it is a necessity.
Teams like Bayern and Barca seek to smother opposition team by keeping the ball for up to 75 per cent of the game. To do that and to gain the advantage they need to make use of their goalkeeper as an outfield player.
The Cruyff-Guardiola style of play relies heavily on players gaining numerical advantages somewhere on the pitch. With a goalkeeper outside his box and playing passes, this is much, much easier to achieve. That kind of goalkeeper can be relied upon to receive the ball in the right position, take a first touch, have a look and find the right pass. They are part of the team.
Neuer's accurate pass percentage for Bayern was up at 80 last season, with Claudio Bravo's at Barcelona at 84. Worryingly for Joe Hart, his was around 53 last term.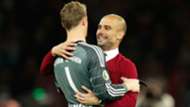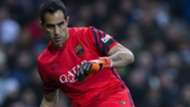 Guardiola expects his teams to spend the majority of their time in possession and the majority of that time in possession inside the opposition half. The only exception is the goalkeeper but it's not unusual to see Neuer many metres from his goal mouth when Bayern have the ball.
It is tightrope football; often one ball from the opposition defence is enough to spring an attack on goal and it is at that moment that Neuer or a Bravo is expected to rush clear and avert the danger.
This breed of goalkeeper is an outfield player with gloves on who is expected to save balls when they come to him but their primary attributes bear all the hallmarks of good centre-back play and not the shot-stopping of yore.
Guardiola's football requires a goalkeeper with an innate sense of timing and responsibility. It requires good first touches, accurate long and short passes, covering tackles, headed clearances and even the occasional dribble around opposition forwards. They have to be wise to opportunities to spring counter attacks with sharp throws and kicks past halfway. For that they need as much vision and alertness as their outfield counterparts.
There is, of course, a little traditional goalkeeping to be done but their utility is primarily as not a shot-stopper but a footballer. In Bayern's Champions League semi-final second leg against Atletico Madrid last season by way of example, Neuer completed more passes (26) than all the Atletico players except Koke (29).
There is much more to a goalkeeper's footwork in this kind of team than simply kicking the ball clear. Consider that Joe Hart kicked away possession 352 times for City in the league last season whereas Neuer did so only 224 times and Bravo 142. Those latter two were among the top six goalkeepers in Europe's top five leagues for that particular statistic.
Neuer had more successful passes (898) in the Bundesliga than all members of Leicester's title-winning back four – Christian Fuchs (854), Danny Simpson (622), Wes Morgan (609) and Robert Huth (580). Bravo (720) had more than all of them bar Fuchs.
Joe Hart? 379. Not enough, no matter how good a shot stopper he is.