---

EXCLUSIVE
---
Jurgen Klopp pushes back his Americano and leans forward, animation painting every feature on his face. The Liverpool manager has just added the word 'encourage' to his English vocabulary, but that is not the primary source of his excitement.
The 49-year-old is thoroughly enthused by overseeing his first full campaign at the club, his effervescence activated by what he believes the squad are capable of. "The skills and the character of my players - I really, really like it," Klopp tells Goal in an exclusive interview as he contemplates the 2016-17 season. "They want to learn, they want to improve, they want to work together, they believe in what we are doing, and I am lucky to have this."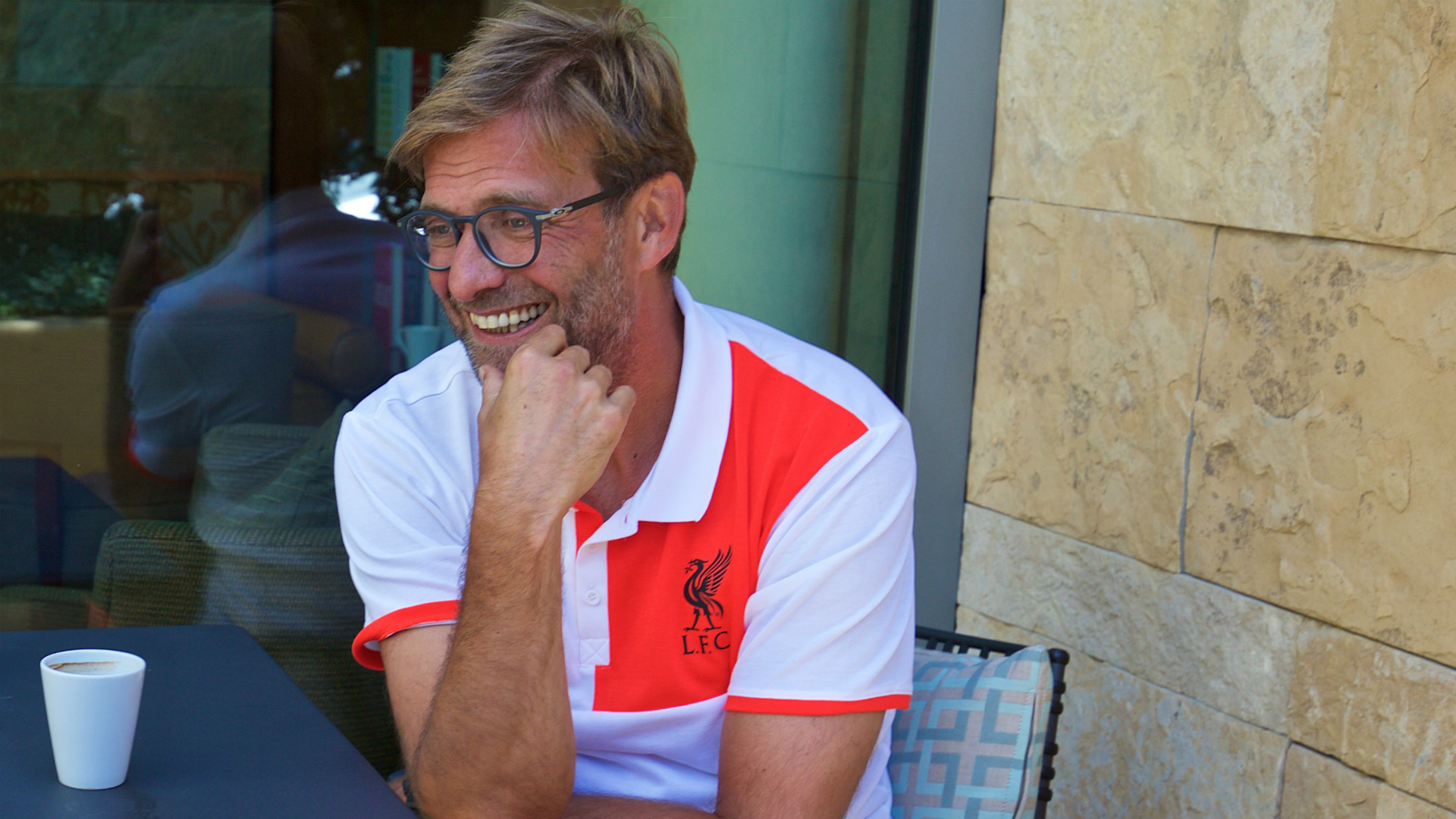 Since his appointment as commander-in-chief at Anfield on October 8 last year, the German has seen enough evidence to suggest his enthusiasm is not misplaced. There have been occasions where Klopp has stood on the touchline in wonder, watching an unrelenting and uncontainable Liverpool.
Reviewing his opening spell in charge, each month provided a snapshot of how formidable Liverpool could be on their day. Chelsea discovered as much in a 3-1 home defeat at the end of October, before Manchester City were mercilessly mauled 4-1 at the Etihad in November.
The festive period began with the 6-1 scorching of Southampton at St Mary's in the League Cup, and on Boxing Day, eventual champions Leicester were ousted in a tight test. The turn of the year brought exhilarating late comebacks against Arsenal and Norwich, which fed into Klopp's "we decide when it's over" demand. That was followed by the 6-0 Valentine's Day massacre of Aston Villa, before both Manchester clubs were played off the park at Anfield in March.
The month after, Thomas Tuchel admitted he was at a loss for an explanation when his Borussia Dortmund side - 2-0 up on the night at half-time - exited the Europa League quarter-finals after an unthinkable 4-3 defeat on Merseyside. Everton were embarrassed soon afterwards as Liverpool toyed with them in a 4-0 derby victory; the scoreline flattering the Goodison Park outfit.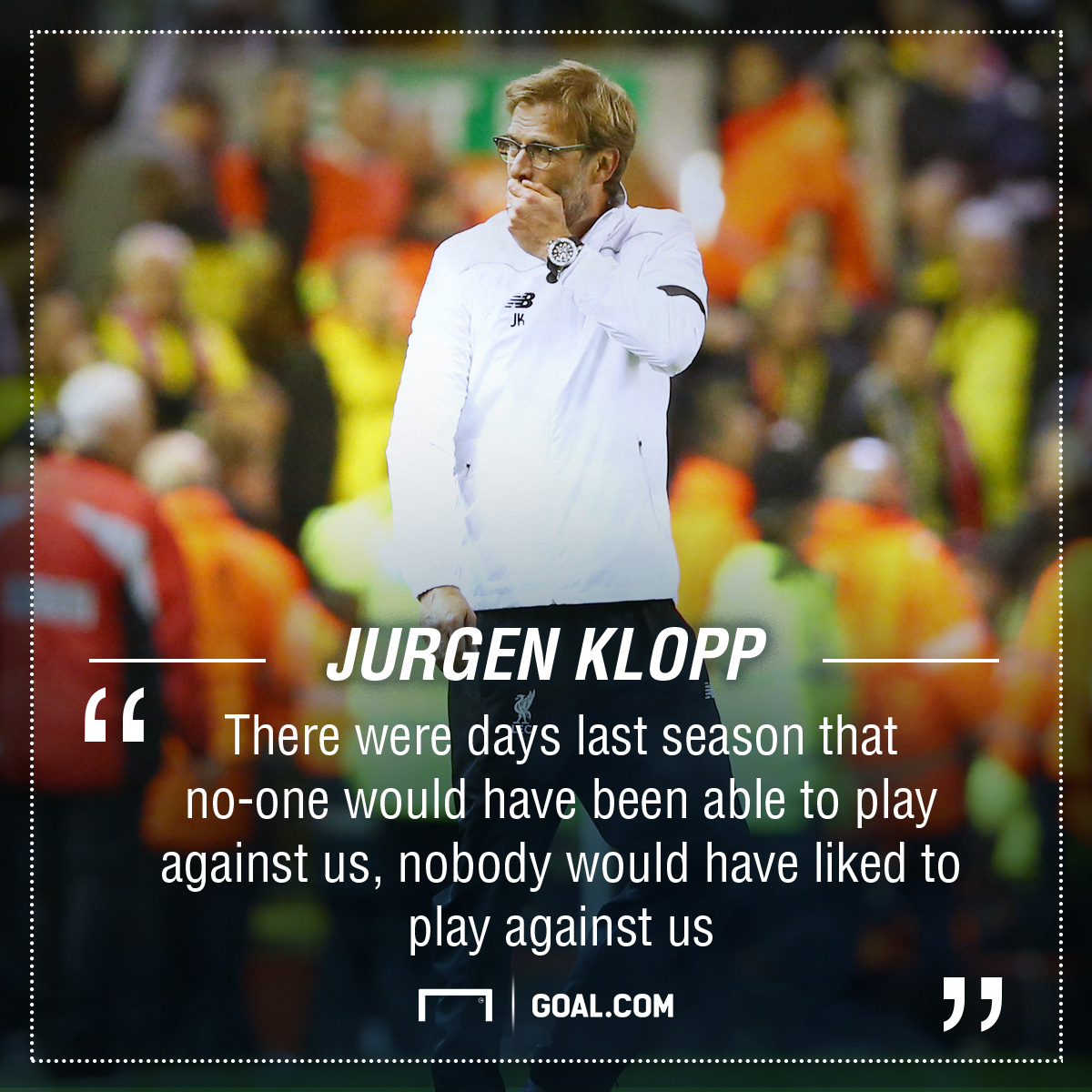 And in May, Villarreal should've spared themselves the trip to Anfield for the second leg of their continental semi-final, such was the Reds' authority in a 3-0 triumph.
"We've already had a few good moments," Klopp says. "I've seen my players in some games where I've thought: 'Oooof!'
"There were days last season that no-one would have been able to play against us, where nobody would have liked to play against us."
But as he notes, the negatives in football often linger a lot longer than the highlights with Liverpool's defeat in two finals as well as their lowly league standing emphasised more than their promise.
"Everybody forgets the good games of last season because we finished eighth," Klopp adds.
"But that is only one small number of last season. There are other numbers where we were really strong in tough situations.
"It's easy for us to remember the bad things, and we suffer that more than we take in the good things.
"When I watch back, I have absolutely no skill for remembering the bad things. I would like that after the new season, we sit and think 'my god, how amazing!'
"I want us to enjoy a really memorable season in the best way. To take in the good things. To enjoy our development."
---


READ MORE

|
'Liverpool must find new Suarez'
---
For Klopp, the journey is as important as the end result; it is not only about winning, but the process that leads to success - the effort, the sacrifices, the obstacles and the shared experiences.
As the manager previously pointed out, "trophies and medals, they get put away somewhere in the clubhouse and you forget when exactly it was and who won which trophy when. What's important is the moment itself, the memory of being there at the game, that you were part of it. That's what it's all about! The experience!"
And the 49-year-old is aware the cornerstone to securing such episodes is to ensure you're well prepared for them. Klopp and his backroom team have constructed what Daniel Sturridge described as "the most intense pre-season ever," with Danny Ings labelling it "a full football education."
Liverpool have been drilled over and over, with the players revealing the instructions have now turned into habit. The 4-0 counter-attacking masterclass against Barcelona at Wembley, for example, was straight out of the club's pre-season playbook.
"It starts all in our mind, and then between brain and feet the distance is quite long, but it eventually drops with time and practice," Klopp explains.
"I like the attitude and the willingness of the guys to adapt, to pick up new things, to be better. They have shown me a lot during this time and the development has been important. The guys who have been there from day one, they have enjoyed a really good education.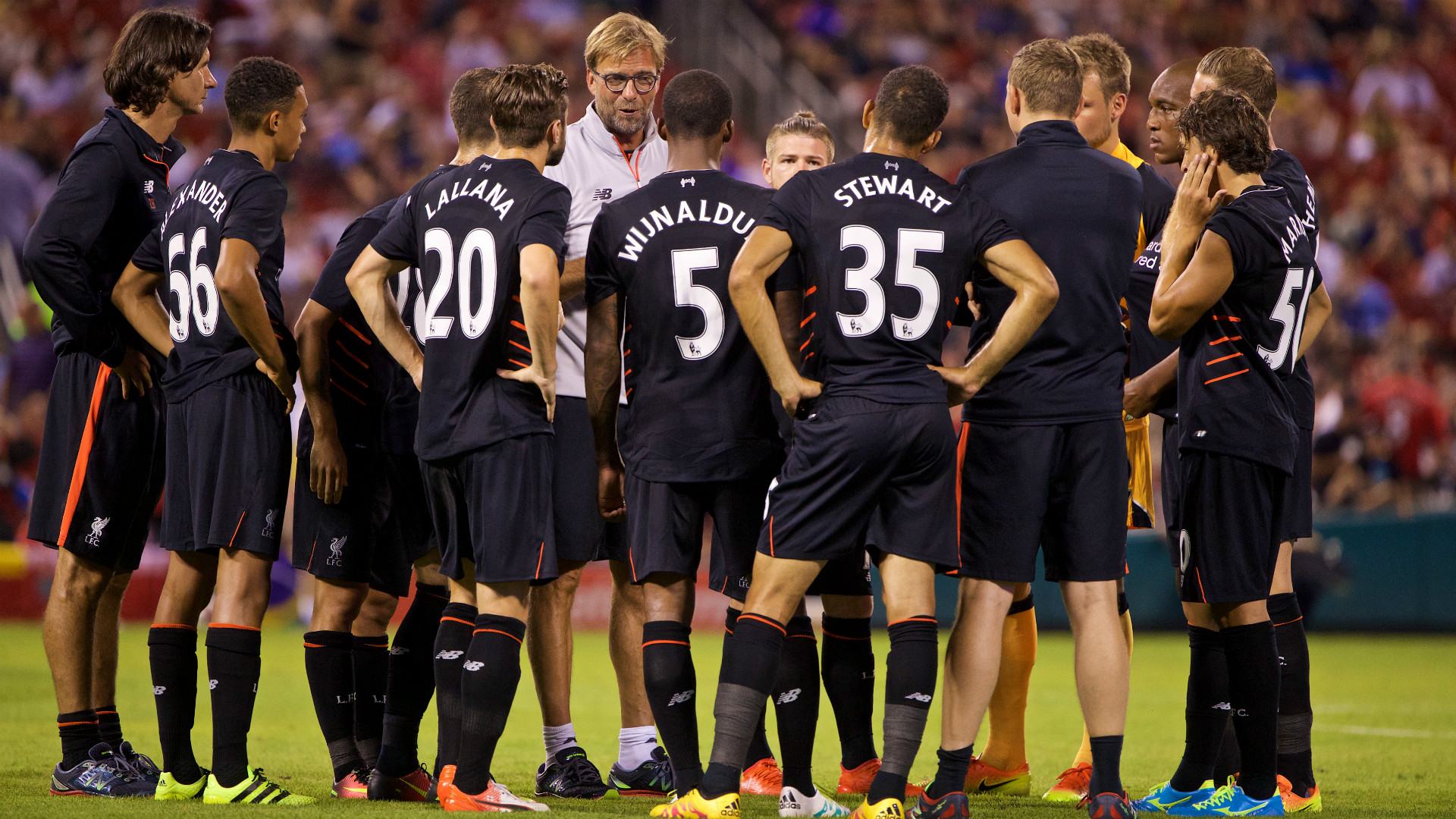 "We had enough time with them and really, we worked on everything. It was not just about physical fitness, but lots of tactical work as well. Now the time is shorter to the start of the season and when it comes, we will be much stronger than we are in this moment.
"A football team is like an orchestra, and if one new guy comes in, he can't just play the violin or whatever because that's what he wants. He has to wait to see what the rest of the group needs and how he fits in and you do everything as one in harmony. This is what we have worked on together. We are really a team."
While Liverpool's workouts have been quite disciplined and the teachings unyielding, Klopp has pointed out it merely provides a base for the players to properly exhibit their talents.
"What we've done is given the guys a foundation to have the freedom with their skills," he says.
"We have no influence on their skills - a little on their potential, maybe. You take a player, who you know is good in many things, and you bring him from this level to an even higher level. I love this with the job, that you can work together and all become better."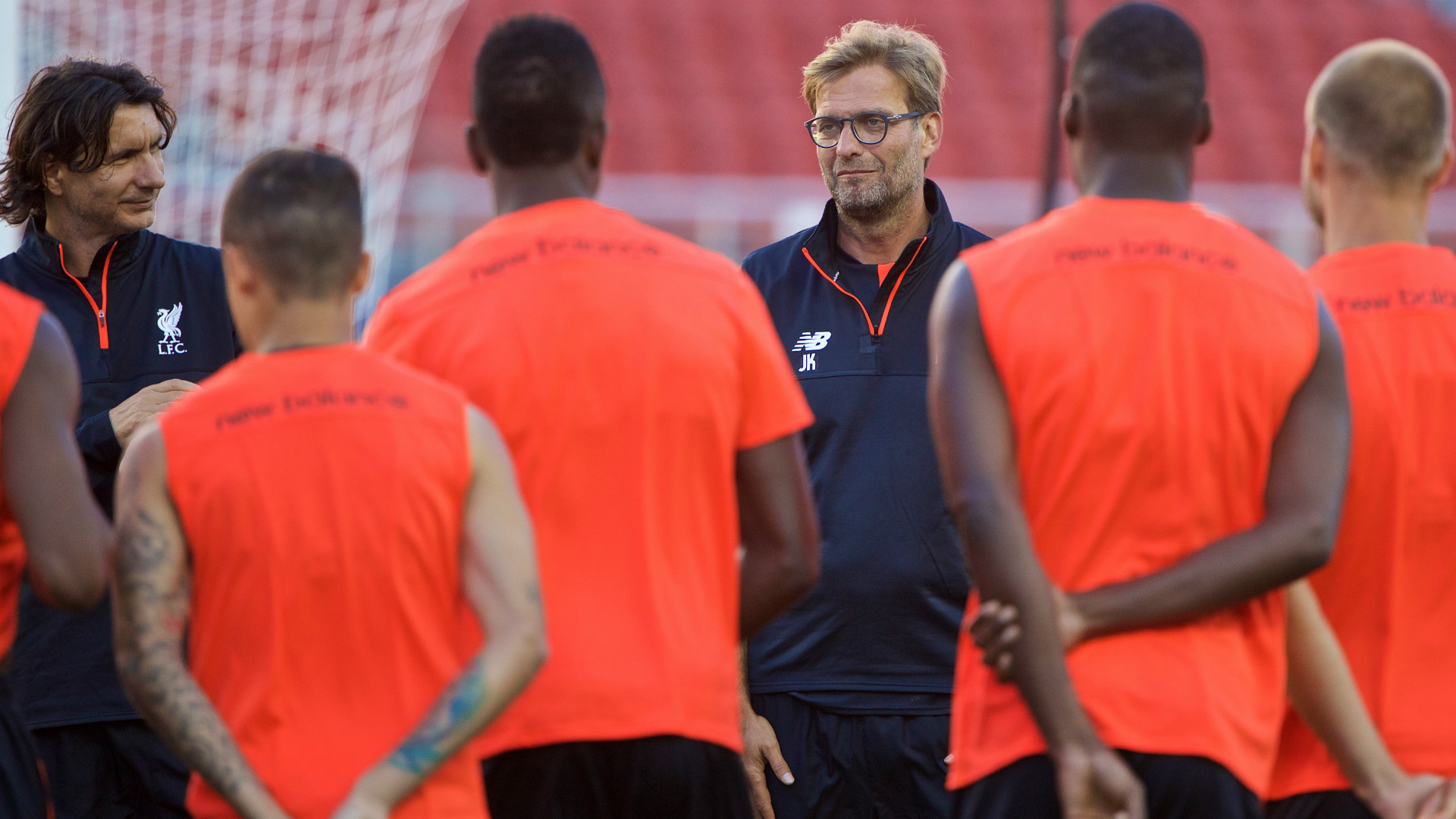 While Liverpool's competitors have hit the transfer market hard, the Merseysiders have chosen to exert themselves most on the training pitch.
"We bought players through all these times too. I don't want to create this myth that we do it like this, all the rest do it like that and they are wrong," says Klopp.
"We don't do it this way because we want to be different, we do it because it's an idea we believe in completely and we feel it can bring success.
"You need to give yourself the opportunity to surprise yourself by being the best you can be, and then doing anything you can imagine.
"Football is the perfect playground to show this."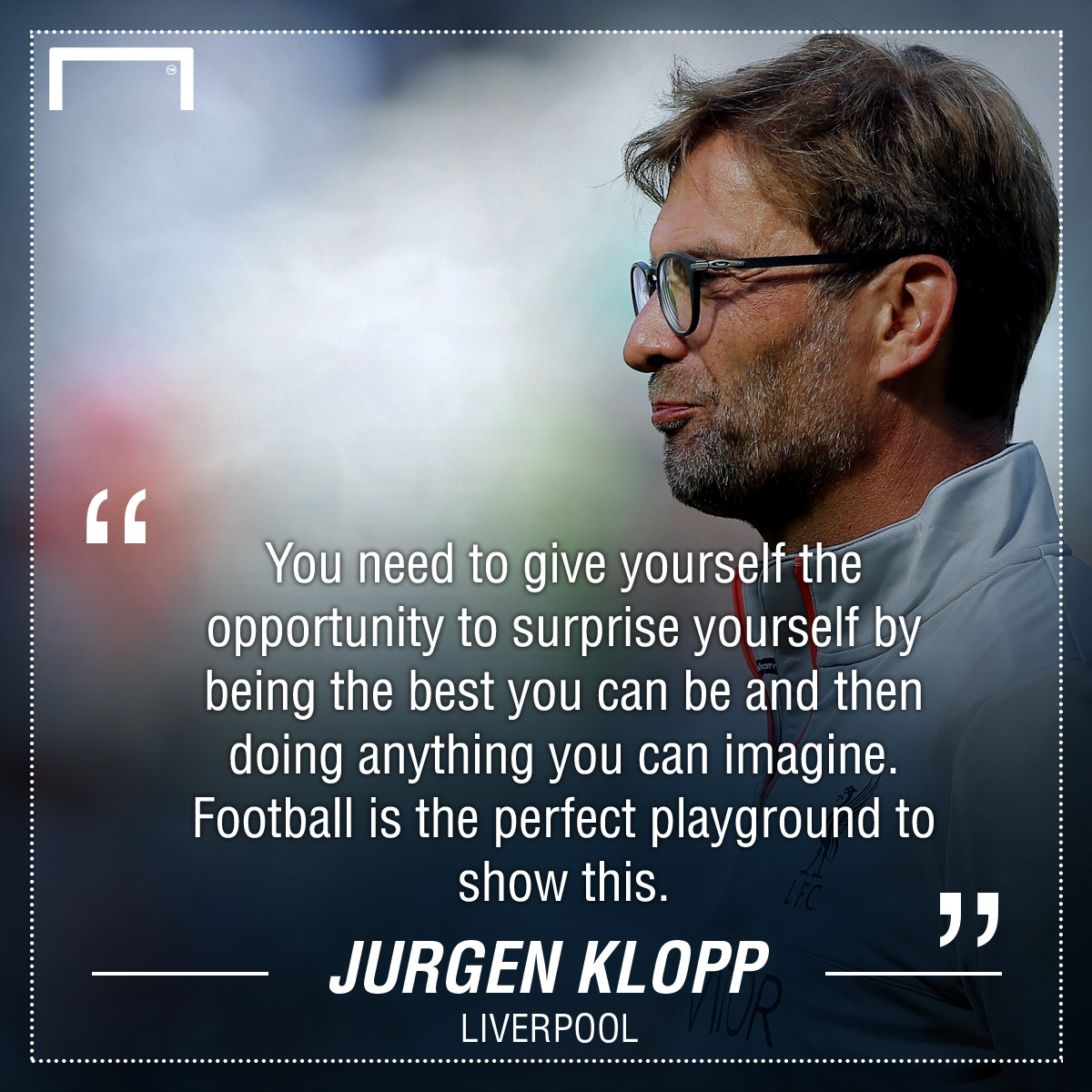 At the end of last season, Klopp stressed he wanted to build a squad "capable of playing different systems and reacting to different situations." He is confident he possesses such a roster, which will allow Liverpool to be adaptable in the new campaign.
"A line-up is always for the moment. It's a reaction for before you know exactly what you need," he says.
"It's only an expectation of what you think can be good for this and this. But the more dominant you are, the less important the formation or system you play is. It's more a starting point, but you have to be flexible enough to react to situations in the game.
"It's not about my favourite formation, only about which one is easiest for the players to show all their qualities and what will make life difficult for the other team against us.
"With the strikers we have, even a system with two up front is possible, so we don't have to close our minds to just one system. We have the talent to be flexible."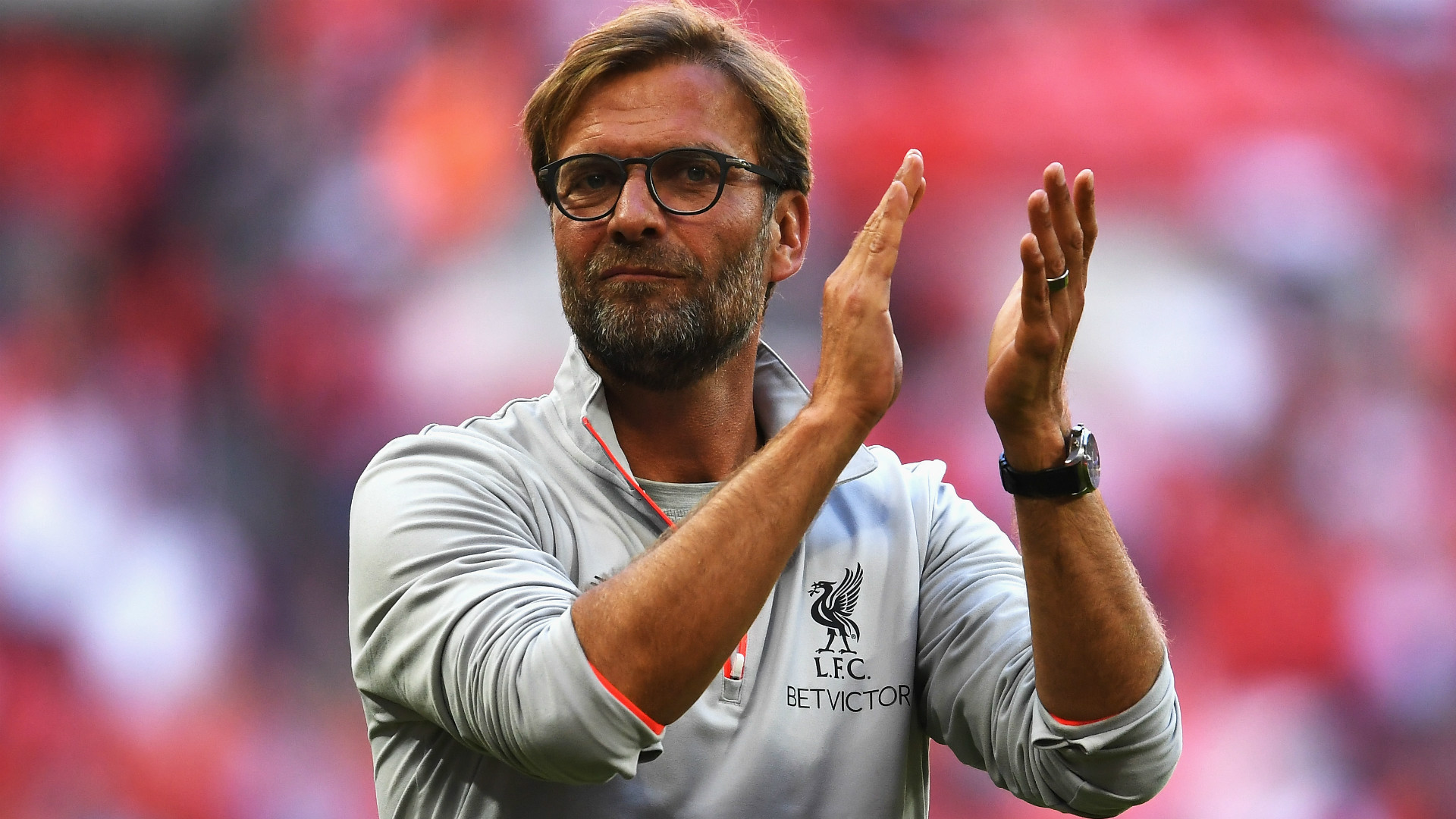 As Liverpool's season kicks off at Arsenal on Sunday, Klopp's message for 2016-17 will no doubt be underpinned by four simple words which has sparked much of his achievements in life: "come on, let's try."
That thinking helped the trainer persist with attempts to secure a professional career, despite it seeming unattainable for the longest time. It also led him to pursue a degree in Sports Science and then put his knowledge into practice, a move he counts as "the best preparation for my job."
Klopp's willingness to work at turning possibility into end product saw him land "the biggest luck of my life" when Mainz appointed him manager in 2001, leading to promotion under his tenure.
It was evident again as he moulded Borussia Dortmund into a European powerhouse and two-time Bundesliga winners under his watch.
Can it ultimately lead to success for Liverpool? Klopp will he hoping his players answer that in the affirmative on the pitch.