---

COMMENT
---
It might be the names of Jose Mourinho and Pep Guardiola which are bandied around most extensively on social media when the subject of a potential successor to Louis van Gaal at Manchester United is mentioned, but there is one man currently plying his trade in the Premier League who deserves just as much recognition for the job he could potentially do at Old Trafford.
While United fans have been bored rigid this season by the Dutchman's "philosophy" of keeping the ball and then keeping it some more no matter what the outcome, Mauricio Pochettino's decision to give his Tottenham players the freedom to play in their natural attacking style has won points and admirers alike at a rate Van Gaal could only dream of.
Right now it is Pochettino's Spurs who occupy the Champions League play-off spot in which United finished last season and which has now become the 20-time champions' revised target in a campaign which promised so much but has so far delivered failure on a multitude of levels.
The losses on the pitch, most recently at home to Pochettino's former club Southampton, have been compounded by an early exit from a hugely-advantageous Champions League group and an insistence from Van Gaal that his players adhere to his structured approach to attacking football regardless of the stultifying effect it has apparently had on his players.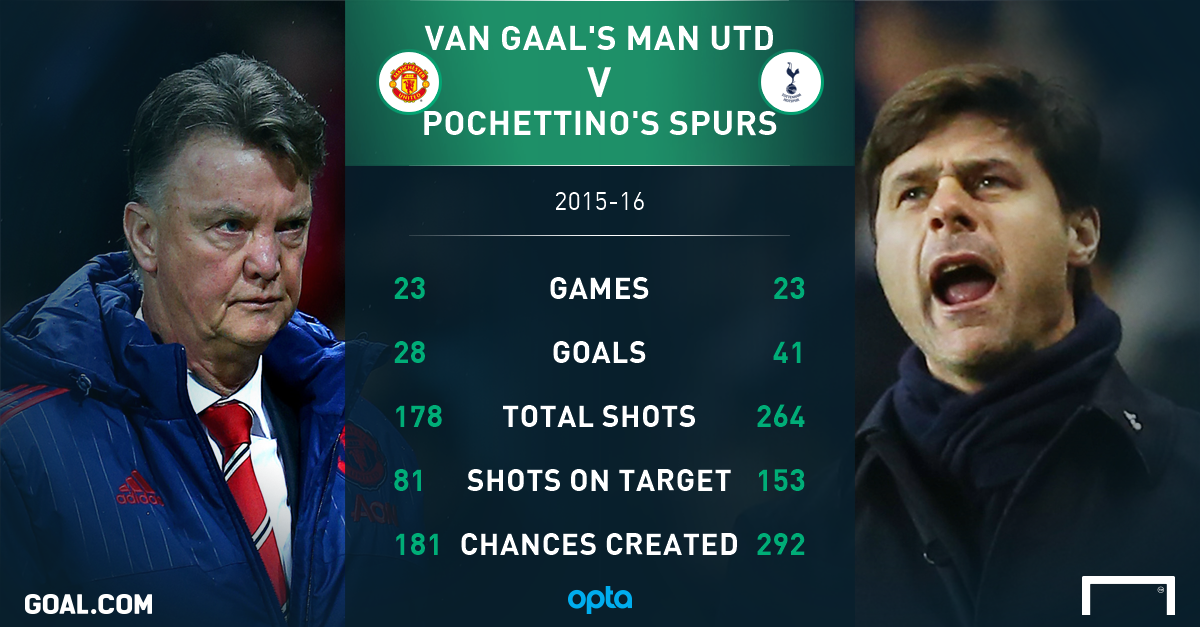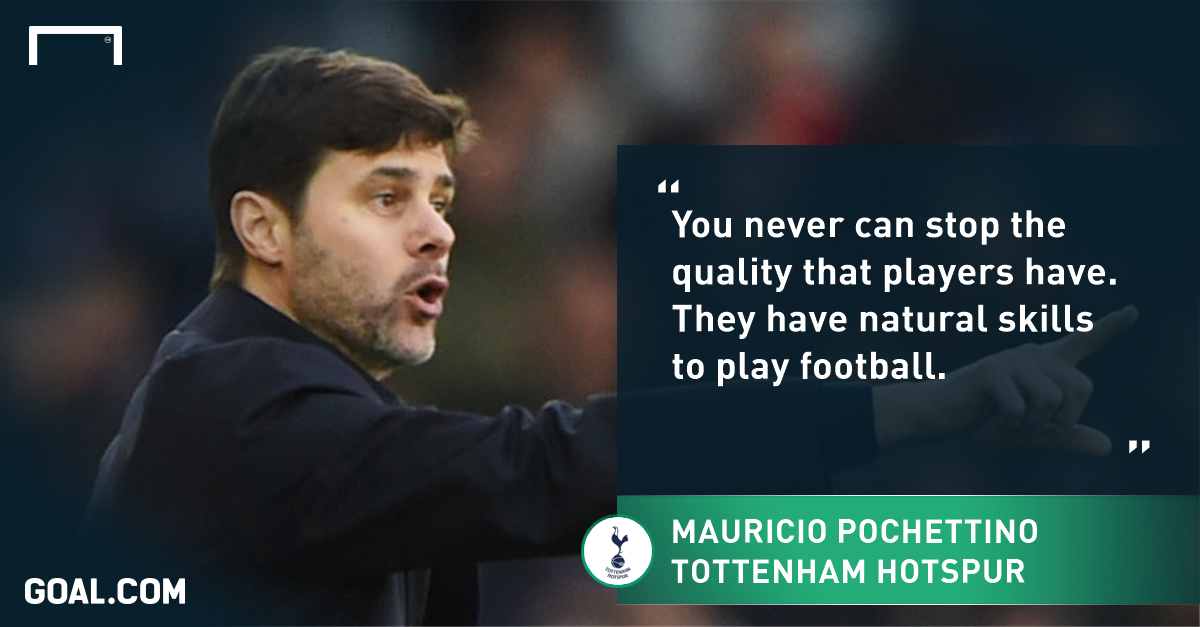 "I always say to the players that the gaps in the defensive organisation shall exist when you play a kind of positional game. We did it today and I was very pleased. Of course it is confirmation of our philosophy," said Van Gaal following a 44-pass move which finished with Juan Mata slotting home in the victory at Southampton in September.
However, the truth is that Mata's goal was the exception which has proved the rule. United have one of the worst attacks in the league on the back of their shot-shy approach, despite the vast amounts of possession they have enjoyed.
Over at White Hart Lane, Pochettino has been singing from a very different hymn sheet.
"You never can stop the quality that players have. They have natural skills to play football. You need to give a professional side but cannot stop them because they are very creative," he commented after Saturday's come-from-behind win at Crystal Palace.
The Argentine's insistence on giving players the ability to express themselves is the polar opposite of what is going on at Old Trafford at this moment in time, and yet is much more in keeping with what Manchester United fans have become used to seeing. His belief in backing young players is also right out of the United playbook.
Just as the England squad was once filled with names such as Gary Neville, Phil Neville, Nicky Butt, Paul Scholes and David Beckham, nowadays it is pupils and alumni of Pochettino's footballing school who are flooding Roy Hodgson's ranks. In total, 10 of England's last 18 debutants have been given their wings at club level by Pochettino, including the likes of Nathaniel Clyne, Harry Kane, Adam Lallana and Spurs' current man of the moment Dele Alli.
The 43-year-old's investment in youth has seen Spurs field the youngest squad in the Premier League by some distance this season, and the benefits have far outweighed the negatives. Over at Carrington, meanwhile, the neglect shown towards the youth setup is beginning to cause ire behind the scenes. And whereas United's senior squad have been dogged by inconsistency, most recently following a morale-boosting 1-0 win at arch-rivals Liverpool with that listless home loss to Southampton, Tottenham's successes have been built on their ability to turn in performances week after week and remaining hard to beat.
---


READ MORE

|
Van Gaal did NOT offer his resignation after Southampton loss

---
Like United, they have largely bossed possession in games, but they have fashioned 48 per cent more shots at goal and reaped the rewards with 41 goals to United's 28. Tottenham's dynamism, pace and sheer intent is far more akin to what you'd expect of Manchester United than Louis van Gaal's troops have served up over the past 18 months.
As job applications go, Pochettino looks to have every angle covered. Mourinho and Guardiola come with extensive reputations cultivated at multiple top-level clubs but the Argentine is the man already proving to be cut from United cloth.
And while Guardiola looks set for Manchester City in the summer, and the feeling in the Old Trafford boardroom towards Mourinho remains ice cold, there appears little reason for United not to give Pochettino extensive consideration when drawing up a list of alternatives to Van Gaal.
David Moyes had survived the twists and turns of Premier League football for long enough to persuade the United board he would be able to build something big at Old Trafford. Van Gaal was then seen as the man to right the ship. But neither had the innate Manchester United approach in the way that Pochettino seemingly does, and the club would be crazy not to have his name high on their hit list now that Van Gaal is no more.