---

EXCLUSIVE
---
Carlo Ancelotti believes that "a lack of motivation" among the Chelsea players cost Jose Mourinho his job at Stamford Bridge.

Mourinho led the Blues to the Premier League title last season but they endured a shocking start to the 2015-16 campaign, losing nine of their opening 16 games, with a 2-1 loss at Leicester City last Monday week proving the final nail in the coffin for the Portuguese coach.

After the defeat at the King Power Stadium, Mourinho admitted that he felt "betrayed" by his players but Ancelotti - who was sacked by Chelsea in 2011, a year after leading the west London club to a domestic double - says that it is never easy to keep motivation levels high within a squad coming off the back of a successful season.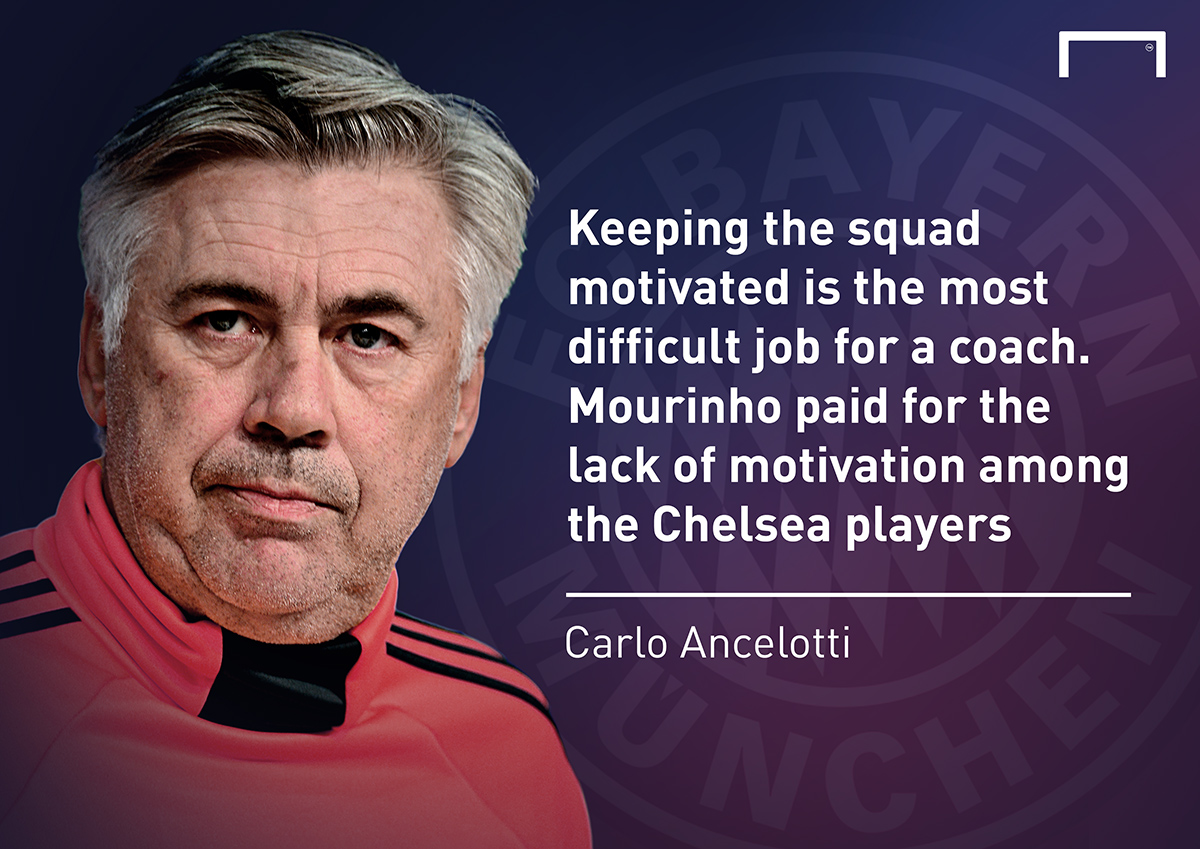 "That is the most difficult job for a coach because within a group, both one that is doing well and one that is doing badly, there are always problems to resolve," the Italian coach told Goal.

"When things are going well, there is a risk of relaxation; when things are going badly, obviously there is a loss of confidence.

"The coach must always keep a good balance in that sense, lifting the confidence levels particularly when things don't seem to be working.

"It's a little of this that Mourinho paid for, the fact that the team had not started like last year, when they had a tremendous desire to do well after a bad year.

"This year it was exactly the opposite; he paid for the lack of motivation among the players."

Ancelotti, of course, has just confirmed that he will make his return to coaching next summer, having agreed to replace Pep Guardiola as Bayern Munich boss.

Succeeding the Catalan would appear to represent a daunting challenge, given the 44-year-old is bidding for a third successive Bundesliga title and gearing up for one final crack at the Champions League, with the Bavarians having suffered disappointment at the semi-final stage for the past two seasons.

However, while Ancelotti has never coached in Germany before, the well-travelled Italian is neither intimidated by the prospect of following Guardiola - nor by the challenge of adapting to a new culture.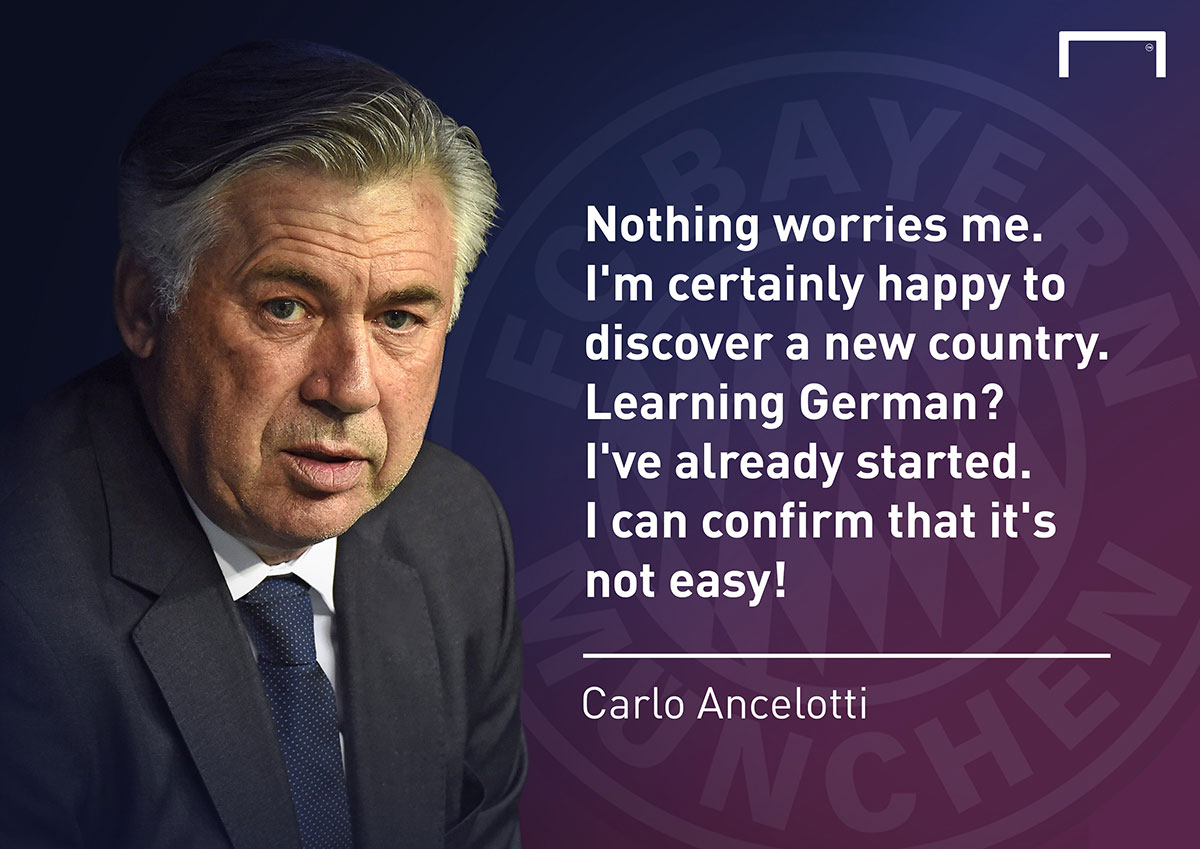 "Nothing worries me," the former PSG and Real Madrid boss stated. "I'm going to have a new and interesting experience and I'm certainly happy to discover a new country, rich in stimuli.

"The thing that has enriched me most in these past few years has without doubt been getting to know different cultures; the customs in various countries.

"I believe that it will be this kind of experience in Germany; very interesting. Learning German? I've already started. I can confirm that it's not easy!

"The important thing, though, is to find a good player-coach relationship and to carry forward your beliefs, managing to convince the players of the merit of your ideas.

"Imposing things on players is never good. It's important to find in the group the belief in what you are doing and to make sure it is accepted by all.

"Bayern are a great club and my objective is to keep them competitive in Germany and in Europe."

Indeed, Ancelotti admits that he is particularly excited about plying his trade in what is officially the best supported league in the world.

"I believe that in Germany in recent years, after 2006, they made great investments," the 56-year-old mused. "They rebuilt the stadiums and they became a very competitive nation on a European level.

"I'm especially intrigued by the atmosphere that I will face on the field, because it seems that the full stadia create a beautiful atmosphere around the football. This is the thing that intrigues me most."

Ancelotti says that he feels privileged to have been given yet another high-profile position within the game, confessing that he feels blessed by the opportunities that have come his way across a coaching career that began 20 years ago.

"I have been fortunate," the ex-Italy international admits. "From the very start, at Reggiana, I have always found myself in clubs that have had great faith in me.

"I have had a lucky career, in the midst of which there have been great triumphs that have helped me in this sense. Undoubtedly, great opportunities have always arrived at the right time for me.

"I was at Reggiana at the start, then it was Parma in Serie A, then in the same way opportunities came along at Juventus and AC Milan.

"And in the same sense, when I decided to go abroad, I always had the opportunity to coach big teams."



Ancelotti, though, feels that it is no coincidence that Italian coaches are in such demand overseas, citing the way in which Claudio Ranieri has transformed Leicester City into relegation candidates to Premier League title challengers to underline the argument that Serie A is the best league for producing great tacticians.

"I think, having experienced it directly, that the Italian school of coaches is very good; it teaches me many things," he explains.

"Secondly, the Italian league gives you different experiences to any other tournament. There's a tactical variety that enables one to grow from every point of view, compared to other leagues.

"In Italy, there are more systems of play; elsewhere, there is one dominant system in relation to the others. This obliges you to study more and to reflect upon and accumulate more experience.

"I don't think that my character has changed compared to when I started coaching. I'm still the same. Certainly, my recent experiences have brought me more knowledge.

"However, at the end of the day, the job is still the same. The methodology has changed in the meantime. I have also written a book on the topic ... but this is the natural evolution of sport, which is constantly updated. But in terms of relationships, my approach has not changed.

"Maybe now one has more players to manage, so it's a little more complicated compared to when the squads were made up of just 16 or 18 players."