Jurgen Klopp was transformed. The incessant clapping, whistling and shouting of both critique and encouragement on the touchline morphed into furious fist pumps and a feverish beating of the chest.

Divock Origi's deflected equaliser at the death in the 2-2 draw with West Brom sparked an emotional defiance from the Liverpool boss. He had warned opposing teams they would no longer get three points at Anfield by adopting an anti-football approach. Not on his watch.

Much has been made about Klopp's animation over a 2-2 home draw with Tony Pulis's side after dominating proceedings, but that erroneously overlooks the fact that these very games are the kind Liverpool have rolled over and played dead in over the past few seasons.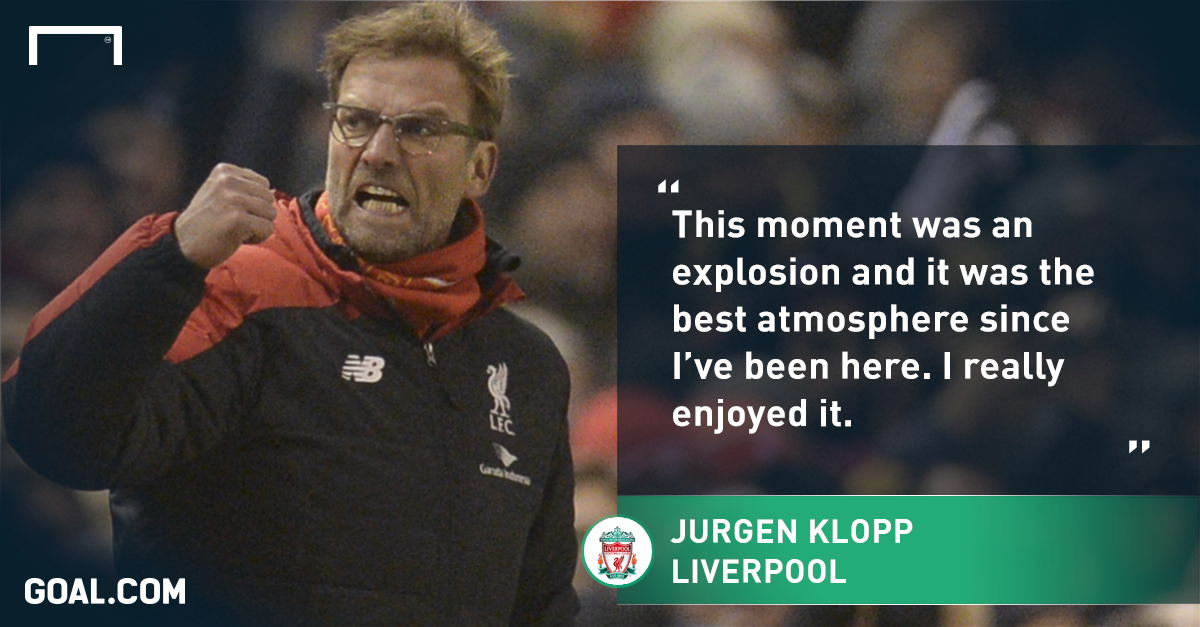 Origi's effort was the first goal the Reds have scored after the 80th minute at Anfield under the German. For him, it was not simply a matter of a rescued point but an illustration that his team did not just accept the result and drop their heads. They kept searching for a decisive moment and, for the first time in a very long while, the supporters believed it would come too.

Klopp's outpouring was not solely dedicated to changing the course of a game which already looked lost, but changing the collective atmosphere in such situations too.

In the 2-1 defeat to Crystal Palace in November, fans flooded out of the stadium following Scott Dann's header on 82 minutes because they did not expect their side to show the required fight in the shadow of the new Main Stand.

On Sunday afternoon, they did not leave - they got louder as the minutes ticked by. Klopp had mentioned in his pre-match briefing that the players could combat many things, but it would be hard to conquer doubt, especially at Anfield.

The supporters took note and delivered what he described as his "best atmosphere" since taking charge of the club just over two months ago.

"To stay in the game, only a few seconds from disappointment, and to come back is a big moment in football," explained the manager. "I really enjoyed it. This one point is a big difference – nothing or one. I enjoyed this game and enjoyed the atmosphere with my whole body."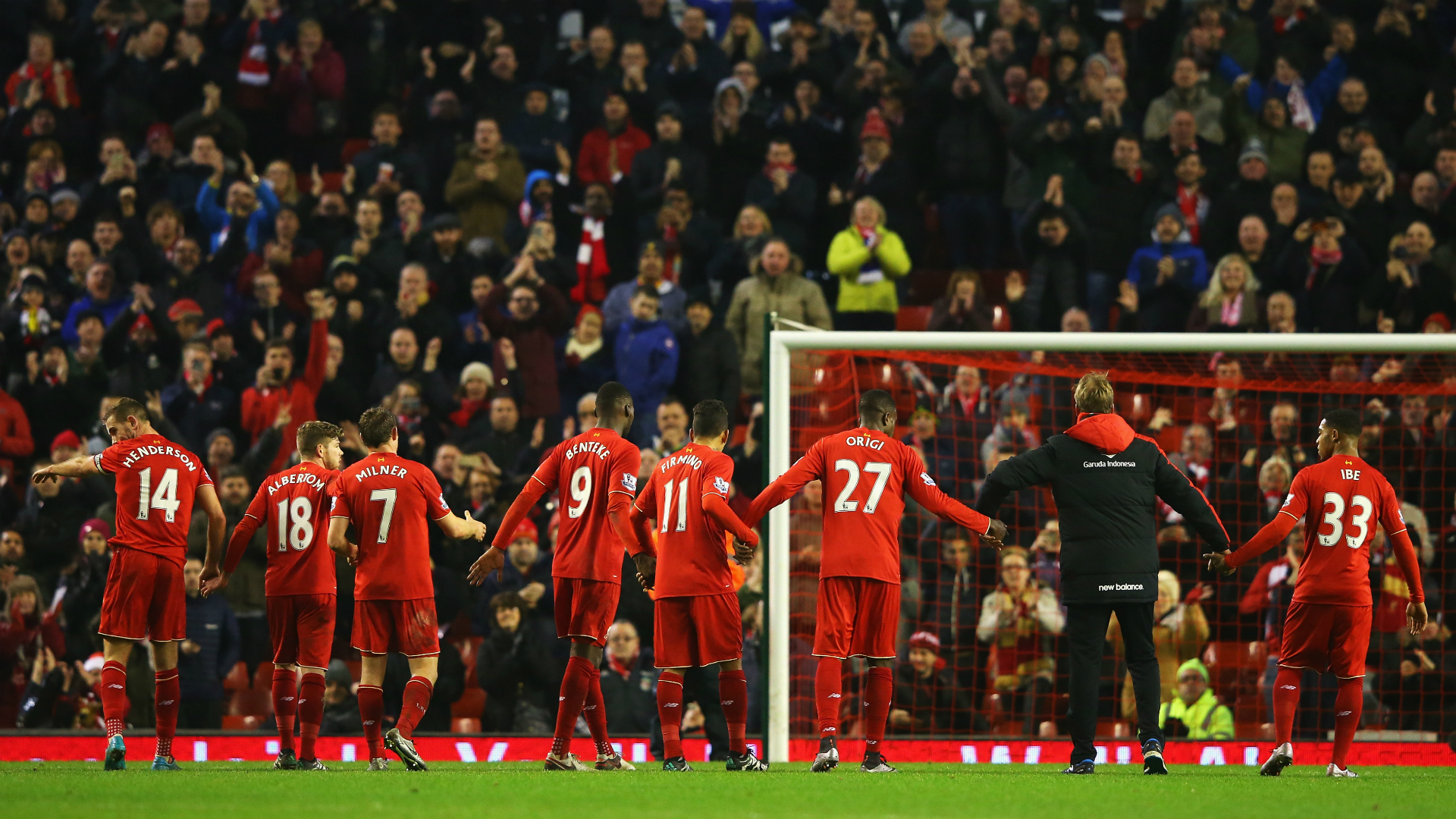 There was a debate post-match following Klopp's decision to order his players to join hands, walk towards the Kop and salute them in unison. Some discarded it as small time, others felt a draw was not the stage for such drama.

But for those inside Anfield, it symbolised much. The volume that greeted the linked arms aloft left absolutely no doubt about it. Those on the pitch and those on the terraces are in this together. It was a message the 48-year-old was quick to make following his unveiling and it was what he reinforced with that gesture.

"Maybe the crowd was disappointed but they didn't let us feel it. That's the thing," Klopp explained. "We were all in the game, we were all concentrated and we all wanted to get one point at the end. It felt like three. I know it is only one but if felt like three.

"This moment was an explosion and it was the best atmosphere since I've been here. I really enjoyed it. I don't know if it's normal in England but I want to say thank you. Together with the team, it was great."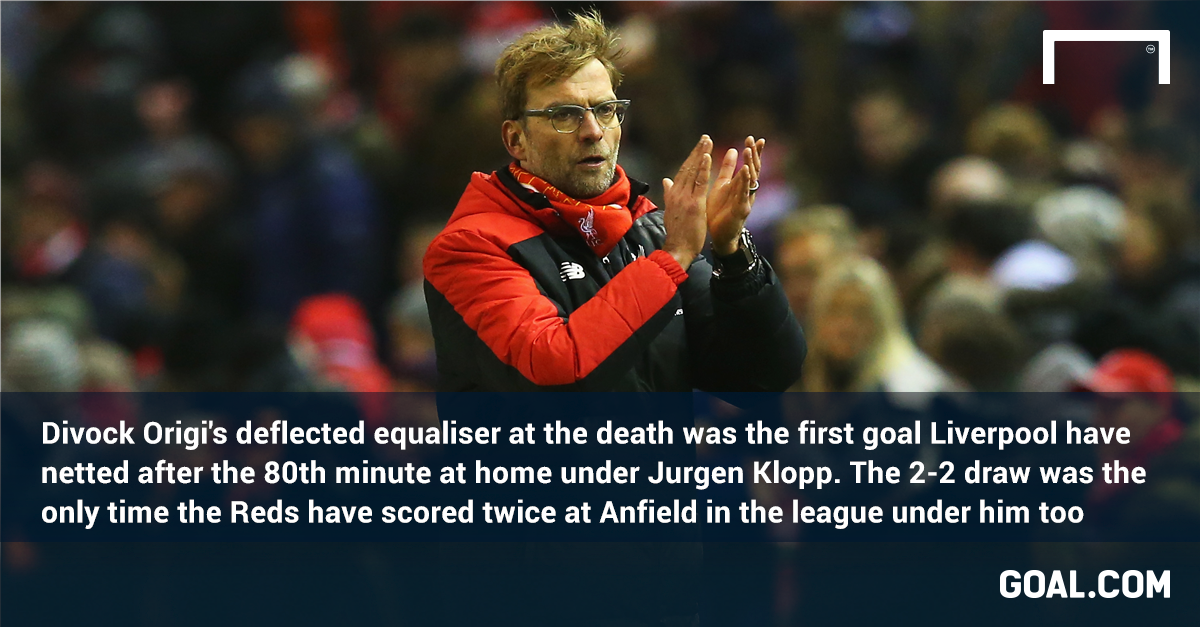 The talk over the tribute from Klopp and his players is cosmetic: the real issues against West Brom were that Liverpool knew exactly what to expect from them and still waved the white flag at set-pieces.

The manager was still visibly annoyed afterwards. "I don't know what percentage of the goals we have conceded have been set-plays but it feels like 98 per cent or something." At Anfield under Klopp, Liverpool have conceded five times from dead-ball situations in seven games, and just twice otherwise. It is an area of concern that has been highlighted and work will intensify to fix it.

The Reds had 28 shots against the Baggies, their most in a league game since December 2013. The visitors had four in total and yet, the scores were level. Getting past a packed-out defence is another element Liverpool must improve on, but the late response on Sunday was an important step.

"Sometimes a point deserved in the right way is more important," Klopp explained. "I know you all want the three points, it's important for the table. But for our development so many different things are important – the style of play against a team like this.

"Everybody tells us we can't play against a team like this. Yes we can. We could do everything; we were in the box, had chances and made a brilliant goal. Everything... and then they got two set-plays."

Liverpool are still flawed, but the show of togetherness on Sunday afternoon was not one of their faults, it was a sign of their strength and progression.