"My favourite and proudest moment at this club was seeing Manu Garcia play with the first-team against Crystal Palace and score a goal," Patrick Vieira said after his final game in charge of
Manchester City's
Elite Development Squad this week. "My proudest moments are looking at a first-team teamsheet and seeing three or four players from the EDS there."
Vieira, who will take up his new role as New York City FC head coach on January 1, must have been very proud indeed this season. Garcia has been joined in the senior set-up at various stages by Pablo Maffeo, Brandon Barker, George Evans, Tosin Adarabioyo, George Glendon, Bersant Celina, Cameron Humphreys-Grant and Kelechi Iheanacho.
"That's what we we're working for, that's the target - when I see young players go from the academy to the first-team. That's what it's all for."
But there is often a feeling City's youngsters are just making up the numbers on match days. Only Garcia, Evans and Iheanacho have been given first-team minutes - Evans was brought on for just that - one minute - in the League Cup; Garcia has played 20 minutes in total in the same competition.
One moment in particular sums up the frustration at their lack of action. At 2-0 up with eight minutes remaining of the League Cup quarter-final against Hull City, Manuel Pellegrini readied Martin Demichelis as his third and final substitute. City went 3-0 up as the Argentine stood on the touchline, and an even more glaring opportunity emerged for Garcia, who had scored his first senior goal at the age of 17 in the previous round, to get what would likely be his final first-team appearance of the season. But Demichelis came on in central midfield regardless.
It is not as if Demichelis needed match fitness himself, he had played the full 90 minutes in City's two most recent matches. It was a baffling decision by Pellegrini.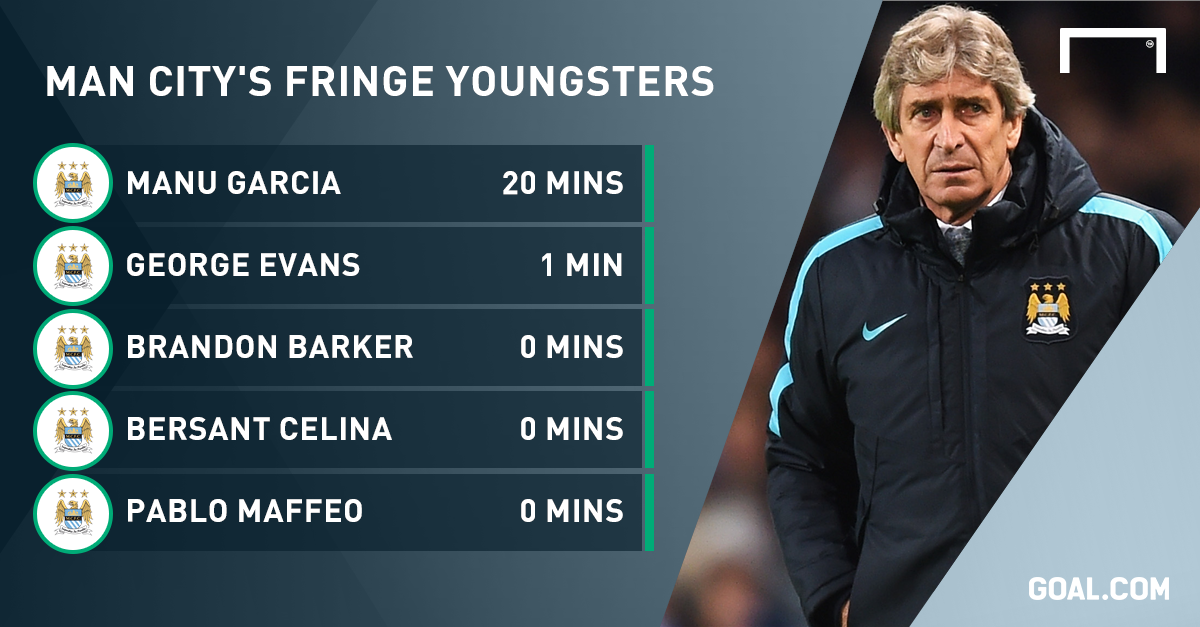 The City Football Academy celebrated its first birthday this week and there is no denying the good it has done for City's players of all ages. First-teamers and youngsters alike benefit from using the same state of the art facilities, with youth players delighted by the opportunity to mix with seniors all over the vast campus, including the canteen and recovery areas.
"The facilities are really good, I think we've got the best academy in the world," Brahim Diaz, the 16-year-old who turned down the chance to sign for Barcelona in 2013, told
Goal
this week. "We've got the first team near to us, the Under-21s, everything is near to you. The facilities are really good. The support is fantastic. We can play with the first team. We can do everything here, the facilities are really, really good.
"It's really good for us because it will help us to make our debut in the first team really easily."
It is tempting for Brahim to think that, given the number of his colleagues who have been whisked away to Pellegrini's first team. Indeed, Maffeo and Adarabioyo missed Wednesday's Uefa Youth League group clash, in which Brahim scored a fine goal, because they were named on the senior side's bench.
But for youngsters there is still a huge gap between the youth ranks and senior team, even when they're named as a substitute. Both Evans and Barker have been loaned out to Football League clubs; Maffeo has been on the bench five times but still awaits his debut; and Garcia has featured twice, in the League Cup, but has been on the bench a further four times without coming on. Meanwhile, you would not expect Humphreys-Grant, Adarabioyo, Celina or Glendon to see action any time soon, even if Pellegrini protests, justifiably, that he is having to pick from the same 14 or 15 senior players.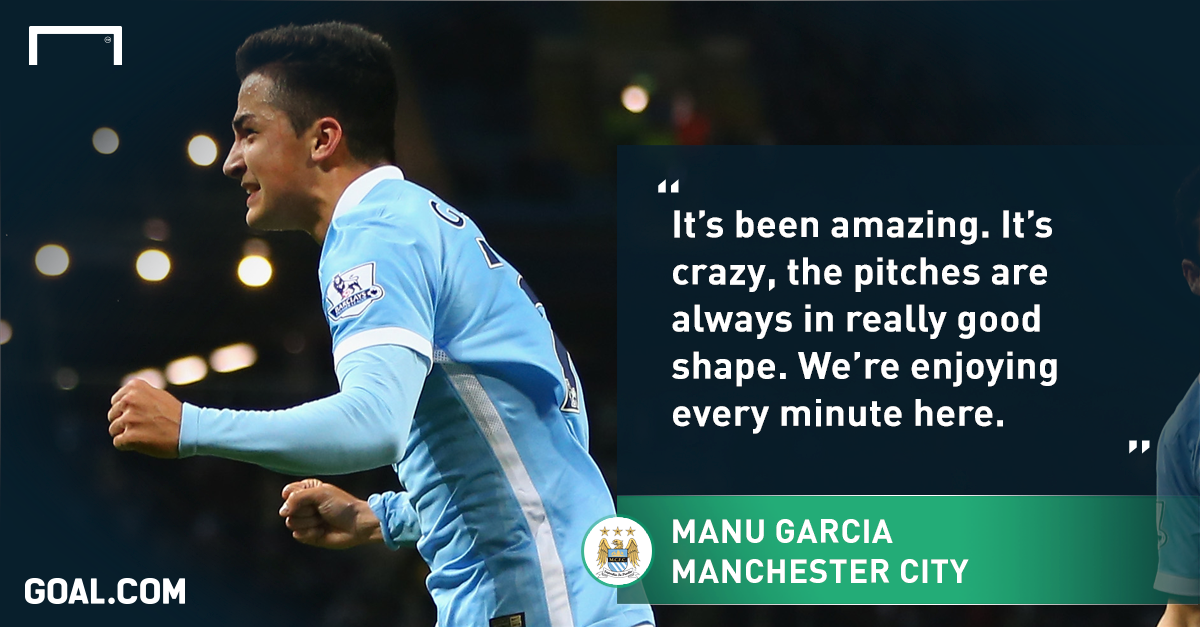 Joe Hart painted an honest picture this week: "People have to appreciate we have come to a point and to a level where we are trying to win everything, so the fairy tale of bringing someone who lives next door to the training ground through - we all want to see it, but you have to be realistic.
"The main thing is that the first-team does well, but we have a great set-up now. It will only be a matter of time that players will start flowing from our academy, but they have got to be better than what we've got.
"If you're not better than what we've got, you cannot expect to come through. They are the standards being set and that is what they have got to aspire to."
Iheanacho, the 19-year-old Nigerian tipped for big things, comes closest to matching those standards. He is seen by the club as hard evidence that the Etihad Campus is working, that young lads benefit hugely from being around the first team.
He has featured far more than any of his young team-mates this season, and the club are likely to include him in the Champions League squad for the knock-out stages.
But Pellegrini has still been accused of using the forward too sparingly this season, particularly when Sergio Aguero is on the sidelines and Wilfried Bony is struggling. Still, though, as one of the handful of players the manager will turn to when looking to change the game, his is an enviable position for many.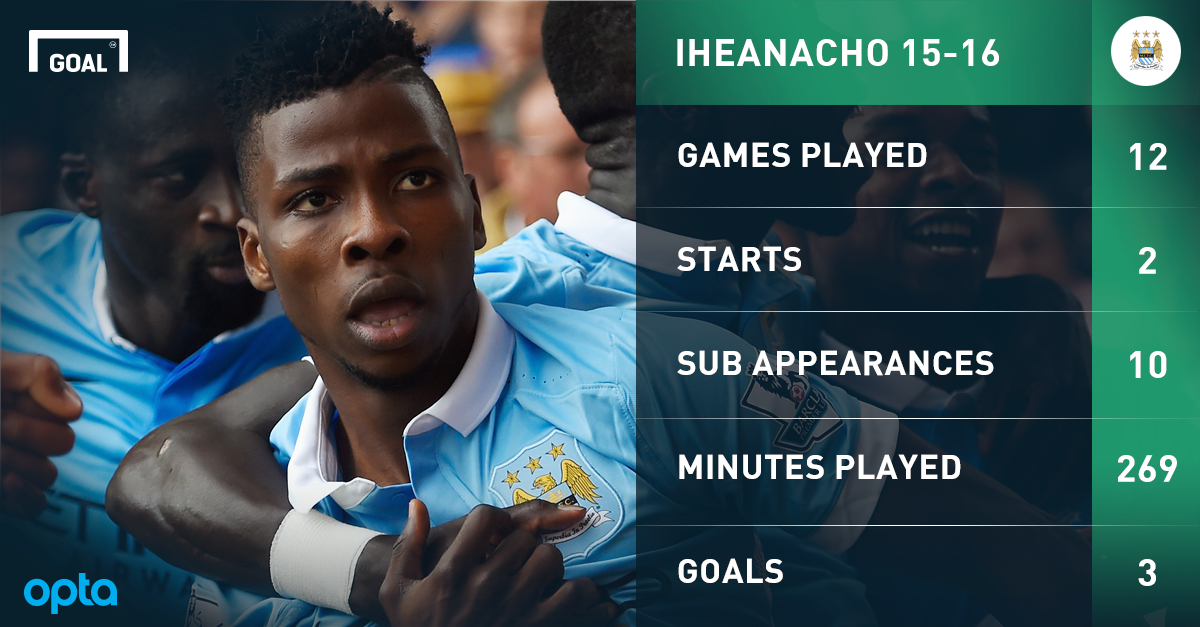 City have made great strides in youth development in recent years and the off-field opportunities given to their recruits - in terms of accommodation and first-class education, particularly - are genuinely impressive.
But the City Football Academy's most prolific days are still to come. Nobody can expect miracles after one year, and it means the lads making up successful teams below U16 level will be the ones to benefit from having worked at the campus for the entirety of their formative years. It means that, right now, there is a group of talented players being squeezed between the margins.
Vieira can be proud of his achievements as one of the key figures in Manchester City's revolutionary youth set-up, but it will be the boys graduating to the Elite Development Squad while he is in New York who will be best equipped to make the step up.