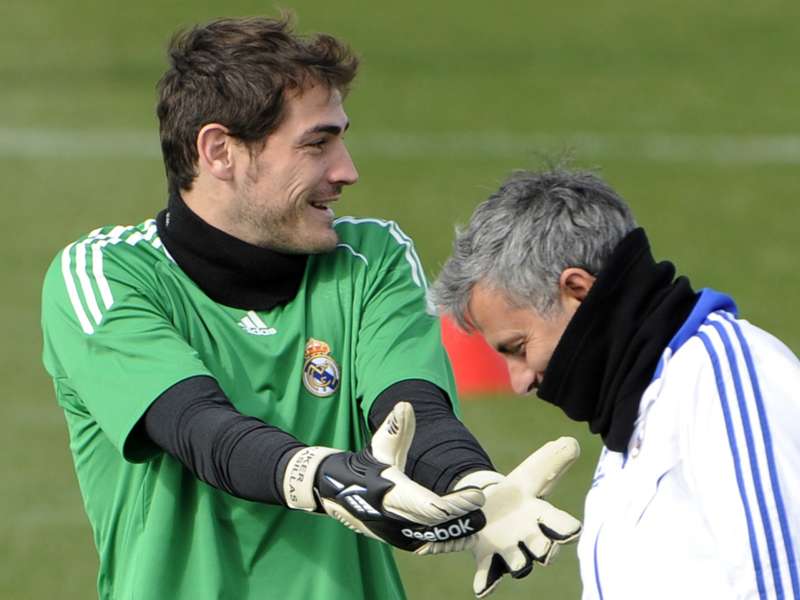 Porto
goalkeeper
Iker Casillas
has shed light on his relationship with former boss
Jose Mourinho
, affirming that the pair were like a quarrelling couple.
The Spain No. 1 received a tribute on Thursday from
Cuatro
, with several ex-team-mates paying their respects.
And when asked about his time under the current Chelsea manager, Casillas admitted that there was plenty of tension between the two.
"It was like being in a couple. The relationship went downhill, we did not have the same chemistry we had at the start," he explained.
The ex-Real Madrid man also revealed he spoke to Barcelona colleagues in the national team about his problems: "I didn't speak with them to lose face, we told each other everything."
Casillas insisted that even through his problems with Mourinho, he kept his focus on the team.
"I looked out for the club and I kept my mouth shut. I looked the other way," he said.
"I shouldn't have to tell the club what they should do."
The goalkeeper also received support from former companions.
Fernando Hierro admitted that "he was not given enough protection for the sportsman he was and for his role in Real Madrid."
And Sergio Ramos added to the criticisms of Iker's treatment.
"He might have suffered more than he should have. Iker has always been very respectful of the people and the fans," the defender opined.