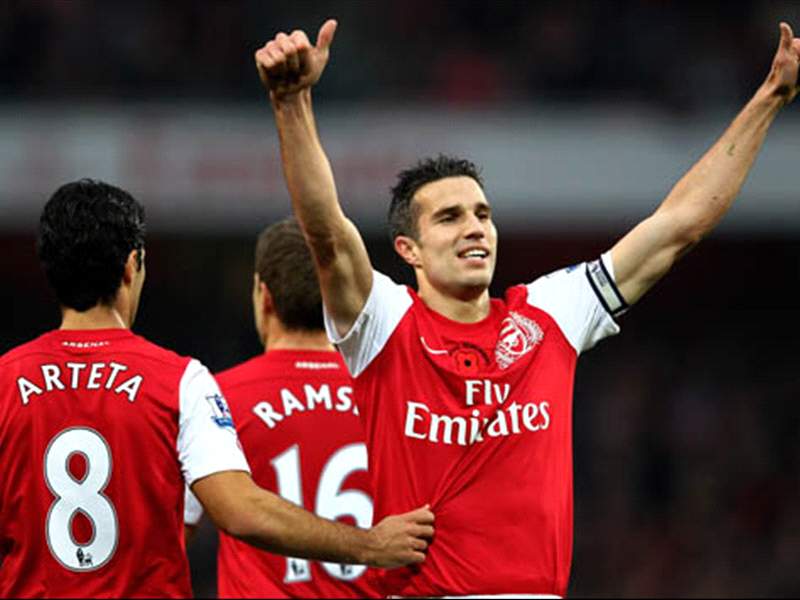 Greg

Stobart




In Kharkiv



COMMENT
Robin van Persie was all smiles here in Kharkiv last night as he prepared for the Netherlands' first Euro 2012 match against Denmark by effortlessly pinging shots into the top corner with both feet during training in the Metalist Stadium.

Any angst about his future has been put firmly to the back of his mind until the tournament is over, but journalists and fans in Ukraine and Poland will see a man who appears relaxed and content.
ROBIN VAN PERSIE TRANSFER SAGA


ARSENAL STAND FIRM

25 MAY

The Gunners refuse Van Persie permission to speak to other clubs as they aim to keep hold of their star man.
CHAMPIONS ARE TEMPTED

1 JUN

Roberto Mancini says he will sign a striker if one of his forwards leaves and describes the Dutchman as a "top class player".
JUVE HINT

4 JUN

Van Persie says "Juventus are a great team" but adds that he has agreed with Arsenal he will not discuss his future.
ARSENAL TO WAIT FOR DECISION

6 JUN
Chief executive Ivan Gazidis says the striker's future will be decided after Euro 2012.
FATHER RULES OUT MOVES

9 JUN
Bob van Persie says Manchester City is "not an option" for his son and also rules out transfers to Spanish duo Barcelona and Real Madrid.
However, the dilemma for the Arsenal captain remains. As much as he insists he will not be drawn on his future until after the European Championship, it is impossible to escape the interest in where he will be playing next season.

Quotes emerging from Van Persie's father, Bob, suggest the 28-year-old is more likely than ever to stay at Emirates Stadium as he tries to match staying at Arsenal with his desire to win trophies.

"Manchester City is not an option. It's impossible to play for another club than Arsenal in England," he told Spanish daily El Mundo Deportivo.

"It's not logical to go to Barcelona. They already have Lionel Messi over there. Real Madrid also doesn't fit into the picture."

The extent of interest from the two Spanish giants is questionable in any case, by Van Persie senior's insistence that a move to City is "impossible" is the clearest sign yet that the Dutchman will stay in north London for at least one more season.
In addition, Goal.com exclusively revealed last month that Juventus have pulled out of the race to sign the forward, with wage demands a stumbling block, and boss Antonio Conte instead eyeing a move for Napoli striker Edinson Cavani.
Whether or not he signs a new contract - his current deal expires next summer - remains to be seen, but the former Feyenoord man is unlikely to kick up a fuss if the Gunners stick to their tough stance that he will not be sold this summer under any circumstances.
Van Persie is believed to have told manager Arsene Wenger and chief executive Ivan Gazidis, during a meeting last month ahead of Euro 2012, that he wants to leave.
The reasoning is simple. Money is not his concern, but his desire to have something to show for his career, with just one FA Cup to show from his eight years with Arsenal.

But Van Persie, who was voted double player of the year in the Premier League last season after scoring 30 goals, enjoys being the main man at Arsenal.
He enjoys the responsibility of the captaincy and that has been reflected in the form that has made him one of the most coveted players in Europe.

That contentment is reflected in Van Persie's family life in the north London suburb of Hampstead where he lives with his wife and two children.

"We have been in ­London for eight years now," said his wife, Bouchra, last month. "As a family, we love it here.
ANALYSIS

Peter McVitie | Dutch Expert


The revelation by Bob van Persie that his son, Robin, will not be leaving Arsenal to join Manchester City, Barcelona or Real Madrid this summer certainly clears up some of the mystery which surrounds the Netherlands striker's future and alleviates the pressure on him.

Van Persie's future is still unclear but the focus on him will now change from where he will be plying his trade next season to how he will deal with the task at hand – getting the Oranje as far in Euro 2012 as he possibly can.
"Robin is captain of Arsenal and, as many people claim, the leader of the Arsenal team.

"Arsenal believed in Robin when he was young and when he was considered as a bit of a rebel.
"We don't want to upset things at home either."

With Lukas Podolski joining Arsenal this summer, and the likes of Rennes star Yann M'Vila on the club's radar, Van Persie may be convinced that the Gunners' ambitions match his own.
Arsenal will break their strict wage structure to offer Van Persie in excess of £120,000-a-week while insisting that they will not allow a repeat of the scenario that saw Samir Nasri join Manchester City last summer for £20m as he entered the final year of his contract.
This time, the momentum is gathering for Van Persie to stay, not least from those closest to him, those who know him best.
The striker will be focused on firing the Netherlands to Euro 2012 glory - but Arsenal have every reason to be confident of keeping their star man.