Name: Romelu Lukaku
Age: 16
Nationality: Belgian
Club: RSC Anderlecht
Position: Striker
Though most football fans' attention is firmly fixed on the big three European leagues, it would be a great shame were any keen observer of young talent to miss out on arguably the most exciting young striker in Europe currently.
Brussels Dynamite
Much in the same way as Usain Bolt, Lukaku is set apart by his incredible physical attributes. Standing 1.92 metre tall and weighing 94 kg, the Antwerp-born striker is more than capable of making his presence felt even when not getting his name on the scoresheet.
He came through the ranks initially at FC Brussels before moving to their more illustrious city rivals Anderlecht. In youth football he averaged a goal a game and indeed bettered that ratio playing for RSCA's reserve team. He is the most notable graduate from the Purple Talent programme run by the club in order to nurture the very best youngsters and prepare them for a first-team future. Having been likened to Didier Drogba, he is a genuine all round striker with pace, two good feet, aerial prowess and a killer instinct inside the penalty box.
His debut for RSCA came in the play-off defeat to Standard Liege. His first goal in the regular league competition came in Waregem against Zulte in August when he diverted home a Boussoufa cross from the left hand side. It was the start of what has been a deadly combination for the Paars-wit this season as Lukaku's movement and aerial prowess allow him to make the most of the winger's dangerous delivery. Not only was his debut no mere flash in the pan but he currently stands as the topscorer in the Jupiler Pro League with 13 strikes and a goal-to-game ratio better than anyone with six goals or more. He has also had a sizeable impact on the European stage with a vital double in Anderlecht's away win against Ajax to send RSCA through to the knockout stages and then the crucial opening goal in the second leg of the last 32 tie against Athletic Bilbao.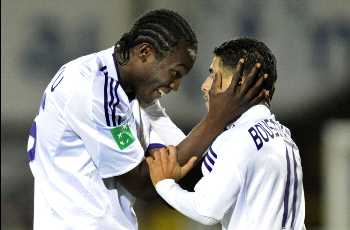 Romelu towers over his team-mate

His country's saviour
Romelu's exploits in the league did not go unnoticed and soon the talk began to turn to whether he would be called up to play for the Belgian national team. The clamour was that bit greater as Belgium had been crying out for a top class striker to spearhead their emerging side as Dick Advocaat attempts to plot a return to the glory days of Belgian football when qualification for major tournaments was a regular occurrence.
After much debate between fans and former players alike, he was handed his debut against Croatia as a starting striker with Eden Hazard and Moussa Dembele wide of him. Though he did not get on the scoresheet, he linked up well with the other attackers showing good awareness and positional play. In one move he released Lille's playmaker Hazard and furthermore had himself a couple of half-chances – firstly just over-running the ball after his touch had taken it between the two opposition centre-backs and secondly firing over with his left foot from a tight angle.
On the whole it was an encouraging debut and he certainly showed he belongs in the Belgian national side. His rival for the striker's spot for both Anderlecht and Belgium, Tom de Sutter recently admitted that he can have no complaints that his younger compatriot is ahead of him in the pecking order in the eyes of Ariel Jacobs and Advocaat. Belgium will be looking for him to carry the hopes of a nation in the same way footballing luminaries such as Luc Nilis and Marc Wilmots have been in the past.

Managing expectations
As mentioned with regards to a national call up Lukaku has a lot of weight on his admittedly very broad shoulders. However his feet are kept on the ground by his father, Roger Lukaku, himself a former professional footballer.
The competition in Anderlecht's squad upfront provided by the likes of De Sutter, Nicolas Frutos, Kanu and Matias Suarez afford Jacobs the luxury of removing Lukaku from the limelight when deemed appropriate. Anderlecht have stated their intention to keep him in Brussels until he is 19 though Les Mauves will have their hands full warding off interest from Europe's superpowers such as Real Madrid and Barcelona while Chelsea's interest has also been prominent. Reassuringly, Romelu has a mature personality often absent from seasoned professionals and realises that he still has a lot to learn. Furthermore he comes across well in interviews and the signs are he will avoid the pitfalls suffered by many other young superstars.
A year ago Europe's top clubs were prepared to fork out €1.5 million. One shudders to think what Anderlecht could demand as Lukaku develops still further. He may even become the poster-boy should Belgium win the right to host the 2018 World Cup. One thing is for sure, we'll be hearing a lot more of this young prodigy in the years to come.