Real Madrid
forward
Cristiano Ronaldo
has claimed the Fifa Ballon d'Or, beating off competition from
Barcelona
's
Lionel Messi
and
Bayern Munich
's
Franck Ribery
to secure the award for a second time.
Although the 28-year-old Portuguese failed to claim a major trophy at club level, he has been crowned the world's outstanding footballer over the course of the last 12 months.
Ronaldo received 27.99 per cent of the votes from the national team captains, coaches and selected media representatives, with Messi in second on 24.72% and Ribery with 23.36%.
The percentages point to the closest race for the prize since France Football's Ballon d'Or was merged with the Fifa World Player of the Year in 2010.
Messi had won each of the last four editions of the award, including all three since it was endorsed by Fifa, while Ribery played a pivotal part in a historic treble-winning season for the Bavarians, but Ronaldo's tally of 69 goals in 59 games for club and country in 2013 proved decisive.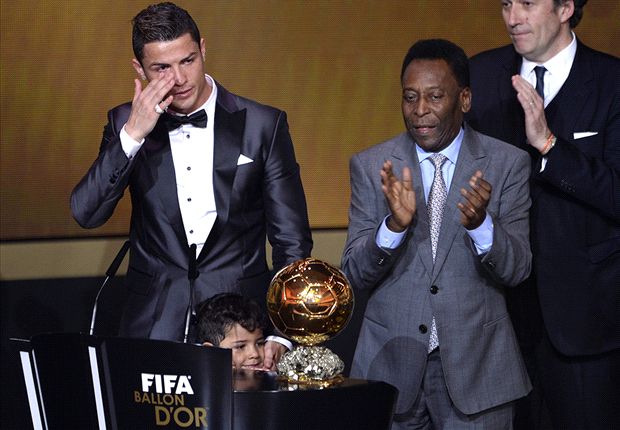 Tears of joy |
Ronaldo is visibly moved as he accepts the award from Pele, accompanied by his son
Ronaldo previously won the award in 2008 as a Manchester United player, but has since finished runner-up to Messi on three occasions (in 2009, 2011 and 2012).
But as Messi missed much of 2013 through injury, Ronaldo took advantage as he helped Real reach the final of the Copa del Rey and the last four of the Champions League before signing a new deal with the capital club and enjoying his best-ever season start under new coach Carlo Ancelotti in the latter months of the year, as well as single-handedly firing Portugal to the World Cup with all four goals in his side's play-off victory against Portugal over two legs in November.
And the 28-year-old, who opened a museum in December in his native Madeira to display his personal collection of trophies, now has another Ballon d'Or to exhibit alongside his 2008 award.
A total of 184 national team coaches, 184 national team captains and 173 media representatives voted for their top three for the award, with five points going to their No.1 choice, three to their second-placed nomination and one point to their third.
In total, Ronaldo secured 1,365 points, with Messi totalling 1,205 and Ribery with 1,127.