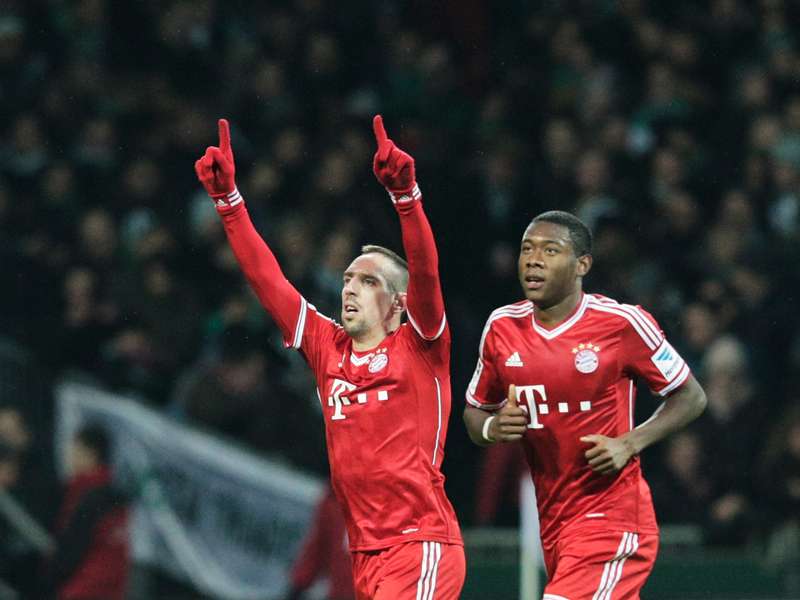 Bayern Munich
boss
Pep Guardiola
has hailed
Franck Ribery
, suggesting that he ought to win the Ballon d'Or ahead of his former player
Lionel Messi
.
The Bavarians stretched their unbeaten run in the Bundesliga to 40 games after a 7-0 win over Werder Bremen on Saturday, with the France winger scoring twice on his return from a rib injury.
Guardiola, speaking after the match, revelled in the ability of the forward and stressed that he felt he was the most deserving person to be named the best player on the planet - even more so than his former charge at Barcelona, Messi.
"We have been talking about this topic for a long time now," the 42-year-old told reporters.
"Franck had an incredible season last year. His career is incredible. This year Franck is one of the reasons why we are where we are.
"Obviously lots of other players too but especially Franck. Naturally, he deserves to win the title [Ballon d'Or], this personal title, but the most important thing is he is happy with his performances last year and what he is doing now.
"Whether he loses or not is not gonna change his life, his career or our opinion about him.
"He and his team last year with Jupp [Heynckes] won everything and obviously he deserves it. But the other players are amazing too. Lionel Messi, or Cristiano Ronaldo, or another player.
"But last season for him was, without a doubt, amazing."
Guardiola also enthused about the entire Bayern side after the thrashing of Bremen, declaring himself privileged to coach such a talented group.
"It was the first game this season where we kept our positions well," the former Barcelona trainer continued.
"Every player stuck to his position and after having the ball, they want back to that same position. I want to congratulate my players, it was a very strong game from us.
"Thank you to the club for bringing these amazing players. It's an honour for me to coach them."
Bayern sit top of the Bundesliga with 41 points from 15 games, four clear or Bayer Leverkusen.