Inter
twice surrendered the lead to
FC Dallas
as they ended up with a 2-2 draw in a friendly on a scorching summer's evening at Pizza Hut Park in Frisco, Texas.
The Nerazzurri's North American tour has been largely mixed so far, with a 3-0 thrashing of Manchester City being followed up by a 3-2 loss to Panathinaikos, and once again defensive issues came to a fore as the visitors conceded two avoidable goals - one a penalty.
For FC Dallas, there was little sign of being over-awed by the European champions, and although they did not always play the prettiest football, they were in the end good value for their draw.
Inter started with a strong line-up, with the likes of Lucio, Walter Samuel, Dejan Stankovic and Samuel Eto'o all starting. Only Luca Castellazzi and Philippe Coutinho were first team irregulars, while on the subs list there was no room for the injured Javier Zanetti, nor Mario Balotelli, whose transfer saga to Manchester City continues to roll on.
Dallas, too, fielded a strong line-up, and their eagerness to impress the somewhat disappointing home crowd told as early as the first minute, when David Ferreira tested Castellazzi with a low drive.
The hosts continued to look positive until the quarter-hour mark, when Diego Milito very nearly hit the target with a header from Goran Pandev's cross, and Inter began to look somewhat superior.
There was a nervy moment for Inter when Luca Castellazzi seemed set to give away a spot-kick as Brek Shea rushed on, but his clipping the young midfielder did not meet with referee Jeff Gontarek's disapproval.
In the 23rd minute Inter took the lead. No sooner had Samuel Eto'o hit the post on the counter-attack than Maicon looped in a cross for
Diego Milito
, who was unmarked between the Dallas centre-backs and thus able to head home easily.
Goran Pandev grazed the post with a deflected free-kick as Inter turned the screw, but against the run of play Dallas equalised five minutes before the break. Maicon, looking sluggish, was unable to pick up his man from an Atiba Harris cross,
George John
taking advantage with a bundled header.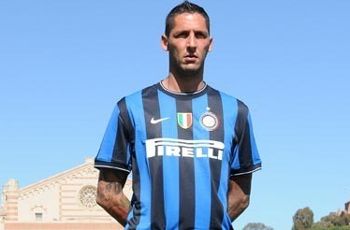 Matrix conceded a penalty
The second half brought a predictable raft of substitutions for both sides, which delighted the fans looking to see local heroes, but provided little by way of fluency in play.
But one of the few players remaining from the first half,
Samuel Eto'o
, made his quality tell when he let rip with a stunning twenty-five-yarder to put Inter one up on the hour mark.
That lead was not to last as ten minutes later Marco Materazzi barged over Jair Benitez in the box, allowing David Ferreira to face substitute 'keeper Julio Cesar from the penalty spot. It was an opportunity that the Colombian did not pass up, delighting the 19,000-plus crowd.
Rafael Benitez's side thus once again showed an inability to defend tightly on the road. For Dallas, the match will provide confidence as they continue to look for a playoff spot in
Major League Soccer
.