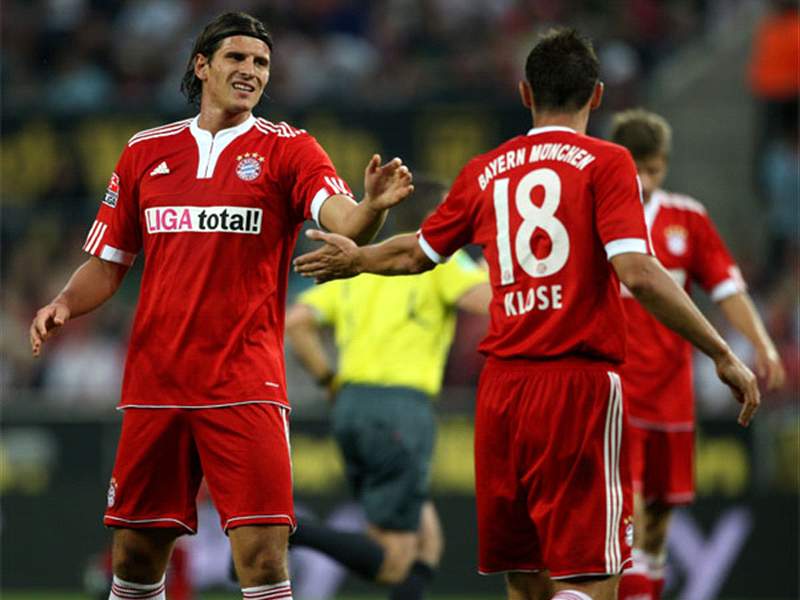 Kick Off: Wednesday, July 29, 2009, 20:45 CET. Allianz Arena
Life Under Van Gaal
Bayern Munich and Milan continue their pre-season preparations with a mouth-watering clash in the now traditional Audi Cup. The game is the second of the evening with the winners set to meet either Manchester United or Boca Juniors in the final on Thursday.
Both sides are under the guidance of new trainers/coaches, and will be keen to gain a confidence boost by beating one of Europe's big boys going into the new season.
Bayern, under the highly experienced and highly successful Louis van Gaal, are looking to regain what they see as their rightful spot at the top of German football, having been usurped last season by VfL Wolfsburg.
Their pre-season so far has been very encouraging although the game with Milan will be their toughest so far. The Bavarians have seemingly successfully bedded in their summer signings and shown that they are going to be the favourites for next season's Bundesliga. They have even achieved this without Franck Ribery and Luca Toni who are injured/short of fitness.
Mario Gomez, Ivica Olic, Anatoliy Tymoschuk, Edson Braafheid, Danijel Pranjic and Alexander Baumjohann have all been given game time and have slotted into Van Gaal's system.
Although the match with Milan is a prestigious one, Bayern see it largely as a final opportunity to tweak things before their DFB Pokal first round tie with Neckarelz on Sunday.
"We've only had three and a half weeks in pre-season. I'm piecing a team together, so I have to regard the tournament as a warm-up for Sunday," Louis van Gaal told the club's website. "Sunday is the more important game."
Life After Kaka
Italian giants Milan are also still in their pre-season, but are behind Bayern in their level of preparedness. Their players have only just returned from their summer vacations as the Serie A season doesn't resume until late August. Leonardo's side have just returned from the US where they didn't have the best of times; they suffered defeats against Chelsea, Club America and Inter, while only drawing with David Beckham's LA Galaxy.
The Brazilian coach goes into his first season as the Rossoneri boss having succeeded Carlo Ancelotti at the San Siro. The loss of Kaka will be felt but Leonardo feels the squad have the depth to cope.
"We're just back from a tour of the USA and my players are certainly a little weary. But we're delighted to be taking part in this high-quality tournament," the Milan coach told the pre-match press conference.
"We're rebuilding here in Milan, but even without Kaka we have a good team. If we read the situations as they are, it's not easy to think that Kaka will be replaced easily, as goes for Maldini. Paolo has always been a symbol and it won't be easy to find a player to replace him as a personality.
"Aside from these two factors I am also starting out as a coach this season and it's right that I also grow in my mentality and am able to do this role well. I think we can do good work this season."
FORM GUIDE
Bayern Munich
25 July Bayern 13-0 McFit All Stars
24 July 1.FC Koeln 0-2 Bayern
21 July Stuttgarter Kickers 0-10 Bayern
20 July Bayern 2-1 Schalke
18 July Hamburg 1-0 Bayern
Milan
26 July Milan 0-2 Inter
24 July Milan 1-2 Chelsea
22 July Club America 2-1 Milan
19 July Los Angeles Galaxy 2-2 Milan
12 July Varese 0-2 Milan
TEAM NEWS
Bayern Munich
Franck Ribery and Luca Toni are the notable absentees for the Bavarians, but the other summer signings are all available and will want to play before the Cup tie on Sunday.
Possible starting XI: Rensing, Lahm, van Buyten, Badstuber, Gorlitz, Tymoschuk, Altintop, Pranjic, Baumjohann, Klose, Gomez
Milan
After defeats to Inter and Chelsea, Milan will want to regain some pride and Leonardo is set to name a very strong side for the clash with Bayern.
Possible starting XI: Kalac, Zambrotta, Nesta, Thiago Silva, Jankulovski, Gattuso, Ambrosini, Pirlo, Ronaldinho, Borriello, Pato
PLAYERS TO WATCH
Bayern will be looking for the Mario Gomez/ Miroslav Klose partnership to gel once more. Klose has been full of goals pre-season, while trainer Van Gaal will possibly look to Alexander Baumjohann to take on the playmaker role in the absence of Franck Ribery.
Milan coach Leonardo will want fellow Brazilian Ronaldinho to step up and take more responsibility following the loss of Kaka, while Nesta will be important at the back to keep the Bayern attack (which has hit plenty of goals of late) at bay.
PREDICTION
Bayern are further down the road to full readiness, Milan have just returned from an arduous flight from America where they played four matches without a win, and the game is at the Allianz Arena. Bayern to win this one, but then it's only a friendly!
Bayern Munich 2-1 Milan
Mathew Burt, Goal.com