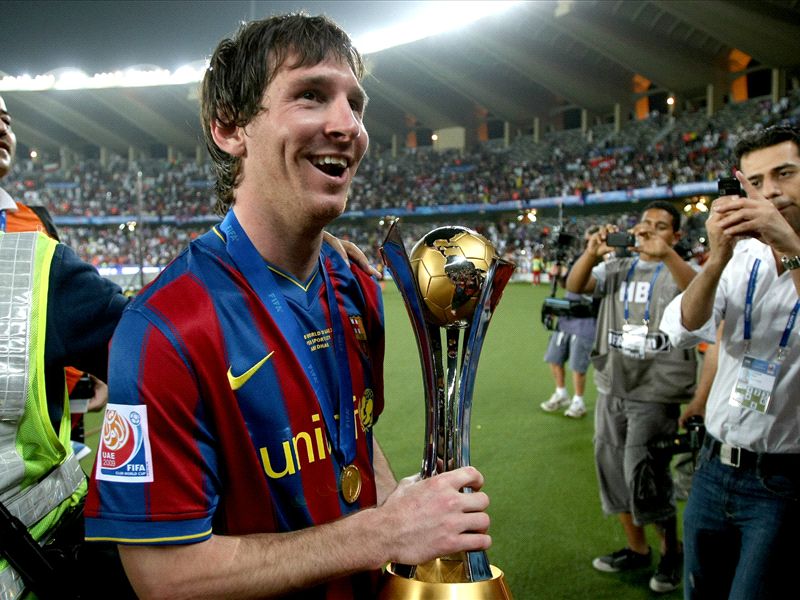 By Oliver Platt
Of the six trophies
Barcelona
won in 2009, the Club World Cup was the only one they had never held before. "If we lose today, we will still be the best team in the world,"
Pep Guardiola
told his players before the final, according to his biographer Guillem Balague. "If we win, we will be eternal."
Led by Guardiola and Lionel Messi, the Catalans seemed unbeatable by the time they faced Estudiantes in Abu Dhabi on December 19. They had started the 2009-10 season by winning the Supercopa de Espana and the Uefa Super Cup, and had won 12 and drawn three of their first 15 league games. Real Madrid would score 102 goals and earn 96 points that season and still finish second (last May, Atletico Madrid won the title with 90).
Estudiantes, though managed by a future Argentina coach in Alejandro Sabella and built around the still-brilliant Juan Sebastian Veron, who is now the club's chairman, would not have struck many as likely spoilers. Juan Manuel Diaz, a Uruguayan, was the only import in a workmanlike side spearheaded by Mauro Boselli, the striker most likely to be remembered in Europe for his 15 games in the Premier League without a goal for Wigan Athletic.
They set about frustrating Barcelona to good effect, though, with Zlatan Ibrahimovic isolated in attack. By any normal standards, Ibrahimovic and Messi would have good seasons but whereas Guardiola had hoped Messi could play off the Swede, they would occasionally frustrate each other. Messi had less space to run at the centre-backs, and Ibrahimovic felt Xavi and Andres Iniesta tended to look for their fellow La Masia graduate more often than him.
Barcelona had not created much of note when Diaz crossed over Carles Puyol's head and Boselli held off Eric Abidal to head past Victor Valdes. Suddenly, Estudiantes had something to protect and the sixth trophy seemed less of an inevitability.
At half-time, Guardiola introduced Pedro on the right wing to allow Messi to play centrally, and Barcelona improved. But Ibrahimovic missed two good chances, drilling one shot just wide with his left foot before heading Xavi's cross past the same post, and his superb chipped pass for Pedro was cut out just before it reached its target.
When Thierry Henry was booked for diving on the edge of the box with less than 10 minutes to go, it seemed it would not be Barcelona's day. Guardiola liked to remind his players that Chelsea did not win the Champions League in 2008 because John Terry had slipped; such were football's fine margins.
This sport's greatest teams are not made up of players who accept defeat lightly, though, and Barcelona kept going. Yaya Toure came on, and then Jeffren. Gerard Pique was pushing up so high he was virtually a central midfielder, leaving Puyol and Valdes to ward off Estudiantes' counterattacks alone, and then abandoned his post entirely to join Ibrahimovic in attack.
It was a good thing he did. Xavi's attempt at a cross looped into the box off Veron's head and Pique reacted first, heading the ball back into the air for Pedro, who nodded it past Damian Albil in goal.
Players and substitutes piled on top of the goalscorer at the corner flag, Guardiola hopped on the spot in delight from the touchline and from there you sensed that unless Estudiantes could hold out for penalties, there would only be one winner.
The world's best player made Barcelona world champions in the 110th minute. Albil again could have been more aggressive in claiming the cross but Dani Alves' ball from the right was sublime and Messi snuck behind the defence to push it in with his chest from close range.
While Barcelona waited to collect the trophy, Guardiola broke down in tears. He had seemed to compose himself after a hug with Alves, but was then left alone again and sobbed into one hand. It is difficult to blame him; even five years on, the magnitude of what Barcelona achieved is hard to comprehend.