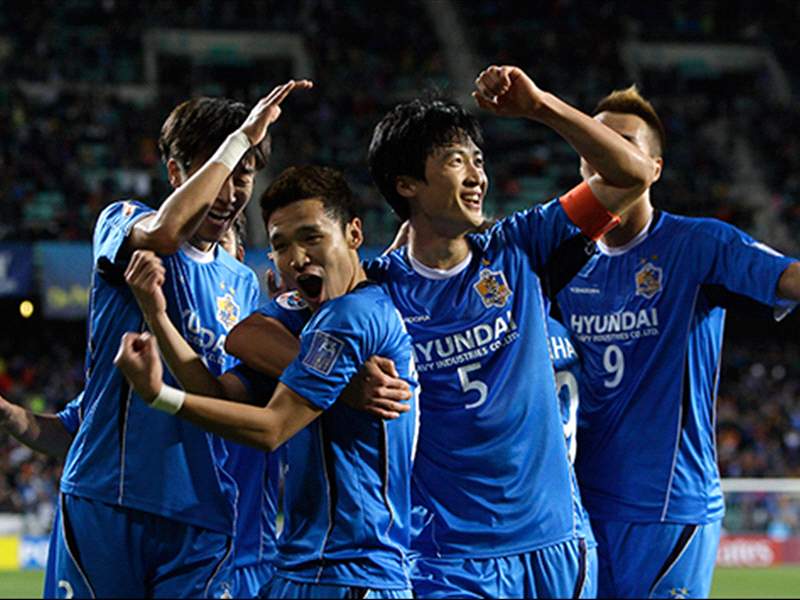 PROFILE
Kim Hyun-Min
The 2012 Club World Cup kicks off in less than one week, and is set to cap off the year in football as the world's most well-known clubs vie to be named the best.
The tournament, which runs from December 6 to 16 in Japan, will see the top clubs from all the world's confederations battling it out, and, while most football fans are familiar with the likes of Chelsea and Corinthians, several other competitors are in need of introduction.
In this series,
Goal.com
presents to you all seven teams that will be taking part in this highly-anticipated tournament. Here, we profile Ulsan Hyundai.
Ulsan Hyundai were established in December 1983. The club, first based in Incheon, were originally named Hyundai Horang-i (horang-i being the Korean word for tiger in Korean). They participated in the K-League from first season in 1984, finishing in third place. They moved to Gangwon in 1987 then settled in Ulsan since 1990, adopting the Ulsan Hyundai name in 2008.


The club has only won two K-League titles (in 1996 and 2005), but a record six runner-up finishes have lead to them being considered one of South Korea's powerhouse clubs. They have also won five cup titles, second-most beyond Suwon Samsung Bluewings.
Coach Kim Ho-Gon arrived at Ulsan in 2009 and although the team was unstable at first, since last year the club has demonstrated steady defending fierce counter-attacks in order to win the ACL and end as K-League runners-up. Ulsan's playing style has become known as "iron mace football" by fans, and Fans started calling style of Ulsan as 'Iron mace football'. The arrival of Lee Keun-Ho, Kim Seung-Yong and Rafinha gave Ulsan the power needed to rise to the top of Asia.
Ulsan's counter-attacking style was boosted this season with the speed of Lee Keun-Ho & Rafinha and the accuracy of Kim Seung-Yong. They scored 27 goals in 12 AFC Champions League matches, including 16 goals in six knock-out stage fixtures.
The team's basic formation is 4-2-3-1, with tall striker Kim Shin-Wook leading the attacking line. Behind him, Lee Keun-Ho, Kim Seung-Yong and Rafinha move around in free roles. Lee Ho and Estiven control the tempo as double volantes, and the back line is anchored by captain Kwak Tae-Hui. Occasionally Ulsan is known to adapt a 4-4-2 formation as well.
The 2012 ACL MVP and AFC Asian Player of the Year, Lee Keun-Ho returned to Korea after three years in the J-League in order to serve his mandatory military service. His great movement and penetration are known to give opposing defenders fits, and despite injuries he still had an impressive K-League season with eight goals from 21 appearances. He's also scored five goals for South Korea in 2012, four of which came during World Cup qualification.
THE SYMBOL | Kwak Tae-Hui
Kwak Tae-Hui is the captain of both Ulsan and the South Korean national team. Just as he is with the Taeguk Warriors, Kwak is the centre of the defence and the leader of Ulsan. His leadership forms the backbone of Ulsan's "iron mace football". Kwak is also famous for his heading ability in set-pieces, demonstrating his skill by scoring the opening goal in the ACL final against Al Ahli.
THE YOUNGSTER | Kim Shin-Wook

At 24 years old, 196-centimetre-tall Kim Shin-Wook is the youngest player in Ulsan's starting line-up. He started his career as a defender but became striker in 2009 when Ulsan's forwards were all injured. He is dangerous from any part of the pitch, but his strength in the air is so notorious that he's considered the sharp end of the Ulsan mace.
Ulsan earned their nickname of "the gangsters of Asia" in 2006, when they won the A3 Champions Cup and reached the finals of the ACL before falling to fellow K-League side Jeonbuk Motors.


In August, Kim Ho-Gon became the 12th coach in K-League history to win his 100th match. Kim Jung-Nam, the K-League coach with the most ever victories (241), also coached Ulsan from 2004 to 2008.
Lee Keun-Ho, Lee Ho and Lee Jae-Sung all received special dispensations to play in the Club World Cup rather than participate in scheduled military training on December 10th. They will now report for duty on December 17, one day after the scheduled final at Yokohama International Stadium.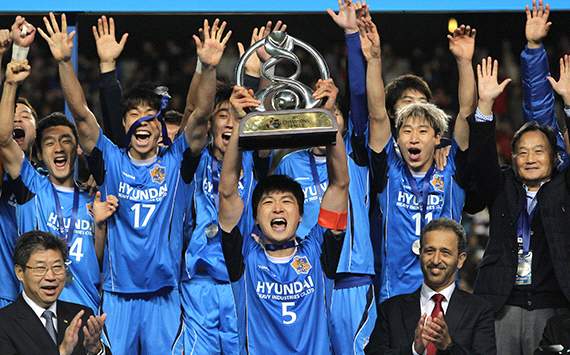 Manager Kim Ho-Gon is notorious for his unchanging starting lineups, so for the most part Ulsan will bring the same formation that they have used in recent K-League fixtures. Central defender Kang Min-Soo will be absent due to an ankle injury, and as a result Lee Jae-Sung and Kim Chi-Gon are expected to fight for his place.



Kim YK
Lee Yong, Lee JS, Kwak TH, Kim YS
Lee Ho, Estiven
Rafinha, Lee KH, Kim SY
Kim SW