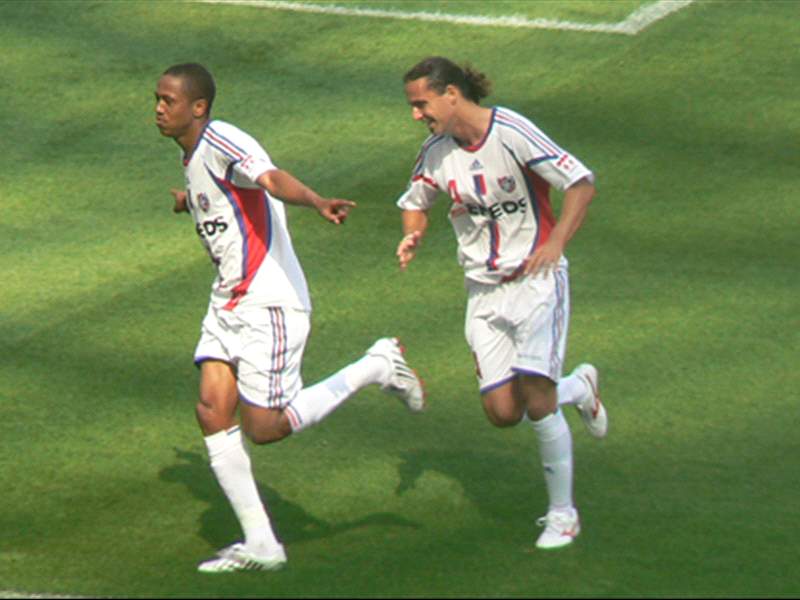 I was browsing through Kyoto Sanga FC supporters' forums, a few days ago, where of course many were lamenting the departure to Sport Club do Recife of their petit Brazilian forward Paulinho.
Interestingly, while only a few mentioned his 68 goals (a club record), most were saying they were going to miss "Paulinho's smile" and his "friendly attitude toward every fan."
Brazilian football has fascinated the Japanese long before the J.League was founded.
The roots of this obsession are found not only in soccer history, but also in comic books, in the undeniable quality of some of the early carioca who came to Japan and in the quasi-legendary story of Kazuyoshi 'Kazu' Miura, the Japanese boy who flew to Brazil at 15 to puruse his professional dream - one that he actually achieved.
At the beginning of the 2009 J.League season, there were dozens Brazilian players among J1 and J2 clubs.
Green and gold flags can always be spotted hanging from virtually every Japanese stadium's terrace.
From last season's MVP Marquinhos of Kashima Antlers, down to 'local heroes' such as Ventforet Kofu's Maranhao, it is Brazilian players who still fuel the hopes and the dreams of most Japanese supporters.
Alas, the Japanese are not the only Asians who fell victim to this Brazilian craze.
In the last few years, clubs from Qatar have regularly plundered the J.League's best Brazilian talents. In particular, wealthy Qatari businessmen who still can't afford to buy Premier League clubs, settle instead for a local teams and buy them exotic toys.
It is these new
soccer-sheiks
who in recent years have grabbed four of the most prolific Brazilian forwards from the J-League: Magno Alves, Bare and Leandro (from Gamba Osaka) and Davi (from Nagoya Grampus).
They all ended up to playing in the Qatari League, where they delight their new owners and crowds of 500-1,000 spectators.
FC Tokyo's Cabore seems to be next on the list
, as he is in Qatar for medical tests as I write.
Who is to blame for this poaching? Well, nobody, probably. One can't rap the players, who have perhaps a unique occasion to rake in unlikely jackpots.
And of course it would be hypocritical to blame the Qataris, since most fans would love to own a club and fill it with good players.
As far as the Japanese clubs are concerned, it really depends on how they re-invest their cash.
Both Gamba and Grampus, for example, have been quick in finding substitutes for their departing talents. The Osakan preference is to opt for Brazilians who have already proved they can live and play in Japan (they picked Leandro from Vissel Kobe for Bare; and now Pedro Junior from Albirex Niigata).
Grampus looked to Australia instead and hired Socceroo striker Joshua Kennedy, who was having a more than decent career in Germany.
Perhaps this "Go-Middle East" phenomenon can help Japanese soccer become richer and smarter, and also to explore new alternatives when re-investing, as in the case of Kennedy and Grampus.
Be that as it may, the Brazil-mania is likely to stay in Japan, longer than any individual striker at least, - for two reasons.
The first is that there is by now in Japan a huge caste of Portuguese-speaking coaches, scouts and translators who network to keep the Brazilian connection alive as their careers depend on it.
The second reason, surely more important, comes from the undeniable fact that the contribution of some Brazilian players to the J.League has been extraordinary.
I am not talking only of famous players such as Zico, Careca and Dunga. I am referring also about those of more humble origins, such as Amaral, Sidiclei, Jean, Adjel, Lucas, Ueslei and Paulinho, etc. who have written wonderful pages in the histories of the clubs and have blessed Japanese stadiums with their talent and their dedication.
And often, with their smiles as well.
Cesare Polenghi