---

COMMENT
---
Monday was not a good day for high-profile managers. Roy Hodgson's spectacular failure for England saw him resign in the aftermath of a cataclysmic 2-1 defeat to Iceland in Euro 2016, while Laurent Blanc was finally brushed aside by Paris Saint-Germain.
While Hodgson's resignation was explosive and sudden, Blanc's departure from the French champions by mutual consent was somewhat more predictable and the result of a gradual process that has seen doubt cast on his future for a year.
When the former France boss took over the Parc des Princes side in the summer of 2013 after Carlo Ancelotti stood down to go to Real Madrid, he did so almost as a default option. Having been snubbed by numerous coaches, there were no other obvious solutions for PSG, who turned to the ex-Bordeaux boss almost as a default.
Three years later, he leaves having achieved successive domestic trebles and having secured a remarkable 11 trophies from 15 possible. It is a formidable record by any degree, yet such are the standards now set in the French capital's west end, it was still insufficient.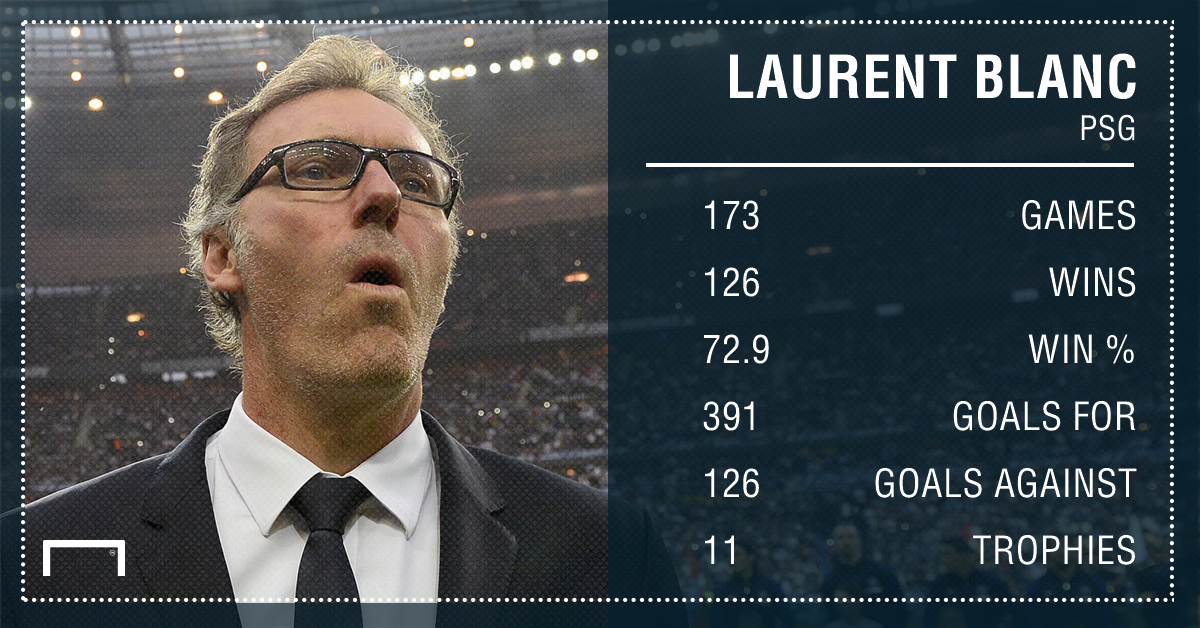 'Dream Bigger' has been the motto of PSG since the Qatar Sports Investments (QSI) takeover of 2011, and for all the glittering achievements that Blanc has brought to the club, stagnation in the Champions League – the ultimate goal of the ultra-ambitious outfit – proved a fatal blow to his reign.
In each of the last four years, the Parisian side have progressed to the quarter-finals of the competition only to go no further. Initially, this was seen as an acceptable outcome – Barcelona and Chelsea narrowly knocked PSG out on away goals in their first two adventures – but since then progress has been at best grinding and at worst non-existent.
Defeat to Manchester City at that juncture this term was considered particularly damning for Blanc. A 2-2 home draw left the runaway Ligue 1 leaders with a shot of qualification in the away leg, yet the performance that PSG mustered in an unusual 3-5-2 was tame, confused and unbefitting of a side with genuine ambitions to win the competition. A Kevin De Bruyne goal eventually put them out of their misery late in the game.
On display that evening was an alarming lack of motivation, drive and tactical shrewdness – aspects of their performance that Blanc should have been able to influence from the dugout.
"I take responsibility for this loss," he said after the defeat at the Etihad Stadium. "When you lose, it's the fault of the coach. When you win, it's thanks to the players..."
President Nasser Al-Khelaifi chose not to act rashly in the wake of that loss. Blanc had signed a new contract in February, when Jose Mourinho was on the market, in a symbolic move of solidarity with the coach. Rupturing that deal for the sake of one loss was a decision that required time to digest.
But there was pressure from higher up. Defeat to City was a game changer in the French capital. Losing to an Abu Dhabi-owned side did not go down well in Qatar, and Emir Al-Thani himself intervened to threaten Al-Khelaifi with the sack if he chose to continue to put his faith in Blanc and the stagnation continued.
Some might point to the terrific margin of success in Le Championnat during 2015-16 as a factor in Blanc's defence. In reality, it was the result of a perfect storm. While PSG piled their resources into successfully securing a decisive advantage by Christmas, they were aided by the ineptitude of Lyon, the firesale at Marseille and the hopelessly muddled nature of Monaco's approach. Even if OM remain as poor in the forthcoming campaign, the other two sides will surely offer a more significant challenge.
That, though, will not be Blanc's problem. Former Sevilla boss Unai Emery will be entrusted with the task of realising the board's aspirations. It will be his first job at a super club, and though he has tasted Europa League success with the Spaniards, the task at hand is now very different.
Success comes as standard at the Parc des Princes, and Emery will very quickly find out, just as Blanc did, dreams have to become reality for PSG.