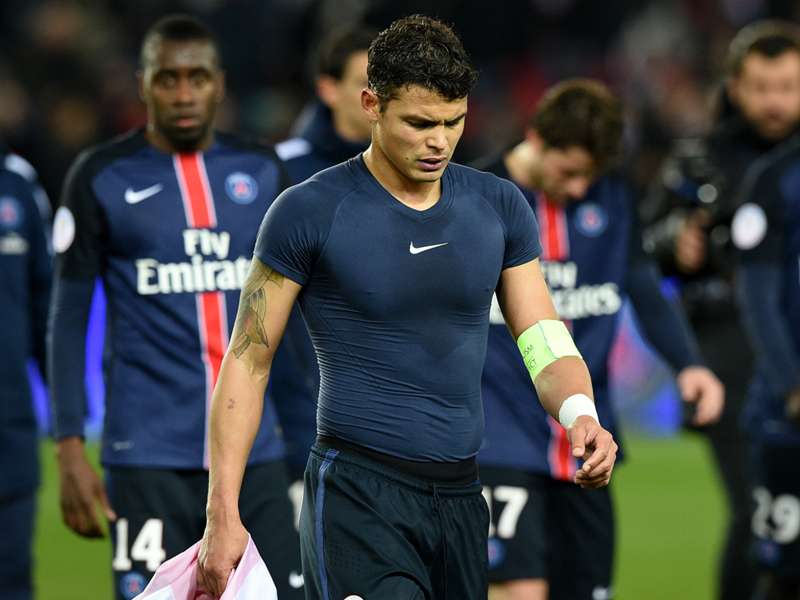 Paris Saint-Germain
's defeat by
Monaco
on Sunday was a "cruel" result after a good performance, believes defender Thiago Silva.
After PSG had been crowned French champions for a fourth successive season last time out, second-placed Monaco spoiled the celebratory mood at Parc des Princes with a 2-0 victory.
Second-half goals from Vagner Love and Fabinho, who converted a penalty, condemned Laurent Blanc's men to what was their first home league loss in 35 matches but Silva felt that it was undeserved.
"I can't really explain what happened," he told the club's official website. "We played well but we lost - it's cruel.
"We didn't play badly but we lacked a little concentration for the opening goal. We wanted to fight back and get straight back into the game but we conceded a second goal very quickly and it's hard to come back from two goals down.
"We will now rest and recover; players will head off on international duty and focus on playing our best game against Nice. We need to prepare well for that game in order to be ready for the Champions League."
Blanc, too, believes that his side "couldn't have done more" in attack despite failing to score.
"We've been a little less efficient than usual. That kind of things happen," the Frenchman told reporters, "but we had offensive players in our XI with three strikers and [Angel] Di Maria in the midfield. We couldn't have done more, offensively speaking."