---

PROFILE
---
Timing can be everything in football, and so far 18-year-old Ousmane Dembele has proven that he has that quality in abundance.
The Rennes star waited until the eyes of Barcelona's chief scout and technical director were upon him to score his first senior hat-trick – and as if that was not enough, it came in a spectacular opening 45 minutes against local rivals Nantes, during which time he virtually sealed the match single-handedly by leading his team into a 4-0 half-time lead.
Before that clash at the beginning of March, head coach Rolland Courbis admitted he had thought about treating the youngster gingerly for that encounter and was "51 per cent" sure until a little before kick-off that he would be on the bench. How glad he would have felt for going against his instincts as the youngster obliterated their neighbours in a devastating opening period.
The youngster may only have found the net three times since amid a difficult conclusion to the campaign, but that has not stopped Borussia Dortmund sweeping in to capture one of the hottest properties France has seen for years - a player who will only turn 19 on May 15.
Rennes had expected great things from the prodigious attacker, who has played barely half a season of top-flight football since his introduction to the senior side with a five-minute cameo away to Angers in November.
A fortnight later, he started and scored on his first start against Bordeaux, setting the tone for an outstanding breakout campaign. In total, he has found the net 12 times and produced five more assists in what has been one of the most remarkable debut seasons in Ligue 1 in recent times.
It is little wonder, then, that Dortmund were willing to fight so hard for his signature.
Even Anthony Martial did not explode onto the scene in such an emphatic manner. While the potential of the Manchester United striker was clear during his time in France, his efficiency and effectiveness were not even close to that of Dembele, who has scored more times as an 18-year-old than anyone in Ligue 1 for over 25 years.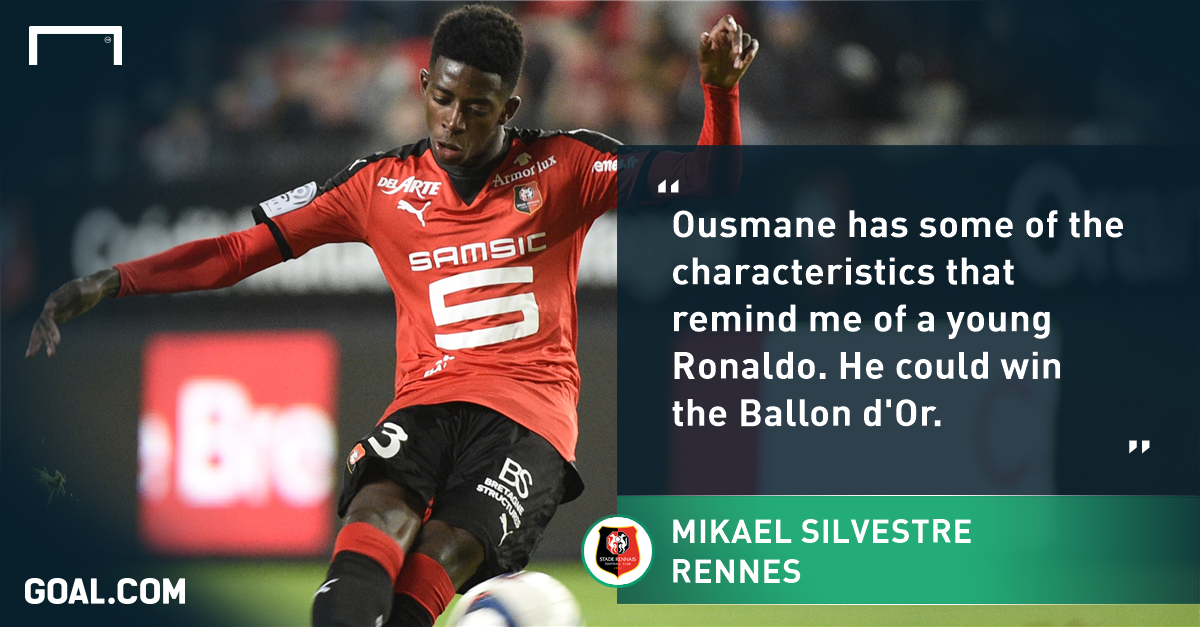 Indeed, Rennes sporting director, Mikael Silvestre, sees something very special in the young charge.
"I saw Cristiano Ronaldo come to Manchester United at the same age, and Ousmane has some of the characteristics that remind me of a young Ronaldo," he said. "I'm going to go out on a limb, but he could win the Ballon d'Or."
Head coach Rolland Courbis has warned the player via the press that moving to a big club too early could "screw up" his career, and has said that "he needs a club like Rennes for at least the next two seasons". Nonetheless, the Bretons have been forced to bow to economic pressure and sell the youngster.
Playing professionally has always been a dream of the winger's, who used to take a ball with him when he went shopping with his mother as a child. But his route to becoming a firm fixture in the Rennes squad has been surprisingly complicated in hindsight.
Just as Paris Saint-Germain lost Kingsley Coman for a pittance to Juventus, Rennes were faced with the prospect of losing their young starlet for virtually nothing, with Manchester City and Benfica among the clubs seeking to pounce.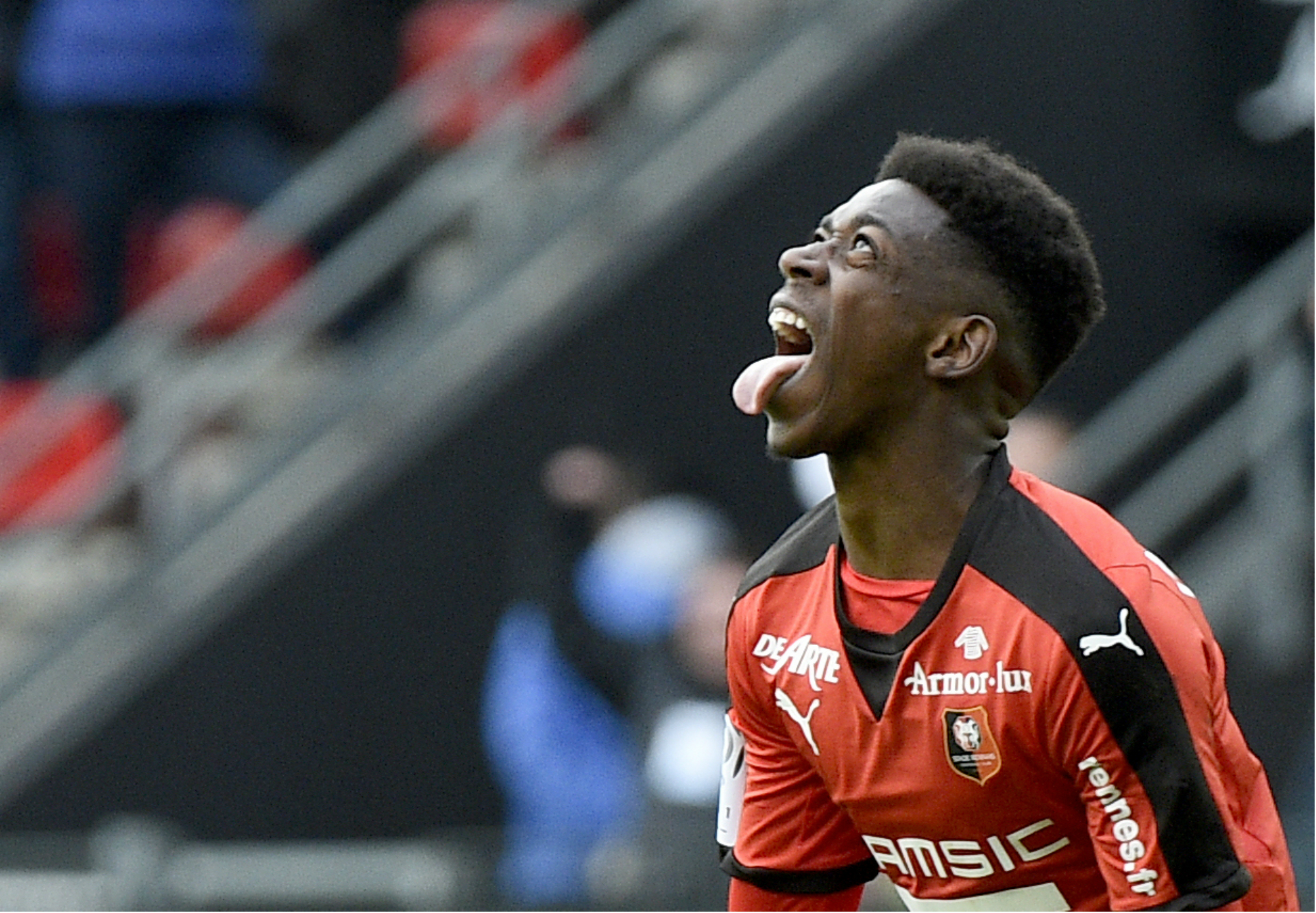 It took the intervention of Silvestre last autumn for Dembele to begin his integration with the Bretons' first team. Head coach Philippe Montanier considered him too small and too weak even to train with the squad, and as a result he initially refused to sign professional terms with the side he had joined as a 13-year-old.
Dembele even boycotted a training camp in Germany in an attempt to further his cause before finally signing a three-year deal in October.
Once given his chance, the teenager showed just how wrong Montanier initially was. Blessed with confidence and a wonderful affinity with the ball, he settled into his natural game from his very first moments in Ligue 1. Each time he received possession, he tried to be a catalyst for his side's attack, spinning to run at defenders and showing no fear of shooting at goal when an opportunity presented itself.
Equally, though, Dembele's strengths can be his greatest weaknesses; a problem that has followed him since the earliest days of his footballing career.
"I told him that playing alone is not enough," a former coach at his Evreux youth side, Gregory Badoche, explained to
L'Equipe.
"He had to know how to play with others, which was not easy for him at first. But he listened, I insisted on it."
Meanwhile, Yannick Menu, a coach at Rennes, continued: "He came here relatively early and he already had fluidity to his game, great dribbling and technical qualities. We didn't know if he was right or left footed!"
Now Ligue 1 defenders are faced with a similar dilemma. Experienced Albania international Lorik Cana was left particularly red-faced by the speedy youngster, as he was turned inside out before watching a right-footed shot dispatched into the corner of the Nantes' net during that famous derby success.
Dembele has been deployed in the No.10 role, and Silvestre sees a future there for him, even if his most striking physical attribute - his pace - might suggest he would better utilised wide.
"He has more freedom in the centre. He can put himself into situations where he can exploit the qualities we know he has," the former Arsenal and France defender said.
Indeed, Dembele is such a fresh face at this level that it is not yet clear if his own coaches know how he best fits into their system. What chance do visiting defenders, who have less than 2,000 minutes of footage to go on, stand?
Greater challenges and tougher questions certainly lie ahead for the 18-year-old. Speculation over his future certainly seemed to affect his performances towards the end of the season, but while there will be a weight of expectation caused by his transfer fee, reputedly around €35 million, he can expect to be introduced to the side gradually.
This astronomical figure represents around €17,500 for each minute of league football he has played so far in his young career. But more crucially, it reflects upon his apparently unlimited potential.