Paris Saint-Germain
striker
Edinson Cavani
says team-mate
Zlatan Ibrahimovic
is one of the best players in the world - and acknowledges he has learned a lot from playing alongside him.
Cavani scored the winning goal in the Coupe de France final on Saturday against Auxerre, with Ibrahimovic leading the line in the 1-0 victory.
The former Barcelona, Inter and Juventus forward had missed two Ligue 1 games - including a title-sealing win against Montpellier - due to injury but returned to help tie up the domestic treble.
"To play and train alongside Ibrahimovic is very special because, for me, he is one of the best footballers in the world," Cavani told
Goal
.
"Sharing a dressing room and a pitch with him is special. You learn a lot. It's a different experience."
Cavani hit eight goals in the six matches that saw PSG clinch the title after pulling eight points clear of Lyon, who had led Ligue 1 at the end of April.
And, on the back of his cup final heroics, Cavani will now head to Chile for the Copa America, where defending champions Uruguay are aiming to win their 16th title.
"The Copa America is another very important challenge," he added. "It's a competition that is very well regarded on our continent.
"That gives it a special taste. It's a special goal for us, a special challenge that's only a few weeks away."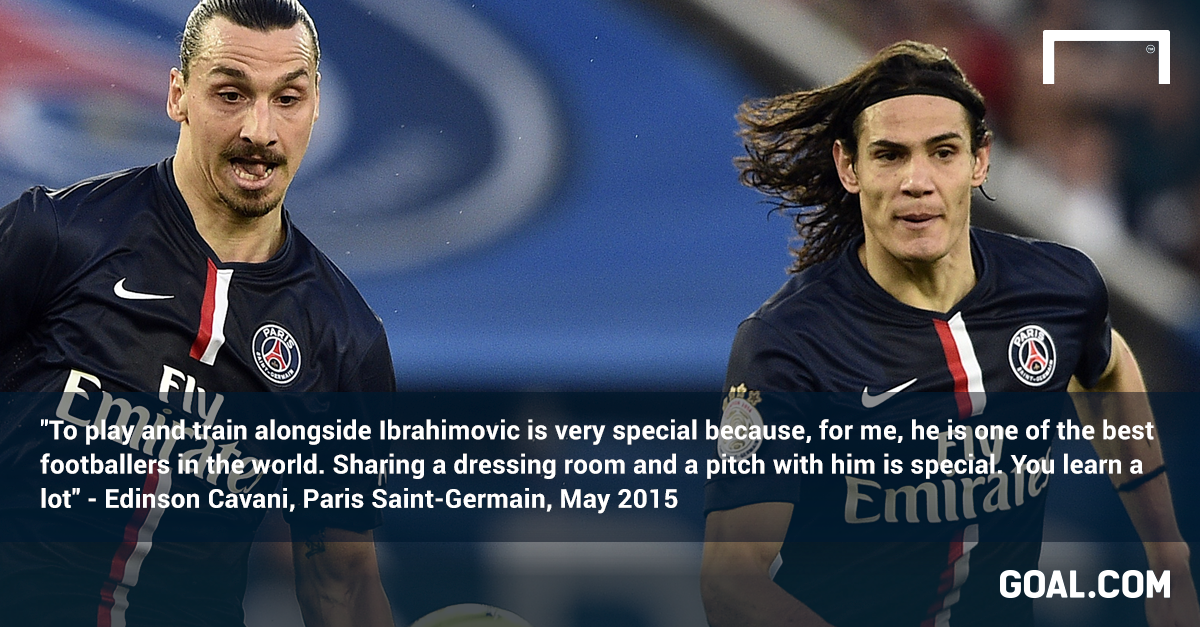 Incredibly, for a nation of just 3.4 million people, Uruguay have won the Copa once more than World Cup runners-up Argentina and will have double the number of titles of Brazil if they triumph again this summer.
Cavani, however, believes this success is in spite of a system which he thinks is falling short of the top European nations when it comes to player development.
"A lot of footballers have emerged from our country," he explained. "To get to the top, you must put in a lot of hard work but you also need to be blessed with talent.
"It's not every day that happens and I think the culture of our country doesn't help young players achieve their goals of becoming professional players.
"I had to leave when I was 19 and I believe it was the right moment to move to Europe. My father always told me that you risk losing a few years in your development if you stay too long, because the training of players and the methods used are often more advanced in Europe.
"If you leave when you are older, you maybe miss out on that development. So I think the best age for Uruguayan players go to Europe is at 18 or 19."
After signing for Palermo in January, 2007, Cavani initially competed for a first-team place with Fabrizio Miccoli and Amauri and was forced to play out of position.
But after 18 difficult months, the Salto-born striker became his club's first choice up front and earned a €17 million move to Napoli in 2010.
"I would say the most difficult moment in my career came when I arrived at Palermo," said Cavani. "I had just started getting called up to the national team and - playing as a number nine – I had been top scorer the previous domestic season and for the Uruguay Under-20s.
"But the coach thought I would be a good wing-back, a player who could get up and down the flanks – and the same thing happened in the national team too! It was a sacrificial role. It was difficult because I had to do something I was not used to and that is hard.
"But things changed and now I look at it as a life experience. It took a lot of sacrifice to change things and I had to prove myself whenever I played in my true position."
At centre forward, Cavani became one of the most feared goalscorers in Europe. In his three seasons at Napoli, he netted 33, 33 and 38 goals before PSG paid €64.5m for his services.
Back-to-back Ligue 1 titles followed - Cavani's first league championships in Europe - as he scored over 50 goals in two seasons, but 'El Matador' does not know what his future holds.
"I like playing football wherever I can," he said. "Football is my passion and who knows where I will play in the future – you cannot foresee that. As long as I am playing football, I am prepared to play wherever I have to."
Edinson Cavani spoke to Goal about his 5-a-side dream crew and the Nike Football App, which gives users first access to products and exclusive events, allows them to create their own crew and helps them find and challenge other crews in open games.