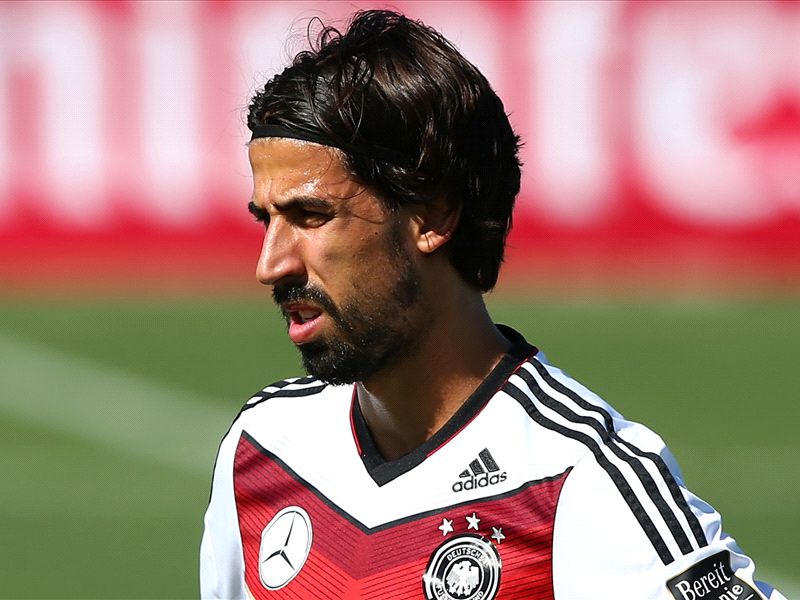 ANALYSIS
By Ewan Roberts
The new Premier League season hasn't even started yet but
Arsenal
and
Chelsea
are already locking horns, this time over Real Madrid midfielder
Sami Khedira
.
The once notoriously frugal Gunners are ready to splash yet more cash this summer, though the strict wage ceiling that has survived a more free-spending approach in recent windows has seen the Roman Abramovich-backed Blues emerge as frontrunners for the German.
In a show of financial might more akin to the extravagant early years of the Russian billionaire's tenure,
the west Londoners are ready to offer Khedira the €253,000-a-week salary he is demanding
and which Arsenal have already baulked at. A move to Stamford Bridge also presents the opportunity to be reunited with Jose Mourinho, of whom the 27-year-old is a self-proclaimed "disciple".
For Chelsea, Khedira is exactly the kind of energetic, box-to-box midfielder the side require, a blend of both surging power and subtle technique. The Blues already have a specialist defensive midfielder in Nemanja Matic and a vast array of attacking options, but have been missing a link between the two. It is this role that Khedira performs with distinction.
Mourinho's side were devoid of someone to set the tempo last season, their own "head of incidental pressing", to borrow a phrase from Louis van Gaal. Khedira is that player, a whirlwind of urgency and aggression, but also teaming that work-rate with driving runs into the box and a credible goal threat. He is the quintessential all-rounder.
It is easy, therefore, to see why there is such a clamour to sign the former Stuttgart man. He is ready-made for the Premier League and in the prime of his career, while recent achievements for club and country have put him in an exclusive club; he is only the 10th player in history to win both the Champions League and the World Cup in the same season, and the first since Roberto Carlos in 2002.
BOX-TO-BOX |
Khedira created more chances (5) than he attempted tackles (3) at the World Cup
But while Khedira may be perfect for English football – as well as a Chelsea engine room that Mourinho would have identified as pedestrian and lethargic upon his return to the club – he is far from the perfect signing for Arsenal.
What the Gunners require, and which was briefly papered over by the early season good form of Mathieu Flamini last term, is a defensive midfielder. But that is neither the role best suited to Khedira's skillset or the responsibility he has been handed in his career to date.
In fact, Khedira has never averaged above two tackles per game in any season, and, statistically at least, is a long way short of the numbers produced by the world's best destroyers. He is hardly a proficient interceptor either – a good indicator of a players' awareness and anticipation – and has ranked inside the division's top 100 for either tackles made or interceptions on just one occasion in his career (in the 2012-13 season, where he placed 98th in La Liga for tackles per match).
Moreover, Khedira offers only a minimal degree of serenity on the ball, preferring a more all-action approach. As much as Mikel Arteta's increasing lack of mobility is derided (no Arsenal player has been dribbled past on more occasions since he joined), and as much as Arsene Wenger needs to think about finding a successor to the 32-year-old, he has always been a reliable and consistent rudder for the Gunners in recycling possession and beginning attacks from deep.
In each of the Spaniard's three seasons at the club he has been the side's top passer, averaging 75.7 passes per game, while also being deceptively strong defensively, averaging 5.3 combined tackles and interceptions per match. His would-be replacement, though, has averaged just 39.2 passes per game across the last five seasons at a rather modest 84 per cent success rate.
PLAYER COMPARISON |
How does Khedira compare to the man he would replace?
Khedira is considerably more excitable too, as noted at the World Cup – a tournament in which he failed to make a single successful tackle. He briefly lost his place in the Germany side to Bastian Schweinsteiger, with the Bayern Munich "strategist", as Joachim Low dubbed him, bringing order to matches that had previously been open and stretched. Khedira – more openly more concerned with "speeding things up" – was the prime culprit for
die Mannschaft
's loss of control.
It is important to note that Khedira has never been either the possession-dictator or the ball-winner in any of his midfielder partnerships. He provides energy, zip and drive, but is never the dominant tackler or protector sitting in front of the back four.
That, however, seems entirely at odds with the type of player burgeoning talisman Aaron Ramsey ought to have alongside him, and the search for much-needed midfield reinforcement should centre on finding the perfect partner for the Wales international.
Ramsey was in devastating form last season – though his campaign was cruelly curtailed by injury – but Khedira is unlikely to grant him the same freedom that Arteta does. Playing two such similar players together, both of whom will burst forward at will, risks shackling one as they cover for the other, while it also conjures terrifying flashbacks of Steven Gerrard and Frank Lampard trying, and failing, to coexist for England.
It is possible, of course, that Wenger is planning to remould Khedira into a more disciplined anchor man – the aforementioned Arteta was a much more forward-thinking and creative player until he was tutored by the French boss – or that he is plotting to construct a rotating, interchanging midfield with no designated holding midfielder, a side removed of the limitations imposed by specialist players.
Nevertheless, it is hard to escape the feeling that there are more suitable midfielders to partner Ramsey – younger, more mobile players than Arteta but with the same defensive reading of the game and ball retention.
Morgan Schneiderlin immediately stands out as a player blessed with both the physicality and composure to step into the Spaniard's shoes; no player has managed more combined tackles and interceptions than the Frenchman's 466 (6.75 per match) across the last two Premier League seasons, while he was the most active passer in a Southampton side that averaged more possession than any other team last term.
Khedira, then, is an outstanding player and would unquestionably improve any side, with his win-at-all-costs mentality especially welcome in an Arsenal team still largely unaccustomed to success despite their recent FA Cup win. But he is not as perfectly suited to this Gunners side as others could be, and entering into a bidding war with Chelsea for his services could see Wenger wrongly fall for the lure of a statement signing ahead of true necessity.
Follow Ewan Roberts on