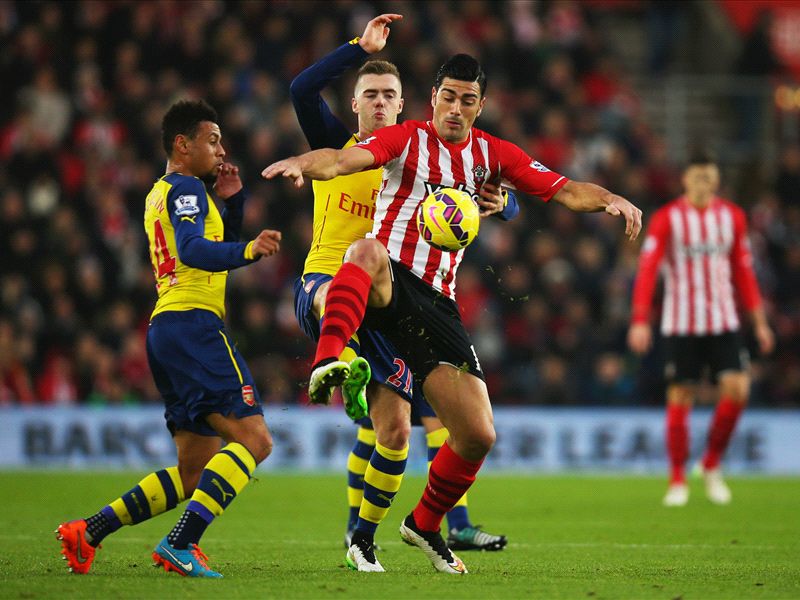 By George Ankers at St Mary's Stadium
It should come as no surprise that Arsenal fielded a makeshift midfield just as they finally reunited their first-choice back four. After all, they are team who excel at never
quite
being the finished product.
"Is it a back six?" asked one fan sitting in front of the press box at St Mary's Stadium as the teams were read out. Calum Chambers, a teenage right-back who has spent half of his first Arsenal season being converted to a central defender, was placed alongside Francis Coquelin, who had to be recalled from his loan at Charlton in December. It was not the kind of partnership you would expect to see at a club of the Gunners' wealth and stature.
At times it almost did look like they were in a bumper-sized back line. Both Arsenal and Southampton were happy to sit deep and be patient in their build-up play on New Year's Day, but Chambers in particular was more obviously deeper than most, dropping back regularly to facilitate more regular surges from his full-backs.
Coquelin, meanwhile, ran around plenty and made the simple passes competently enough, but this was a staid combination in the nominal engine room. It seemed as if they had to play deeper to compensate for their lack of creativity.
Olivier Giroud's suspension meant a necessary posting at the tip of the spear for Alexis Sanchez but, with no service coming from the middle of the pitch, the Chilean frequently had to drift wide to find the ball. His combinations with the likes of Santi Cazorla were occasionally fruitful and his shimmying to shoot led to Arsenal's most dangerous moments, but Fraser Forster was equal to everything that he could muster.
It would surely have been a different story had Arsene Wenger been able to deploy an Arsenal midfield more worthy of the name. If Jack Wilshere or Aaron Ramsey were fit, you might expect more, although Victor Wanyama's confident form leaves that an open question. The real what-if is that of Cesc Fabregas.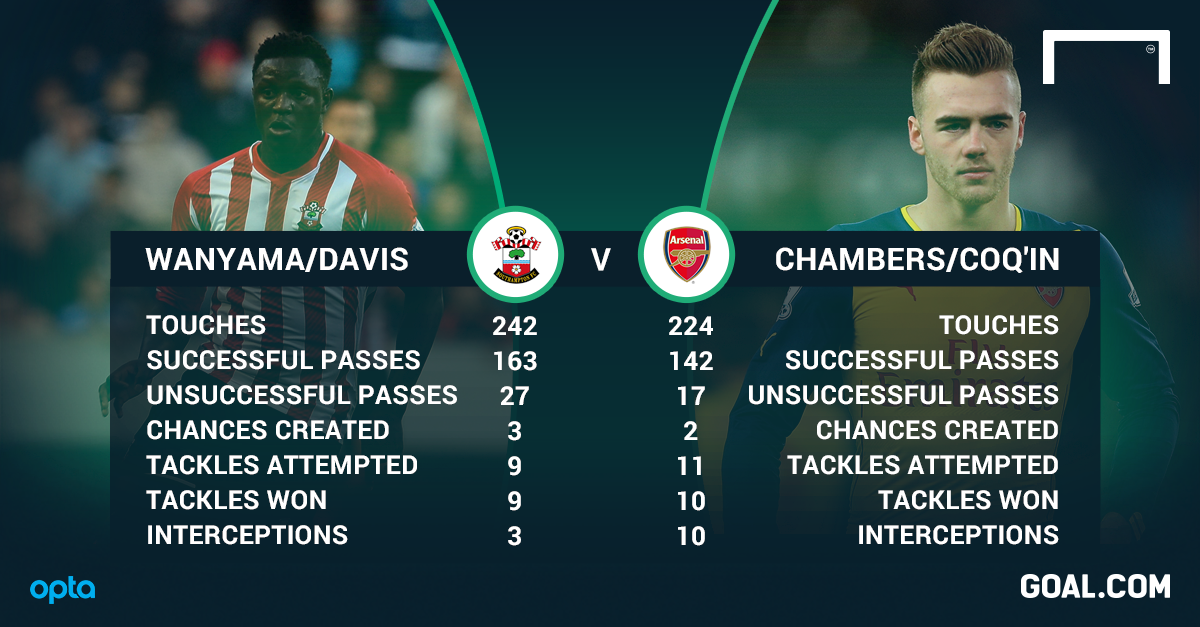 Rarely has Wenger's decision not to re-sign his old captain looked so strange as when Thursday's teamsheet came in, the Spaniard having registered more assists than any other Premier League player in 2014 as that deep playmaker, despite having only been in the country for half of that time.
Once again, we come to the start of a January transfer window asking the same question – when will Arsenal finally go out and get the players to make their midfield tick on a regular basis? All of the four players who appeared against them in that position here – Wanyama, Steven Davis, James Ward-Prowse and even youngster Harrison Reed – showed bite, skill and influence that would have improved the away side where it mattered.
That said, the man who would appear the most perfect fit to add all-round quality to Arsenal's engine room was not involved at all. Morgan Schneiderlin missed the game through suspension but the Frenchman, who was desperate to join a Champions League club in the summer, has consistently been one of the most impressive in his position in the country. World Cup winner Christoph Kramer has also been targeted by the Gunners recently.
Wenger is always fond of working with what he has and, in any case, is unlikely to need to rely on Chambers and Coquelin on anything more than an occasional basis. The former, at least, has enough on his plate deputising for his entire back line. But the fading Mikel Arteta and the creaky Mathieu Flamini would hardly have been much better equipped to stand up to the likes of Wanyama had they been fit, much less the likes of Nemanja Matic or an on-song Yaya Toure.
The fan who appeared to confront Wenger in the dugout towards the end of the game may not, as it turns out, have been shouting at him to spend money but that remains the pervading sentiment around most of the Arsenal support. A club of this size should not have put itself in this situation. Wenger needs to get them out of it.
Follow George Ankers on