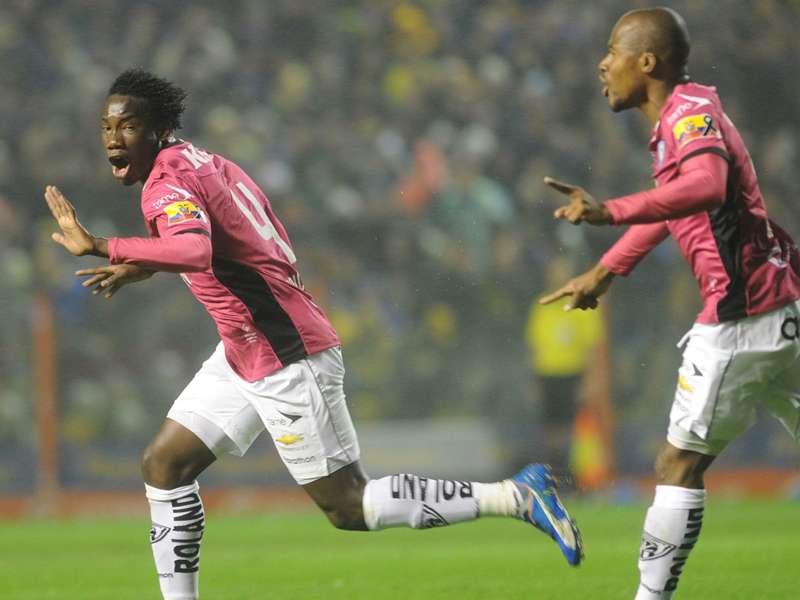 ---

COMMENT
---
In a year already packed full of great upsets, which has been the greatest fairytale so far of 2016? Many will point to Leicester City's incredible Premier League win, sealed against the odds and in emphatic fashion.
In June and July, meanwhile the endearing islanders of Iceland took centre-stage with a brave run to the Euro quarter-finals, which included a brilliant giant-killing of England. But both Claudio Ranieri's men and the clapping warriors of Reykjavik will be outshined if Independiente del Valle can complete their Copa Libertadores dream with victory in the final.
Few outside of South America, and not many more across the continent, would have had much knowledge of the Ecuadorian team before this year's tournament kicked off. But the team are just two games away from an incredible victory, as they prepare for Wednesday's final first leg in Quito.
Once again, Independiente will be playing away from their usual stomping ground for the home clash against Atletico Nacional. Their antique Estadio Ruminahui, located 25 minutes from the capital in the city of Sangolqui, holds just 7,500 spectators, and before this season many of those spaces often lay empty. On Wednesday, however, the club will pack out the much-larger Atahualpa Stadium, with thousands of Nacional fans also coming over the border from Medellin to make their voices heard.
The Colombians, packed with talents such as Manchester City-bound Marlos Moreno, playmaker Macnelly Torres and Venezuelan midfield powerhouse Alejandro Guerra, start as obvious favourites. But then again, so did current Libertadores holders River Plate, fellow Argentine giants Boca Juniors and Mexico's Pumas. Independiente disposed of each of those sides to make the final, and will be hoping they have one more upset left in the tank.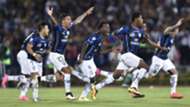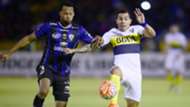 Like all teams that play in the heights of Quito - most notably LDU, who sealed the country's first-ever Libertadores triumph back in 2008 - the minnows have sought to make the near-3000m altitude count at home. The team have won five out of six of their matches in Ecuador's capital this season, a stunning record. They come out to hurt teams over the 90 minutes, using their athleticism to punch holes and pick up an advantage over technically more proficient outfits.
This use of the elements is nothing new in South American football. Where Independiente have excelled is in unfamiliar territory. After going 1-0 down to Boca in the Bombonera early on last week, it looked as if the Ecuadorians did not have a prayer of advancing to the final.
But they kept running, pressing hard and making the home team uncomfortable, and a string of forced errors led to a famous 3-2 win in Buenos Aires that kept the fairytale going. Not even that born winner Carlos Tevez could turn the tide - and the Ecuadorians shackled the forward far more effectively than most European defences have managed over the years.
It has not just been because of their exploits on the pitch that the side have picked up admirers, however. Prior to the last-16 tie against River Plate, Quito and other areas of Ecuador were rocked by a deadly earthquake, the effects of which are still being suffered. Independiente were preparing for the biggest game of their history, but found time to make a stunning gesture: opening up the match to fans of all Quito's teams, shirts and all, with every cent of the proceeds donated to recovery efforts.
"We are very aware that Independiente del Valle might not have the fans to fill the Atahualpa stadium but we are calling for all fans of every team in Ecuador to see a full stadium," club president Santiago Morales said at the time.
"We want to see fans from all 24 teams in Ecuadorian football, we want them to have their own sectors so we can see them, they should come with their team colours and make this a party - let the fans come to this game with the knowledge they are doing their part for the victims."
On a wave of emotion, the side downed River and have not looked back since. And in a team with so many heroes Librado Azcona, the journeyman Paraguayan goalkeeper, has without a doubt been the star of the show. With 52 saves he has kept more goals out than any other shot-stopper in the competition, and if it were not for his agility the dream may have ended some time ago.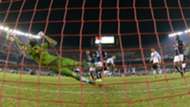 Having joined Independiente del Valle in their very first top-flight season, back in 2010, the 32-year-old has racked up nearly 300 games for the club and his brilliant showings prompted Ecuador to call him up to the national team after he took a second nationality. Against River, and after his team had secured a 2-0 win on home soil, Azcona made an incredible 11 saves in the Monumental to restrict the Argentines to a 1-0 second leg victory. He followed that up with a decisive shoot-out save to down Pumas in the quarters, and Boca were also frustrated by the agile veteran.
Despite those wins, Independiente del Valle will have no illusions over the task ahead. Nacional made impossibly neat work of the tough Sao Paulo to romp into the final, and though they rode their luck earlier in the competition, the Colombians are without a doubt the strongest team in South America right now. What's more, the altitude of Quito should not pose such an issue as it has historically for Brazilian and Argentine teams, as Medellin itself lies 1,500m above sea level and Colombian capital Bogota 2,640m.
But such logical matters will not intimidate the Ecuadorians as they look to conclude their fairytale adventure with a win over two legs. Leicester and Iceland's achievements, while notable, would be overshadowed by this true David vs Goliath story - and Real Madrid for one should be taking note ahead of the Club World Cup in December!