By Peter Staunton in Chile
This Copa America has brought together in unison the emerging generation of Peruvian talent, led by Christian Cueva and the old stagers with striker and captain Claudio Pizarro at the end of the scale along with Jefferson Farfan, Juan Manuel Vargas and man of the moment Paolo Guerrero.
Guerrero has moved to second on the list of Peru's all-time top scorers by virture of his hat-trick against Bolivia in the Copa America quarter-finals. His total now stands at 24, level with legendary forward Teodoro Fernandez, and only two behind the man widely regarded as Peru's best-ever player, Teofilo Cubillas, on 26. He becomes only the second man to register hat-tricks in consecutive Copas America - after Fernandez.
Peru have upset the odds here in Chile by reaching the semi-finals for the second consecutive edition and continued their fine recent tradition at South America's elite international competition, where they have reached the quarter-finals every year since 1999.
Key to their efforts has been the all-star strike force of Pizarro and Guerrero. The 36-year-old Bayern Munich man netted the key goal in the 1-0 win over Venezuela during the group stage for three vital points while Guerrero's hat-trick against the Bolivians places him top of the scorers' chart, albeit temporarily, for the second consecutive Copa America. He has registered strikes in the last three editions, confirming his consistency and reliability for his national team.
On the club front, it has been more of a mixed bag. Europe failed to see the best of his talents. Spells in Germany's Bundesliga with Bayern and Hamburg ended in disappointment on a personal level but a spell on Corinthians in Brazil brought a Club World Cup title in 2012. He is a hero to fans in Sao Paulo but has broken their hearts with a pre-tournament move to Brasileirao rivals Flamengo.
Guerrero has caused uproar at Corinthians after the Brazilian giants failed to renew his contract. Financial problems at the Timao have meant that Guerrero moves on. Despite links with a move back to Europe, he has signed for Flamengo in Brazil's Serie A but Corinthians fans will never forget his 2012 Club World Cup final goal against Chelsea which crowned them champions of the world.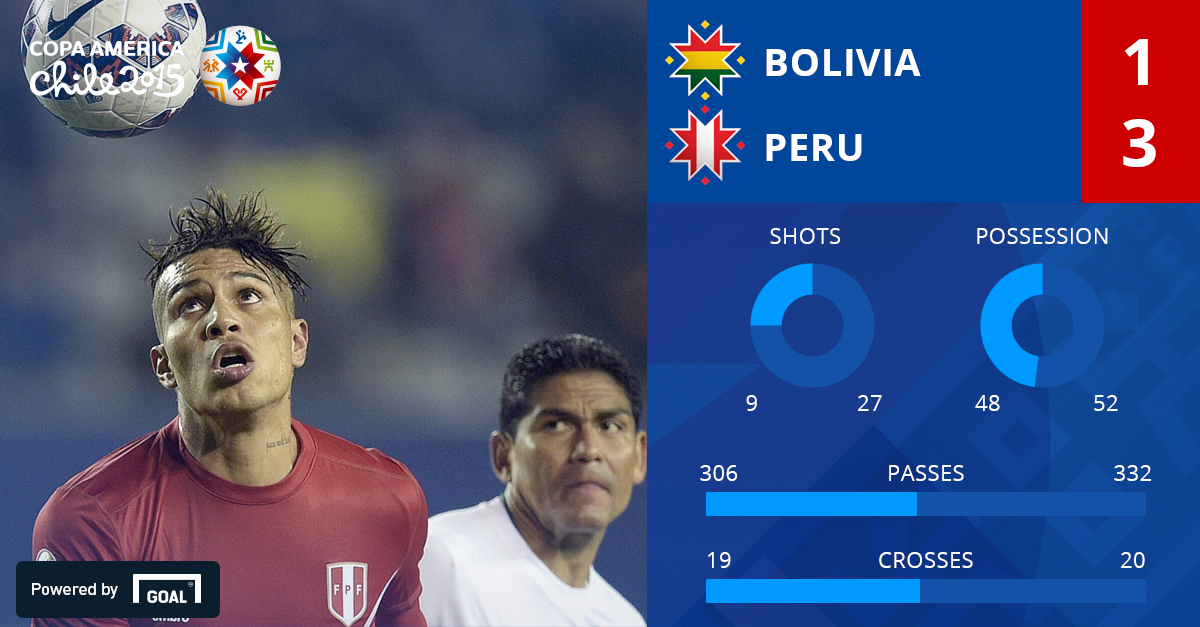 It was looking precarious ahead of the tournament for Peru and the man on whom they were pinning their striking hopes. Guerrero took a knock in a warm-up match against an under-22 selection and spent the days ahead of the Copa hobbling on crutches. Happily for coach Ricardo Gareca and the Peruvian nation, he was passed fit for the cup opener against Brazil. It may have taken him time to grow into the competition in a goalscoring sense but he has now struck the first treble of this tournament.
His first on the night was a fine back-post header from a Vargas cross. His second, supplied in style by Cueva, was well finished past the advancing Romel Quinonez. His third, to seal the hat-trick, was pure opportunism. He robbed a Danny Bejarano pass in front of the Bolivia back four, advanced on goal and finished smartly.
Chile have had their fair share of problems in the competition so far in a defensive capacity. They may have kept a clean sheet against Uruguay but they had Edinson Cavani to thank, in part, as a result of his red card in the 63rd minute. Guerrero, as a storm broke out late on in the semi-final, demonstrated an even temperament as he pulled colleagues out of the fight.
No goading, Gonzalo Jara style, for him. Chile must beware. The Copa America's top scorer this century lies in wait. It might be an outsider's chance for Peru but with Guerrero in form, anything is possible at the Estadio Nacional.